Options across the city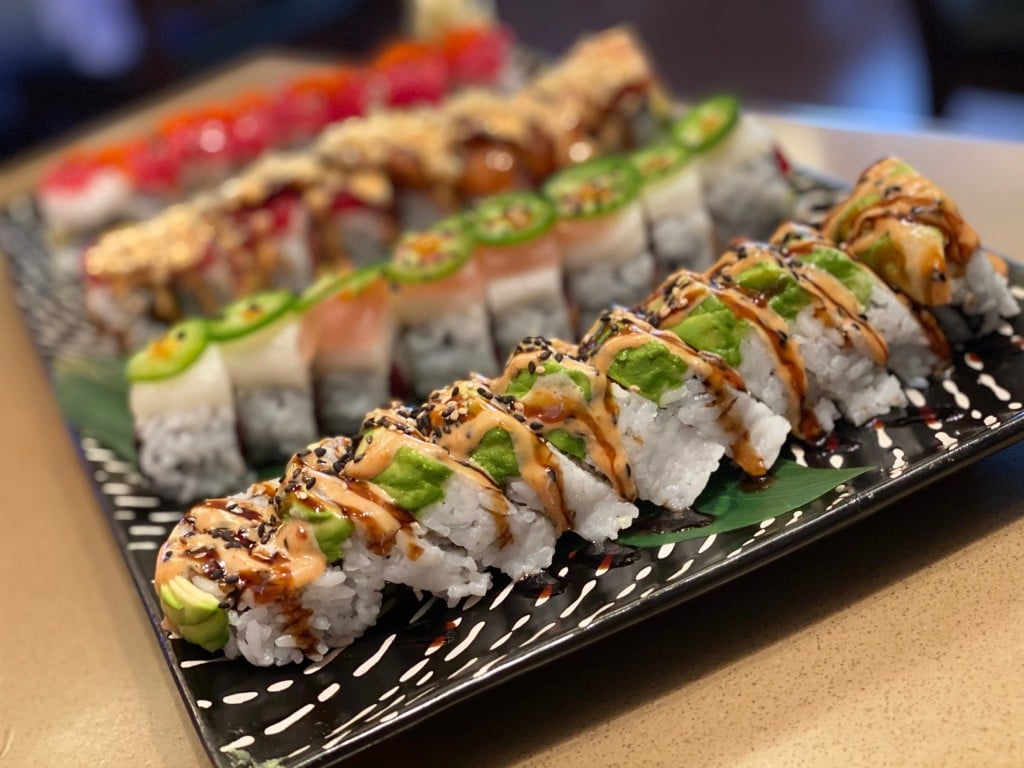 YUME Ramen Sushi & Bar 
1508 S. Mint St.
The excellence of this spot's ramen and sushi thankfully carry over to the to-go format, with Yume's In-Home Ramen and Gyoza Kit among its innovations.
Try This: The Sakura Roll
Red Sake
8410 Rea Rd., Ste. 100 
This is sushi for true sushi aficionados. The Luke Lobster roll is a delectable mouthful of lobster meat, spicy tuna, avocado, and eel sauce topped with sweet potato strings.
Try This: Black Jack Roll
New Zealand Café 
1717 N. Sardis Rd.
This small, 40-seat seafood grill and sushi bar specialized in takeout before the pandemic; the bulk of its business came from residents in nearby apartment complexes on Sardis Road.
Try This: Philly Roll
Nikko
325 Arlington Ave., Ste. 108
Artistic sushi, a moody interior, and thumping sound system bring in dinner and late-night crowds, but quick service makes it a great lunch spot.
Try This: Dilworth Roll (salmon, kani, masago, and breaded, fried, and re-rolled in rice)
Baku
4515 Sharon Rd.
Black and red decor, delicious sushi, techno beats, and a large pair of geisha eyes staring out at the crowd make for a dramatic setting in this shared-plates restaurant.
Try This: Blue Fin Tuna Roll
O-Ku
2000 South Blvd., Ste. 510
Sushi is all about the sourcing, and you can taste that it's done well at South End's O-Ku. Bachieng Phankhaysy is the executive chef at this Charleston import, and his enthusiasm radiates from the people behind the sushi bar to the front-of-house staff, who will help you navigate the sushi and sake selections.
Try This: Hot & Heavy Roll
Blacow
Multiple locations
The menu combines burgers and sushi, so head to this spot if anyone in your group doesn't eat raw fish. The gourmet burgers and fries will appease a more traditional American palate, and specialty rolls like the Kamikaze and the Pink Lady will satisfy your sushi craving.
Try This: Tempura Crab Stick Roll
Yamarazu
2173 Hawkins St., Ste. A
This sushi spot opened in South End in 2017, offering a stylish backdrop and an extensive list of rolls, including the beloved titular one.
Try This: Crazy Horse (tuna, salmon, yellowtail, cucumber, avocado, masago, and soy paper)
Konnichiwa
1315 East Blvd., Ste. 130
This sushi, steak, and seafood restaurant opened in the former Inishmore space in April. The menu includes bento boxes, ramen noodles, and hibachi bowls, plus a roster of Charlotte-themed specialty rolls like the Juicy Jay, Hornets, and CLT Roll.
Try This: Monopoly Roll (topped with eel, avocado, sweet chili, kabayaki sauce, red tobiko, and sesame seed)
Park Sushi
6601 Morrison Blvd.
The former Sushi Guru space in South Park reopened as Park Sushi in May. Sushi lovers will want to skip straight to the Chef Signature rolls; some notables include the Sensei, G.I. Joe, and Tokyo Drift rolls.
Try This: Jabbawockeez Roll (lobster mix, grilled eel, tempura shrimp, lump crab, and avocado)
Prime Fish
11212 Providence Rd. West, Ste. B
As a certified sake advisor, Chef Robin Anthony pairs fish with sake the same way a master sommelier pairs food with wine. Sit at the sushi bar for dinner and a show to watch the chefs torch the Prime Salmon Roll and garnish the sashimi with edible flowers.
Try This: Villain Roll (spicy yellowtail and cucumber topped with eel, tuna, avocado, eel sauce, and furikake)