Charlotte consistently steps up to adopt pets who need homes. This is the team that rescues them first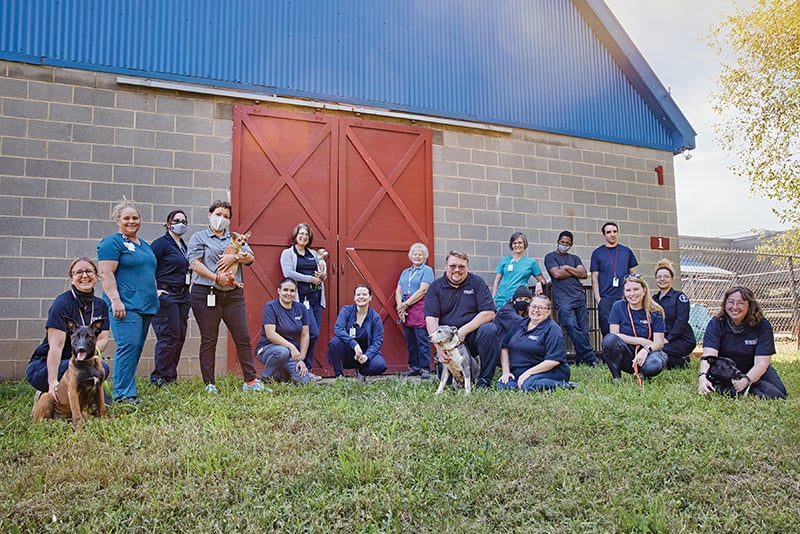 In a world of doodles and yorkipoos, Charlotte's a haven for the dog breeds easier described than named: Scruffy puppers. Blocky-headed wigglebutts. Chonky floofers. When people ask us what kind of dog wags at the end of our leashes, many of us answer with a proud, "He's a rescue."
Say what you will about our city's lack of sentiment for the historic and our short attention span for the new. With animals, we're softies for rescues, ready to commit to the dogs and cats who need second chances at good lives. We owe much of that to the folks at Animal Care & Control.
They've got a tough job: care for animals they'll never keep. They've created a brilliant solution: create a community of softies like us willing to care for them next. In spring 2020, when COVID restrictions threatened to shut down adoptions from their shelter, on Byrum Drive near the airport, the staff fought to continue them as an essential government service. When people's attention turned away from pandemic pets this year, they returned that focus to homeless animals through adoption promotions and events.
This isn't normal, Charlotte. It isn't normal for a municipal animal shelter in the South to qualify as a no-kill shelter. Even though AC&C, with its finite space and resources, must take in every stray and surrendered pet in the county—no matter how big, old, sick, or injured—it still achieved the 90% save rate last year that put them on par with private rescue groups. The average save rate of all North Carolina shelters, both municipal and private, was 76%.
The AC&C staff earned their designation as Charlotteans of the Year—for their dogged (ahem) work and purr-suasive (sorry) tactics to make sure Charlotte's unofficial animal is the rescue pet.
***
This year won't make the national animal rescue highlight reel. While adopters flooded animal shelters in 2020 to find furry pandemic buddies, shelters faced a tougher sell in 2021. Fewer people adopted pets. People caught up on postponed vacations and returned to offices and classrooms. Best Friends Animal Society, a national animal welfare nonprofit, reports that pet adoptions decreased about 4% in 2021.
But Charlotte, once again, came through for our rescues. The number of pets adopted from AC&C, a division of the Charlotte-Mecklenburg Police Department, has risen so far this year.
And don't believe what you hear about people returning pandemic pets, says Melissa Knicely, AC&C's communications manager—at least not here. The number of pets surrendered by their owners actually decreased. Judging by the longer wait times for veterinarians and groomers throughout the city, anecdotal evidence points to pandemic pets who are settled into their forever homes, healthy and freshly trimmed.
However, the save rate ticks down. As I write this, it's September, and AC&C's save rate hovers at about 88%. Compared to last year, more stray cats and dogs fill the shelter at AC&C. These animals may have evaded notice last year while more people stayed home, or they may be the result of canceled spay and neuter clinics during 2020's shutdown. In a way, it's good news. Most strays begin their best lives when they enter AC&C, where they receive walks and love—and food and vet care—from staff and volunteers.
Still, with only so many runs and cages available, more strays bring new challenges. The staff's tenacity in increasing animal adoptions and decreasing pet surrenders is matched by the creativity of their methods.
"We're a diverse staff, which is a really good thing because we get a lot of different viewpoints," says animal trainer Danielle Smith. "I don't think there's anything better than a bunch of knowledgeable people having an argument over something they're passionate about to find the best idea."
Sometimes those ideas are silly, like livestreaming "summer Olympics" with adoptable dogs that competed in sports like treat-finding. Sometimes they're serious, like earning grants to help people in financial hardship keep their pets or offering senior citizens free adoptions and pet supplies. AC&C has donated insulated dog houses to people who need help keeping their pets warm during cold weather; it's offered veterinary services for pet parents facing financial challenges; and it's created 13 microchip checkpoints—at vet offices, dog bars, and groomers—to help lost pets return home faster.
This year, AC&C installed a free library outside its front door. Instead of sharing books, they invite the community to leave pet supplies and food to share with people in need. Maybe, they hope, someone coming to surrender a loved pet might return home with their pet and some help from their neighbors. "One thing that's really evident in the work that Charlotte-Mecklenburg is doing is helping the humans behind the animals," says Angela Rovetto, a senior strategist at Best Friends Animal Society. "It's about the human-animal bond. … It actually increases wellness for people, too."
***
Anyone who's rescued a pet understands the guilt of looking back at the animals who still await their new homes. If only we could save all of them. Most of us, though, quickly shift our focus to our own furry family members and try not to think about the ones left behind.
This, however, is the crew that lives that mission each day, that works with hundreds of dogs and cats who wait here at any given time for new homes. They walk them, train them, give them medical care, promote them on livestreams and morning talk shows, and then return these dogs and cats to their runs until their somebody comes. It can be a heartbreaker of a job.
Because of the folks at Animal Care & Control, we have our scruffy puppers and blocky-headed wigglebutts and chonky floofers, loved and spoiled as any pet should be. We say that we rescued them, but for thousands of animals each year, this was the team that rescued them first.
Jen Tota McGivney is a Charlotte writer who has written for SUCCESS Magazine, Our State, and Southern Living. You can reach her at jennifer.mcgivney@gmail.com or on Twitter, @jen_mcgivney.
THE 2021 CHARLOTTEANS OF THE YEAR