He concluded his 12 years at the Charlotte Symphony Orchestra's helm having built more than just a vehicle for music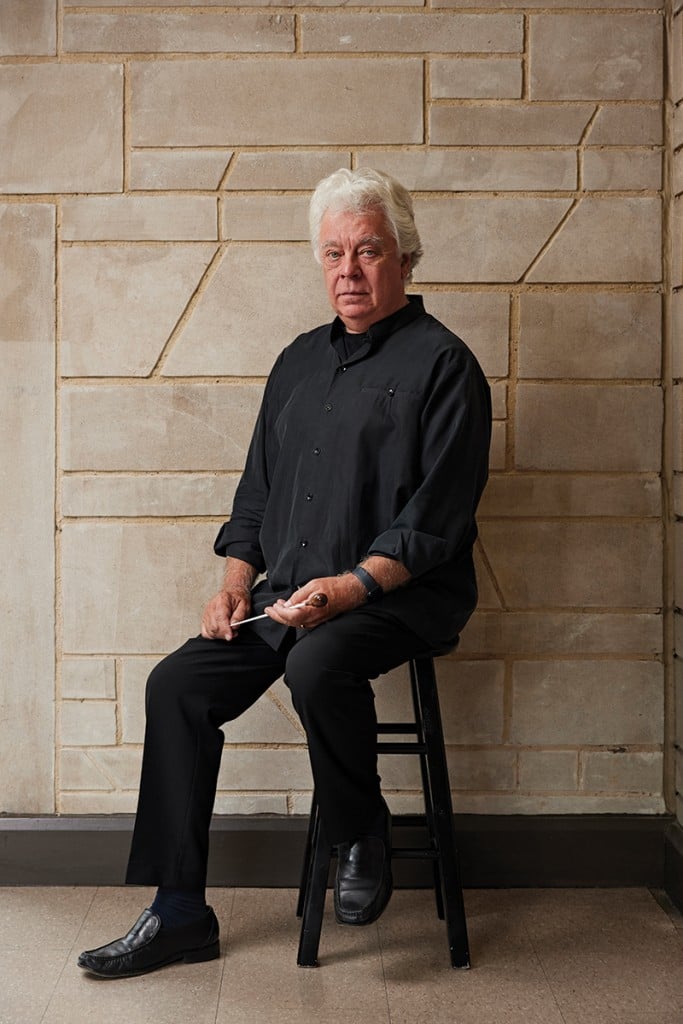 The conductor of a symphony orchestra, says Christopher Warren-Green, is essentially a ship captain. He commands a large, unwieldy vessel with a large crew whose members must work in near-perfect synchronicity. If the ship strays even slightly from its course, the world notices and, often, jeers. Guiding it requires balance.
"You can't be popular in the job. But you don't have to be a martinet. You don't have to be a flogging captain. You don't have to be someone who intimidates musicians and frightens them to elevate your own position," Warren-Green tells me in late September, during one of his brief and increasingly infrequent visits to Charlotte. "I would love for somebody to take over who is generous of heart and is going to spend a lot of time nurturing and cherishing not just the orchestra but the education projects as well."
He's done as much as anyone in recent years to enrich Charlotte's cultural community, but he's in an odd, liminal space. In May, Warren-Green, 67, completed 12 years as the CSO's music director by conducting a performance of Beethoven's Ninth Symphony, widely considered orchestral music's apogee. A conductor couldn't ask for a more rousing conclusion to any stage of his career, even one as accomplished as Warren-Green. A fellow of the Royal Academy of Music, he's conducted orchestras around the world—three for British royal weddings—and continues to lead the London Chamber Orchestra.
But he's agreed to stay with the Charlotte Symphony for a while; he's split time between Charlotte and England since 2010 but now spends most of it across the Atlantic. Warren-Green serves as the CSO's conductor laureate and artistic adviser, "basically doing the boss job without conducting all the concerts." He'll retain the conductor laureate position even after the organization selects his replacement. No one's sure when that will be.
Warren-Green wants the CSO to take its time. "I want to be absolutely certain that they've got the room to find exactly the right music director, the best music director, because (the CSO) is a very different orchestra now. I've built it," he says. "I don't want to sound conceited, but I've appointed, really, three-quarters of the orchestra."
The CSO has 62 full-time members, and under Warren-Green's leadership, they've become ambassadors for music education as well as accomplished professional musicians. CSO members coach high school students and work in an intensive residency program at Northwest School of the Arts. The organization has founded three youth ensembles. "It's the best way for young people to get into music," Warren-Green says, "to be playing music with others."
He's especially proud of Project Harmony, an outreach program for underprivileged students from second through fifth grades, half of them from Title I schools. It started in Warren-Green's first year in Charlotte, when he and his wife, Rosemary Furniss—a violinist and renowned musician in her own right—organized free after-school music lessons for students at Winterfield Elementary School in east Charlotte. What began as modest lessons on string instruments grew into a program that provides music education, instruments, and materials to more than 200 students per year in low-income Charlotte neighborhoods.
"If you're educating a generation—and believe me, we're educating a lot of people who weren't being educated in music before—those children are going to do better in their academic studies," he says. "And that means that when they leave college, because they will go to college, they'll get a better job. And if they get a better job, they're putting more into the GDP. So, you see, the symphony is good for business as well."
I tell him I get the impression he's delivered that speech before.
"Many, many times," he says.
Symphony orchestras can be hard products to sell to the American public. Repertoires never please everyone. Some patrons want nothing but the greatest hits—Beethoven, Mozart, Bach, Haydn, Brahms. They consider the likes of Shostakovich, born in 1906, to be too close to the cutting edge. Others have complained that the programming is too conservative.
Warren-Green has tried to maintain equilibrium with a mix—some familiar classics, some more adventurous pieces, some relatively obscure works that have gotten a boost from movies. (When we speak, Warren-Green is in town to conduct the CSO in a two-night performance of Saint-Saëns' Organ Symphony, the basis of a musical theme in Babe.) He says his peak moment, "one I'll take to my grave," came during a May 2017 CSO performance of Mahler's Resurrection Symphony with the Charlotte Symphony Chorus, now the Charlotte Master Chorale. "They were inspired that night, the orchestra and the chorus," he says. "There was magic in the room."
So you can hardly blame him for assuming some pride of ownership over the CSO's growth since 2010. The progress matched that of its host city. Whoever takes his place should build on that, he says—carry the name of Charlotte and its orchestra to places, within and outside of the city, where it's not normally heard. That's the challenge to come.
"I knew, and I said, that it would take 10 years to build the orchestra. And it did take 10 years, but I never envisaged that it would get good as it did. So we don't want any music director messing that up," he says with a chuckle. "We want one that's good. Because if they don't get the right one, they'll have me to answer to."
Greg Lacour is the editor.