As educators quit in droves, this elementary school teacher leads an online science classroom for millions on TikTok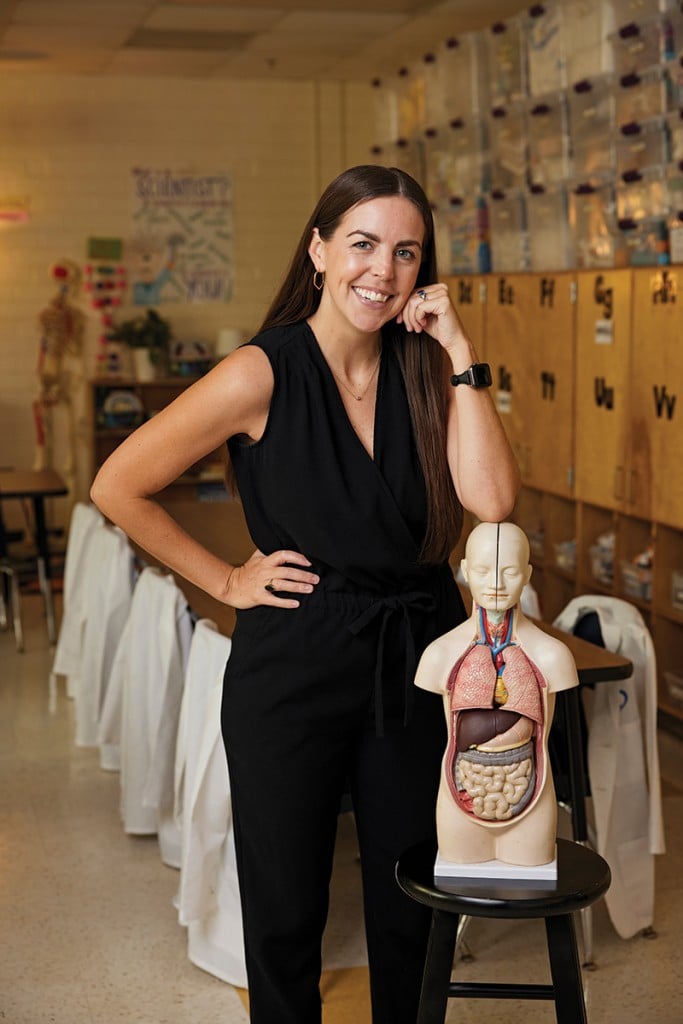 Three days before her students returned for the 2022-2023 school year, Nancy Bullard posted a 60-second video to her TikTok account, mrs.b.tv, for her 3 million followers. The time-lapse video, shot over four days, shows Bullard, aka "Mrs. B," preparing for the 100 or so students who will pass through her classroom on Monday. 
She rearranges and deep-cleans tables, chairs, bookshelves, and whiteboards; unpacks her lab materials from summer storage; sets up her computer; organizes desk drawers; writes out her schedule to hang on the wall; arranges her poster gallery of scientists; makes lesson plans and seating charts; sets up lab materials; and hangs lab coats on each chair. 
The 32-year-old science teacher, in her ninth year at Huntingtowne Farms Elementary School, moves at a similar pace in real life. But this is what she's trained for. "I come from a long line of teachers," she says. "I'm a fourth-generation North Carolina public school teacher. My own mother was my high school biology teacher at Randleman High School." 
Once classes begin, Bullard will work through both her lunch and planning breaks because a staffing shortage has left her with no teaching partners or assistants. She'll have papers to grade, lessons to plan, lab materials to order, and content to coordinate for her TikTok videos, which amass up to 34 million views. 
Bullard launched her TikTok channel in March 2020, when she had to shift to virtual learning. "I noticed a dip in attendance, so I downloaded TikTok and created mrs.b.tv as a way to engage my students," she says via email; Bullard was too busy in September for a phone interview. "I had no previous video filming or editing experience. It was a steep learning curve, but I was at home during a pandemic, so it was the perfect time to pick up a new skill."
She dressed up as an astronaut to welcome students to her home lab and created videos of experiments they could perform at home. One day, Mrs. B dressed like a chicken to walk her students through a naked egg experiment. On another, she built a catapult with popsicle sticks, rubber bands, and a plastic spoon to launch marshmallows into hot chocolate. Other lessons included bottle rockets, magic candles, and exploding snowmen.
By the end of the 2020-2021 school year, mrs.b.tv had 1,000 followers. Six months later, she had 1 million, and her videos had racked up several hundred thousand views each. Mrs. B's audience includes homeschool parents, science teachers, and curious TikTokers who just want to learn more about science. "I honestly expected nobody to watch my videos but hoped maybe a few students would," she says. "I never expected them to reach millions of people around the world." 
Bullard especially wants to reach young girls. Women make up just 28% of the U.S. workforce in science, technology, engineering, and math (STEM), but research shows that female students' self-confidence and test scores improve when they learn from female teachers. "If we want the younger generation to pursue careers in science, we need to get them interested in the subject from a young age," she says. "It can be as simple as ensuring NASA T-shirts are sold in both the boys and girls section of a clothing store."
Bullard returned from maternity leave in March after she gave birth to her son, Sam, and she let her second graders ask questions about her new baby. On video, her students ask her how often the baby cries and if she's teaching him to walk and talk yet. Then one student throws out the inevitable question: "Where do babies come from?" Without missing a beat, Mrs. B points to her midsection and replies, "They come from an organ called your uterus."
The video earned more than 11 million views, and several media outlets, including The Today Show, highlighted it. Bullard's straightforward response resonated with parents on TikTok who complimented her for encouraging children's curiosity and honestly answering their questions. 
It's the same reason she shared her IVF journey on TikTok the previous year. "My account is dedicated to science education, and there's a lot of science that goes into IVF," she says. She showed followers the reality of two unsuccessful intrauterine inseminations, surgery for endometriosis, and two more unsuccessful IVF cycles before the third succeeded.
"I knew my baby bump would eventually start to show, and I decided to use my pregnancy as an educational opportunity," she says. "I received thousands of messages from people sharing their own experiences with infertility. It's not a fun club to be in, but it's an incredibly supportive community that helps you feel less alone."  
 Bullard's growing popularity on TikTok has led to sponsored content partnerships with several brands, and she earns additional money through the TikTok Creator Fund, which compensates creators for their content. She also earns commissions from the sale of some educational materials she uses for class. 
"I never expected in a million years to make money off of social media," she says. But everything she posts—even her sponsored content—feels genuine. Her comment section is filled with sentiments like, "TikTok is teaching me more than school," and, "Maybe my love for science would have been more ignited instead of absolutely being put out by a teacher telling me 'it wasn't rocket science' when I was having a hard time comprehending."
Despite the job offers she's received from her social media success, Bullard has no plans to leave teaching. "The kids are the reason I stay," she says. "There has always been high turnover in education, and the fact that more teachers than ever are leaving makes me even more determined to stay. I know I'm where I'm meant to be."
TAYLOR BOWLER is the lifestyle editor.