Four years after a colon cancer diagnosis and a bout with MRSA that left him unable to walk, the longtime journalist still chases stories that matter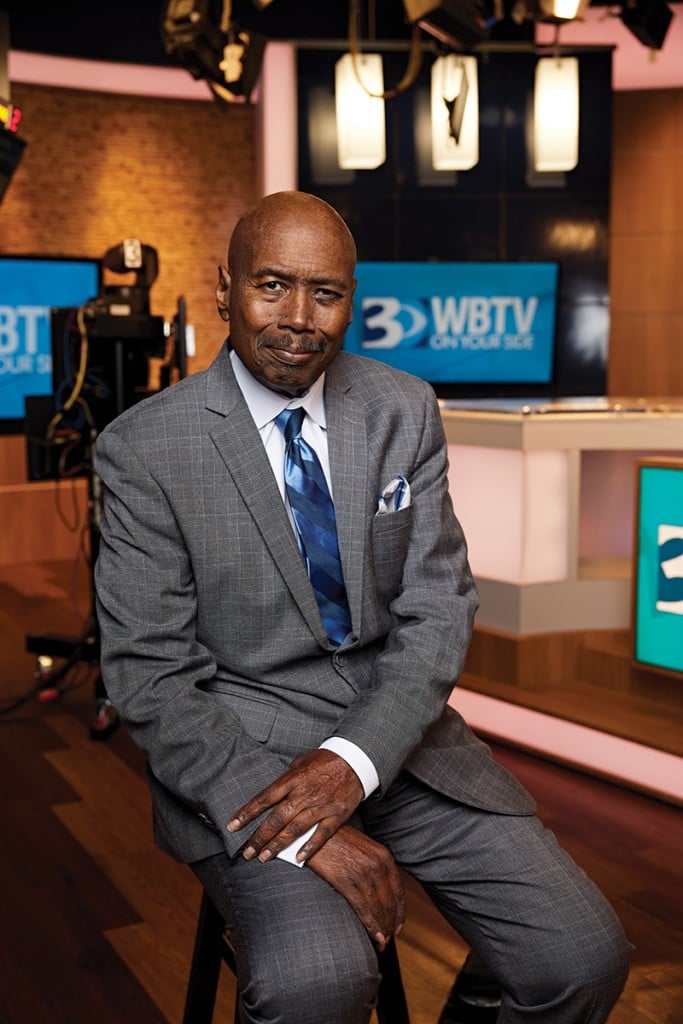 In the blur of information that followed Steve Crump's July 2018 cancer diagnosis, one word drove home how dire his situation was: "hospice." But the longtime WBTV journalist wanted another source. He traveled to the Winship Cancer Institute at Emory University in Atlanta and developed a rigorous treatment plan with Dr. David Kooby, who reassured Crump that his condition was "very treatable."
Chemotherapy was set to begin that August. But before the end of the summer, Crump contracted MRSA. The bacterial infection collapsed his right lung. He spent 51 days in the hospital, where he relied on dialysis, a ventilator, and a feeding tube. His legs atrophied, and he lost the ability to walk. When a couple of colleagues came to visit, a staff member warned them that this would be the last time they would see Crump alive.
Four years later, Crump has achieved plenty just by reaching his 65th birthday, which he celebrated in September. But on top of that, he's still making documentaries and specials that highlight issues of social justice. His ongoing chemotherapy claims much of his energy, but his dedication to his work hasn't waned. 
"When you are faced with your own mortality," Crump reflects, "it raises a lot of questions in terms of life's priorities." There were immediate concerns: How much time do I have left? How are we going to pay for this? "But more important," he says, "are the core values." 
One of those is his relationship with his wife, Cathy. They married late in life, in October 2015, and he credits her with sustaining and comforting him throughout his treatment. Another of his priorities? His work. He took a nine-month leave of absence after his diagnosis, but he says he never considered retiring. Cathy, though, worries about his workload.
"This is a calling," Crump says from his home in north Charlotte. "I remember a conversation with my oncologist and my wife one day. My oncologist turns to my wife and says, 'Mrs. Crump, you need to back off, because Steve's work is his medicine.'" 
His schedule now revolves around four or five weekly visits to Levine Cancer Institute. He mostly works from home, and he's careful to take COVID precautions, but that hasn't kept him from reporting from the field when he can. Earlier this year, he traveled to his home state of Kentucky to report on the aftermath of devastating tornadoes and flooding. "Adversity," a source there told him, "draws out the good in people."  
***
Crump grew up in Louisville's historically Black Smoketown neighborhood, which dates back to the Civil War. He graduated from Eastern Kentucky University in 1980 with a degree in journalism, and he traces his interest in social justice and civil rights to his time there. "I was doing those kinds of stories when I was a college student," he says.
He worked in Lexington, Savannah, and other cities before he took a job with WBTV in 1984. He was drawn to documentary filmmaking 10 years later by the prospect of telling African American stories. Since then, his work has explored the story of Smoketown, the legacy of the Friendship Nine, and the banjo's Black history.
He's brought a filmmaker's attention to his medical odyssey, and the cancer patient's perspective to his work. Both experiences, he says, have "given me perhaps a greater eye and a greater ear for compassion, for empathy, for being able to share the experiences of the disenfranchised."
In August, Crump's documentary Muhammad Ali's Victory Away from the Ring, which he produced for WTVI, won best documentary in its market category at the National Association of Black Journalists' annual television awards. In October, North Carolina Humanities honored Crump with its annual John Tyler Caldwell Award, which recognizes those who have "strengthened the educational, cultural and civic lives of North Carolinians." 
These are the latest in a pile of honors that also includes regional Emmy awards, NABJ's 2016 Journalist of the Year award, and his 2020 induction in the Kentucky Journalism Hall of Fame. The selection committee cited his role as a mentor and "the conscience of the newsroom" at WBTV, as well as the more than 20 documentaries he's produced, including several that PBS distributed nationally. 
In 2021, Crump and his wife also donated a significant portion of their work to the Center for Civil Rights History and Research at the University of South Carolina Libraries. The Steve and Cathy Wilson Crump Collection contains notes and footage from those documentaries and his four decades of reporting on civil rights in the Carolinas. 
But Crump is careful not to let the plaques and printers ink intoxicate him. He's thought a lot lately about his legacy, and he doesn't measure his impact in awards. Instead, he wonders, "Did our work allow people to have a greater sense of understanding of community? Of race relations? Of their own humanity? And, perhaps, how they fit into the bigger picture?"
***
After Crump recovered from MRSA, he started physical therapy. He painstakingly regained the use of his legs, taking tentative steps with the aid of parallel bars and his therapist. One day, he thought, I think I got this, and asked to try on his own.
"I literally took six steps and broke down and cried," he says. "That moment, in hindsight, provided a sense of hope, perhaps demonstrated some needed stamina, and inspired a sense of belief that, yeah—there are still some good days to come."
ALLISON BRADEN is a contributing editor.