The CEO not only pulled Blumenthal out of COVID but led it to new places—and broke records along the way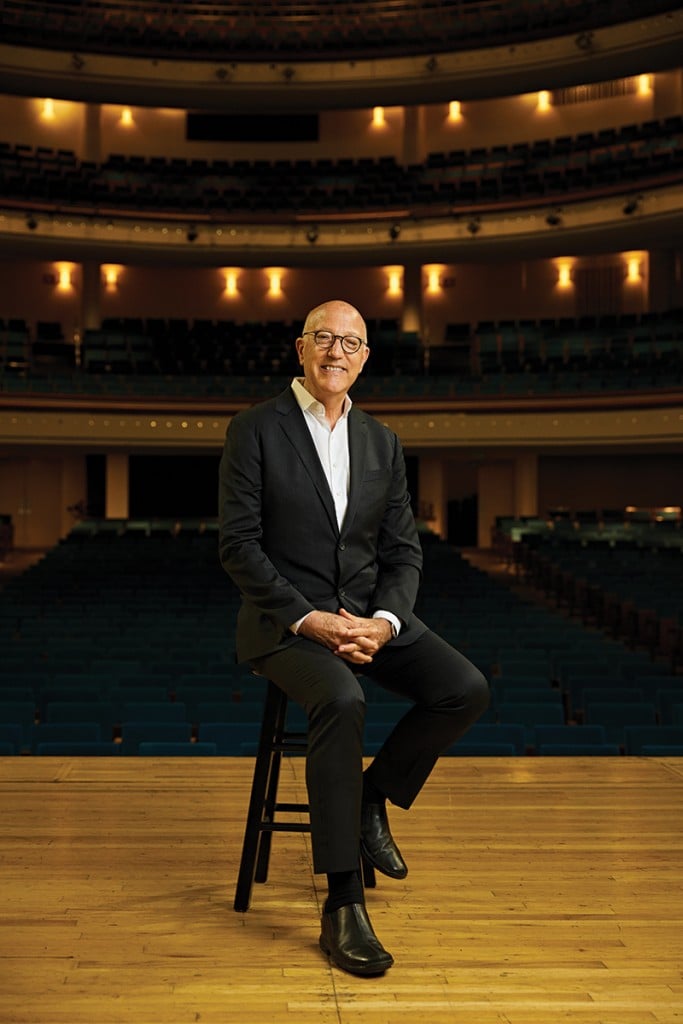 In March 2020, theaters all over the country closed their velvet curtains. Blumenthal Performing Arts Center, with its six Charlotte theaters, was one of them. It laid off 220 employees and turned off its stage lights for the next 18 months. 
By September 2022, when many arts centers struggled to recover and others had permanently closed, Blumenthal was healthier than ever. It was back up to nearly 320 staff members and had just wrapped up its first major post-COVID exhibition, Immersive Van Gogh. Its 2022-23 Broadway season was underway, with 18 different shows in the lineup—more than any other Broadway presenter in the country. It also was gearing up for its inaugural Charlotte International Arts Festival, a 17-day event with 200 art and immersive installations throughout the city from local and international artists. 
How had Blumenthal rebounded so strongly? When the pandemic doused its stage lights, CEO Tom Gabbard found ways to bring employees and patrons back together.  
***
Gabbard arrived in Charlotte after an eight-year stint with Weidner Center for the Performing Arts in Green Bay, Wisconsin. He'd formed a relationship with Broadway after Weidner Center hosted one of the most financially successful runs of The Phantom of the Opera in the show's 35 years on Broadway. As a result, Broadway League, the national trade association for Broadway theatre, invited Gabbard to join the organization. He became a member of the Board of Governors and the finance and intra-industry committees, and a voter for the Tony Awards. 
In 2003, 11 years after Blumenthal was founded and while Gabbard was still in Wisconsin, its first president, Judith Allen, contacted him. She was retiring and, having heard about his work, wanted him to take her place at Blumenthal. 
"I've stayed because the opportunity is so great," Gabbard, 67, tells me over the phone on Sept. 15, just one day before the kickoff of the International Arts Festival. "When I feel my work is done, then I want to get on to the next place."
A city that evolves as quickly as Charlotte needs an arts organization with foresight, intuition, and an extensive network. 
"We have a team of people who keep their ear to the ground about what's going on. … We're looking at societal trends and data elsewhere," Gabbard says. "And you know, I think we're pretty good at trying to see where the public is going and trying to be out there on the front end of a trend."
Immersive Van Gogh is a prime example. Gabbard says Blumenthal was the fourth organization in the country to agree to host the project which, as of December 2021, had sold 4.5 million tickets worldwide. Gabbard saw it as a way to showcase art safely—patrons could view it without sitting shoulder-to-shoulder in a theater.
The show—which opened on June 17, 2021, nearly three months before Blumenthal's Broadway shows would return—was so popular in Charlotte, it was extended three times. It closed on Jan. 2, having sold more than 300,000 tickets. It allowed Blumenthal to hire back employees, and by the time the exhibit closed, it had generated more than $39 million for the city in ticket sales, dining, hotels, parking, and more. 
It was such a success that Gabbard is looking to give immersive art a permanent home in Charlotte. In July, he visited major digital arts centers in Europe, including L'Atelier des Lumières in Paris, to study how they achieved permanent homes for immersive art.  "We think that whole area, the merger of technology and the arts," Gabbard says, "is something that's primed for a lot of growth."
***
Immersive Van Gogh exemplified another change for Blumenthal: The organization, which has anchored uptown since its founding, is expanding beyond the I-277 loop. For example, the Charlotte International Arts Festival hosted exhibits in Ballantyne every day of the festival.
"Really, until Immersive Van Gogh that we did out at Camp North End, Blumenthal was pretty much an uptown-centric organization. We were created in the '90s to help bring uptown back," Gabbard says. "While we'll continue to have a strong focus on operating our theaters there, the public will increasingly see us put activities in outlying communities. It's a part of our attempt to reach out to people who otherwise have not been connected with us."
The new year will mark two decades since Gabbard arrived in Charlotte to lead the Blumenthal team—his longest tenure with any organization. "Charlotte has always given me new chapters and new opportunities," he says. "This ability to take on new projects has kept me in love with Charlotte and wanting to stay here." 
Tess Allen is the associate editor.