A neighborhood-by-neighborhood breakdown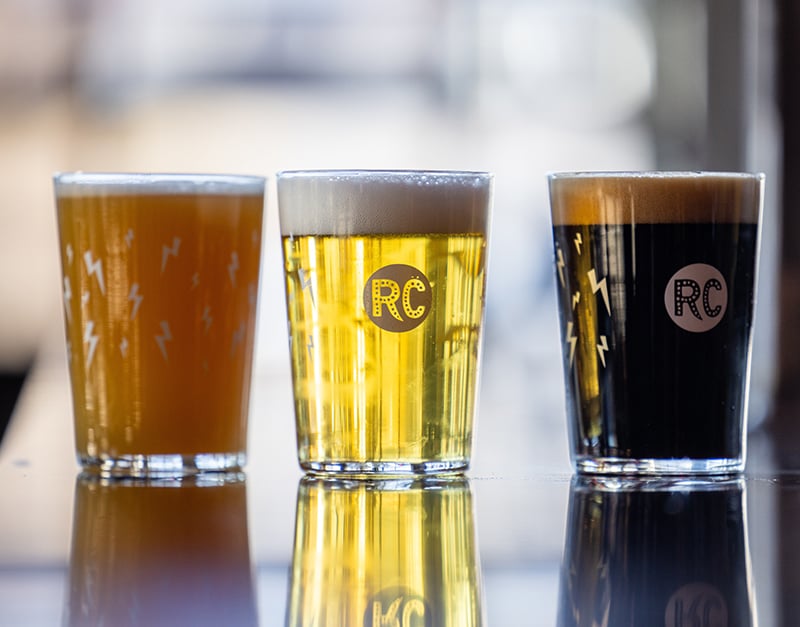 Here's a list, as thorough as we could make it, of the more than 80 Charlotte-area taprooms. A couple of notes: We've organized them by Charlotte neighborhood and surrounding city or town—Belmont, Concord, etc.—so you'll see what seem to be repeats. Those are just alternate locations; some Charlotte breweries have opened additional taprooms both within and outside city limits, and some suburban breweries have opened taprooms in Charlotte.
Also, on "breweries" versus "taprooms": People tend to use the terms interchangeably. But they're not synonymous. Breweries are where beer is made; taprooms are where beer is served. You can have a brewery without a taproom, and vice versa. We presume that our readers want to know where they can drink, not just gaze longingly at fermentation tanks. The list below covers taprooms, in other words. Most, but not all, are attached to breweries.
Happy drinking. And if we overlooked someone, let us know. —Greg Lacour
---
 

» NORTH CHARLOTTE  (NODA, OPTIMIST PARK)
BIRDSONG BREWING COMPANY
1016 N. Davidson St.
704-332-1810
DIVINE BARREL BREWING
3701 N. Davidson St., Ste. 203
980-237-1803
FONTA FLORA BREWERY
1115 N. Brevard St., Ste. D (Optimist Hall)
980-207-2470
FREE RANGE BREWING
2320 N. Davidson St.
980-201-9096
FREE RANGE BAR
301 Camp Road, Ste. 100
980-209-0538
HEIST BREWERY
2909 N. Davidson St., Ste. 200
704-375-8260
HEIST BREWERY AND BARREL ARTS
1030 Woodward Ave.
704-595-3111
NODA BREWING COMPANY
2921 N. Tryon St.
704-900-6851
nodabrewing.com
PROTAGONIST BEER
3123 N. Davidson St., Ste. 104
980-938-0671
SALUD CERVECERIA
3306 N. Davidson St., Ste. C
980-495-6612
THE CHAMBER BY WOODEN ROBOT
416 E. 36th St., Ste. 100
980-938-6200
 

» ELIZABETH/PLAZA MIDWOOD
BURIAL BEER COMPANY
1216 Thomas Ave.
CATAWBA BREWING COMPANY
933 Louise Ave., Ste. 105
980-498-6145
DEVIL'S LOGIC BREWING
1426 E. Fourth St.
704-666-1001
LEGION BREWING COMPANY
1906 Commonwealth Ave.
844-467-5683
PILOT BREWING COMPANY
1331 Central Ave., Ste. 104
704-802-9260
RESIDENT CULTURE BREWING COMPANY
2101 Central Ave.
704-333-1862
SOUTHERN STRAIN BREWING COMPANY
1800 Central Ave., Ste. A1
704-218-9539
 

» SOUTH CHARLOTTE
BREWERS AT 4001 YANCEY
4001 Yancey Road, Ste. A
704-452-4001
EDGE CITY BREWERY
6209 Old Post Road, Ste. 109
980-949-6199
GILDE BREWERY
3530 Dewitt Lane
980-613-8454
HI-WIRE BREWING
330 W. Tremont Ave.
HOPFLY BREWING COMPANY
1327 S. Mint St.
LEGION BREWING COMPANY
5610 Carnegie Blvd.
844-467-5683
LENNY BOY BREWING CO.
3000 S. Tryon St.
980-585-1728
LOWER LEFT BREWING COMPANY
4528 Nations Crossing Road
704-469-9861 
THE OLDE MECKLENBURG BREWERY
4150 Yancey Road
704-525-5644
Additional taproom at Charlotte Douglas International Airport
PROTAGONIST BEER
227 Southside Dr., Ste. A
980-209-0735
RED CLAY CIDERWORKS
245 Clanton Road
980-498-0676
RESIDENT CULTURE BREWING COMPANY
332 W. Bland St., Ste. C
704-333-1862 
THE SUFFOLK PUNCH
2911 Griffith St., Ste. A
704-319-8650
SUGAR CREEK BREWING COMPANY
215 Southside Drive
704-521-3333
SYCAMORE BREWING
2161 Hawkins St.
704-910-3821
Additional taproom at Charlotte Douglas International Airport
TRIPLE C BREWING COMPANY
2900 Griffith St.
704-372-3212
TROLLEY BARN FERMENTORY
2104 South Blvd.
980-938-0984
VAULTED OAK BREWING
3726 Monroe Road
980-209-0309
WOODEN ROBOT BREWERY
1440 S. Tryon St., Ste. 110
980-819-7875
 

» UNIVERSITY
ARMORED COW BREWING CO.
8821 JW Clay Blvd., Ste. 1
704-277-6641
 

» UPTOWN
D9 BREWING COMPANY
650 E. Stonewall St., Ste. D
704-691-0314

» WEST CHARLOTTE
BLUE BLAZE BREWING CO.
528 S. Turner Ave.
980-859-2586
LEGION BREWING COMPANY
2013 W. Morehead St., Ste. 200
980-202-3380
MIDNIGHT MULLIGAN
2215 Thrift Road, Ste. A
980-207-3891
PETTY THIEVES BREWING CO.
413 Dalton Ave., Ste. B
SUMMIT SELTZER
2215 Thrift Road, Ste. B
980-819-6416
TOWN BREWING CO.
800 Grandin Road
980-237-8628

---
BELMONT BREWING COMPANY
1500 River Drive, Ste. 250
704-829-8304
JEKYLL & HYDE TAPHOUSE AND GRILL
10 E. Catawba St.
704-846-4933
PRIMAL BREWERY BELMONT
52 Ervin St.
704-829-3816
---
BUZZED VIKING
1048 Copperfield Blvd. NE, Ste. 101
704-966-7065
CABARRUS BREWING COMPANY
329 McGill Ave. NW
704-490-4487 
HIGH BRANCH BREWING CO.
305 McGill Ave. NW, Ste. 100
704-706-3807 
TWENTY-SIX ACRES BREWING COMPANY
7285 W. Winds Blvd. NW
980-277-2337
SOUTHERN STRAIN BREWING CO.
65 Brumley Ave. NE, Ste. 3001
704-218-9106
---
ASS CLOWN BREWING COMPANY
10620 Bailey Road, Ste. E
704-997-8490
D9 BREWING COMPANY
11138 Treynorth Drive, Ste. C
704-457-9368
ELEVEN LAKES BREWING COMPANY
10228 Bailey Road, Ste. 201
704-998-9017
LOST WORLDS BREWING
19700 One Norman Blvd., Ste. D
980-689-2467
---
ROYAL BLISS BREWING CO.
7532 Royal Bliss Court
704-951-8388
---
1873 BREWING
415 Tom Hall St.
803-547-8520
AMOR ARTIS BREWING
204 Main St., Ste. 101
803-547-6464 
LAKE WYLIE BREWING CO.
1741 Gold Hill Road, Ste. 100
803-802-0001
MODEL A BREWING CO.
1175 Stonecrest Blvd.
803-547-8595
REPLAY BREWING
1317 Broadcloth St.
803-594-3246
---
CAVENDISH BREWERY
207 N. Chester St.
704-830-0435
---
PHARR MILL BREWING
105 Oakley Drive
704-456-7657 
PERCENT TAP HOUSE
4250 Main St., Ste. 109
980-258-8651
---
PRIMAL BREWERY
16432 Old Statesville Road
704-947-2920
---
LORE BREWING COMPANY
1218 Rosemont Drive, Ste. 100
---
SWEET UNION BREWING
13717 E. Independence Blvd.
704-628-5211
---
OLD ARMOR BEER CO.
211 West Ave.
704-933-9203
---
JEKYLL & HYDE TAPHOUSE AND GRILL
316 N. Trade St.
704-846-4933
SEABOARD BREWING
213 N. Trade St.
704-246-6575
---
SOUTHERN RANGE BREWING CO.
151 S. Stewart St.
704-706-2978
---
GHOSTFACE BREWING BREWERY & PIZZERIA
427 E. Statesville Ave.
704-799-7433
KING CANARY BREWING CO.
562 Williamson Road
704-862-4440
JOLLY ROGER BREWERY
236 Raceway Drive, Ste. 12
704-769-0305
---
TRAUST BREWING
128 S. Main St.
980-277-5135
---
MIDDLE JAMES BREWING
400 N. Polk St., Unit B
704-889-6522
---
LEGAL REMEDY BREWING
129 Oakland Ave.
1157 Herrons Ferry Road
803-324-2337 
SLOW PLAY BREWING
274 Columbia Ave.
803-701-9860 
ROCK HILL BREWING COMPANY
121 Caldwell St., Ste. 101
803-980-2337 
DUST OFF BREWING
130 W. White St., Ste. A
803-324-4610
---
THE DREAMCHASER'S BREWERY
115 E. North Main St.
704-843-7326