Scooter MacMillan, Editor
After a season that ended in the closing moments of the D-1 state championship game last year, this year has dawned brightly for the Champlain Valley Union High football team.
The RedHawks are 2-1, but its lone loss was a nonconference, out-of-state game that may ultimately prove a very positive experience for the team, coach Rahn Fleming said.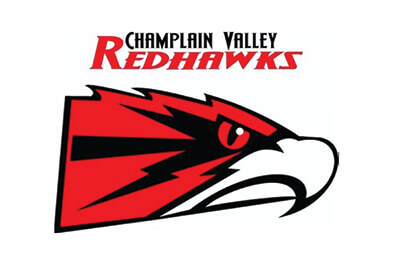 CVU 56, Middlebury Union 19
CVU started the season with a 56-19 win at Middlebury.
This was a very satisfying start to the season for Fleming for two reasons.
First, the team played very well against "a perennially well-coached, good performing team. We just had a little bit more than they did on this night," the Redhawks coach said.
But Fleming was also more than a little bit pleased because this was the first time in his 16 years as a coach at CVU that he has defeated a football team at Middlebury Union High School — at either the varsity or junior varsity level.
He confessed that over the years not winning at Middlebury has contributed "to a little, quiet undertone of personal frustration and we got to put that one to bed."
Exeter High (N.H.) 35, CVU 21
The second game of the season technically was a loss, but Fleming doesn't see it as truly a loss.
He had been worried because the Redhawks were scheduled for a bye week after just one game. Bye weeks can be very troublesome for a high school team. The coach was worried about his team losing its rhythm, so he managed to schedule a non-conference game at Exeter High in Exeter, N.H.
"It didn't count in the standings and it was a very good day for us to get better," Fleming said.
The matchup came with a fun little twist. In this game the CVU Redhawks were pitted against the Exeter High Blue Hawks.
If the teams play hard enough, he said, "everybody goes home a purple hawk."
The Redhawks gave up three 60-yard plays, but other than that "we went toe to toe with them," Fleming said, pointing out that it just takes one player to miss assignment for a play to go a long distance.
Other than those three plays, the coach was pleased with his team and convinced they'd come away from the game as purple Redhawks because of their tough play — particularly in the second half.
At the halfway point, CVU was down 28-14, so the team played the Blue Hawks to a 7-7 tie in the second half. He felt like his players got a very important lesson in humility that will stand them in good stead for the rest of the season.
Not only were the Redhawks playing a tough team in the 85-degree heat, their opponents were deep, with 73 guys on their roster. CVU has 35 players.
CVU 42, South Burlington/Burlington 20
This past Friday, Sept. 16, the Redhawks defeated the South Burlington-Burlington SeaWolves 42-20 at Munson Field in South Burlington.
"It was literally a tale of two halves. The first half we couldn't quite find our feet offensively our defense felt real sound," Fleming said.
Late in the second quarter, the SeaWolves started the scoring with a touchdown off a punt return but missed the extra point.
The Redhawks came right back to score a touchdown and take the lead 7-6. And that was where the score stood at halftime.
At halftime, Fleming said the team had a good conversation about how the game was going and really took stock of themselves. After acknowledging the penalties and missed plays, the team seemed to get committed to doing better.
"The running backs and wide receivers came out on fire the second half," he said.
The SeaWolves were also well prepared and seemed to be aware of what the Redhawks' tendencies on offense were, so in the second half CVU began to change its offensive strategy and it worked.
South Burlington-Burlington managed to score two touchdowns late in the game that didn't concern Fleming too much. His team was far enough ahead on the scoreboard that he took advantage of the opportunity to give some more players game experience he expects will pay dividends later in the season.
Jack Sumner ran for two touchdowns; Ollie Cheer and Aidan Miller each ran for a touchdown; but the coach took particular delight that fullback Asher Vaughn scored his first touchdown. Vaughn is new to football this year, had gotten close to scoring a couple of times and finally punched over against the SeaWolves.
"He's gotten better every week," Fleming said.
The coach is pleased at how well the scoring has been distributed during the first three games.
"We've had 11 different guys run the ball for us which I'm super happy about," he said, "As we rotate plays in and out, a lot of guys get a lot of opportunities."
Seven different players have caught passes as the Redhawks are doing well at distributing the ball to a variety of players.
Leading rusher Sumner "lit the place up" against the SeaWolves, Fleming said. "He ran his heart out."
Sumner ran eight times for 104 yards, notching two touchdowns.
The coach was also pleased with the way that senior Kieran Jurgenson showed up at defensive end. Because the Redhawks have a number of big, physical, capable lineman, Jurgenson has not had lots of game time.
"For that senior to have laid low, paid his dues, engage in the grind and when he gets his chance to start and do so well, I was very happy," Fleming said.
Besides shining at quarterback, Max Destito caused a fumble playing linebacker.
Other significant contributors to the Redhawks' offensive productivity this season have been Alex Provost at wide receiver with 17 catches, 254 yards, four touchdowns on the year, and Aidan Miller, who has carried the ball 10 times for 148 yards and a touchdown.