Restaurants calibrate them carefully to steer our eyes, stomachs, and wallets.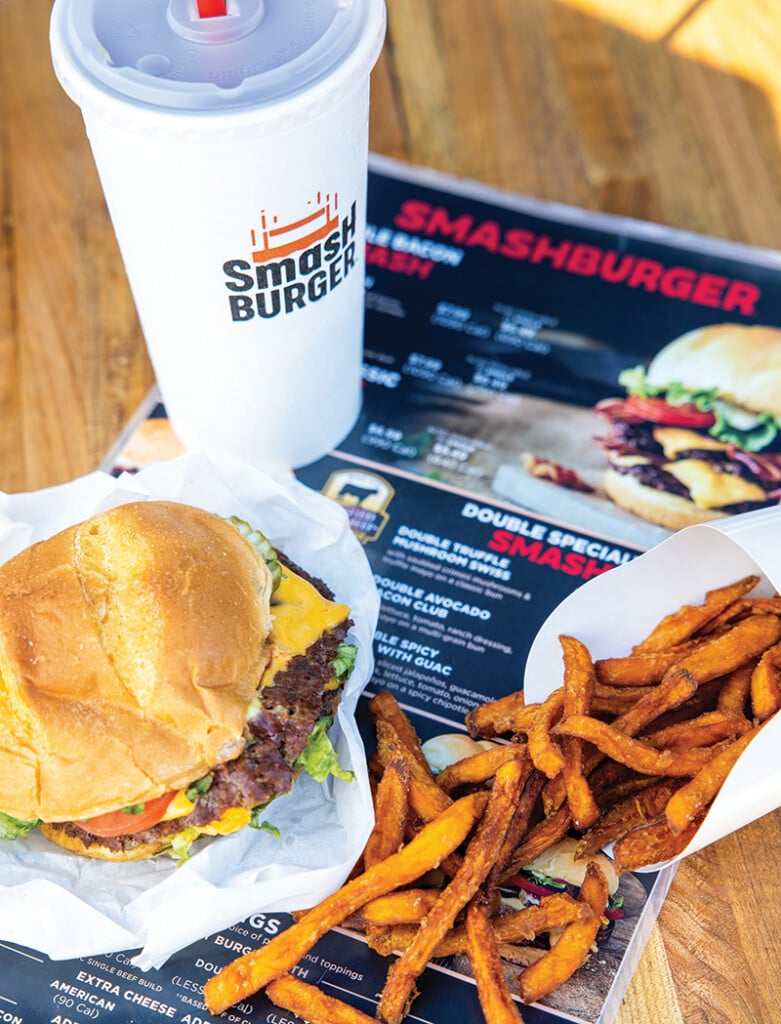 As I researched the psychology of restaurant design for last month's column, I learned how much the menu can guide customers' buying decisions. A menu is more than just a list of food and beverages. It's a restaurant's most important in-house marketing and sales tool, says Tyler Michael, who owns the restaurant and retail marketing firm Tyler Michael Studios.
Michael has coordinated photo shoots, magazine ads, and menu boards for a number of restaurants including Viva Chicken, Bad Daddy's Burger Bar, and Smashburger. For 13 years, she was director of marketing for Firebirds Wood Fired Grill, where she oversaw the chain's branding. Menu engineering, like restaurant design, starts with a bit of psychology.
"Your eye is drawn to the right upper corner," Michael says. That's where we expect important information, like login buttons, to be. When we look at a two- or three-fold menu, our eyes typically start in the middle of a page, then move to the top right, then the top left in what's called the "eye gaze path" or "golden triangle."
"At lunch, (the top right corner) is where your handhelds or burgers will be because you make more profit off those at lunch," she says. "At dinner, that's where your entrées are."
On a seafood menu, oysters often occupy that sweet spot. "They might be $4 each, and they come six per order, so you've just ordered $24 worth of oysters," she says. "But they're not gonna say $24. It's a clever little way to avoid sticker shock." It's the same logic with salads, where you'll often have the option to add a protein. "That salad's already $15, then you add $10 for seared tuna. You know that'll be a $25 salad, but it's a way to ease into it a little bit."
OpenTable reports the average customer looks at a menu for 109 seconds before placing an order, so more choices aren't necessarily better. "It's like at The Cheesecake Factory, where you get decision paralysis," Michael says. "Unless you're a New York City diner, you're not going to bring that guest back." A smaller menu also frees up more real estate for the star dishes a chef wants to push. 
Some industry experts follow the rule of seven, which says any more than seven items per section can be overwhelming and cause a customer to default to something they've ordered before—or just get the cheapest option so they don't waste money on a dish they may not like. 
According to neurosciencemarketing.com, some restaurants even use "decoy dishes," or items that are more expensive, to give the impression that the rest are a bargain. But it's rare you'll see an actual dollar sign. "I haven't seen one on a menu in 10 years," Michael says. "If you do, you're probably at a diner. We used to play around with cents, like 14.99, but a simple '15' is just cleaner." 
Prices are typically the same font and size as other menu text to draw less attention as customers scan the menu. "Italics are used for something like calorie counts or warnings about foodborne illness, the required-by-law stuff you have to have there," she says, "but you don't want your guest to spend a whole lot of time on that."
If there's a signature dish the restaurant wants to highlight, though, it'll stand out. "At Firebird's, the Lobster Spinach Queso was the No. 1 seller for all 13 years I was there," Michael says. "If you have an item like that and you want to be known for it, you put it in an oval or double box with a nice description and price point, and then you sell it and sell it and sell it." 
Another way to promote a signature item is with short, descriptive language. For example, "Mattie's Mom's Meatloaf" at Mattie's Diner is more memorable than a standard Italian meatloaf. "Texas-style Sliced USDA Prime Beef Brisket" at Midwood Smokehouse is more enticing than a basic brisket platter.
Appealing to consumers' eyes is just one part of the equation, of course. Cuisine, ambience, and service all factor in as well. But that seemingly straightforward list of food and beverages has a lot more influence over your choices than you might think.
TAYLOR BOWLER is the lifestyle editor.