By Scooter MacMillan, Editor
Boys lacrosse
CVU 9, Burr and Burton 8, OT
The Champlain Valley Union High boys lacrosse team hung on to take down Burr and Burton 9-8 in overtime on Wednesday, April 27.
Peter Gilliam scored the "golden goal," the deciding score when teams are tied after regulation.
Owen Pierce was the Redhawks' leader on offense with three goals and an assist. Gilliam was just behind him with two goals and an assist.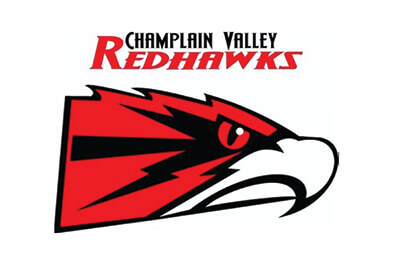 Matias Williams showed up on the offensive side with two goals. Colin Zouck and Turner Elliott each scored a goal to round out a balanced offensive effort by CVU.
Goalie Miles Kapan grabbed six saves.
"Hats off to Burr and Burton on a great game," coach Tom Garvey said. "We're very proud of the grit out team displayed to come from behind and never get down on ourselves."
Garvey said the victory was a team win earned through hard work and his players cashing in on their investment in such things 6 a.m. practices and hill runs.
CVU 9, South Burlington 6
On Friday, the Redhawks downed South Burlington 9-6. Details of that match were not available by press time.
CVU 10, Mount Mansfield Union 4
The Redhawks toppled a Mount Mansfield Union team Garvey called "competitive" on Thursday, April 21.
"Hats off to their players and coaches for giving us a good game throughout," Garvey said.
The coach had kudos for the balanced scoring of Williams with three goals and Nolan Shea and Gilliam who each knocked down two goals.
"Our attack played well," Garvey said. "We're pleased with the improvement we see in each game."
Girls lacrosse
CVU 11, South Burlington 8
The CVU girls lacrosse team never trailed in an 11-8 victory over South Burlington at home on Friday, April 29.
The Redhawks jumped out to a 5-0 lead before South Burlington found the back of the net. It was 6-2 at halftime, favor of CVU.
Chloe Snipes was the scoring leader with four goals. Dicey Manning and Stella Dooley each scored twice. Tess Everett, Amelie Scharf and Grace McNally each had a goal.
CVU goalie Clare Stackpole-McGrath had five saves.
The victory gave the Redhawks a 5-1 record with the lone loss to BFA-St. Albans.
BFA-St. Albans 17, CVU 13
On Tuesday, April 26, the Redhawks fell to BFA-St. Albans, the team that knocked them out of the quarterfinals of the state tourney last year.
After a tight first half, BFA-St. Albans had a 9-7 lead at halftime and were up 16-10 in the second half before CVU made it closer with a couple of goals late.
Stella Dooley tossed in five scores and an assist, and Ava Bartlett got three. Tess Everett and Chloe Snipes each scored two goals. Amelie Scharf added one.
Stackpole-McGrath stopped six in goal, and Ava Medici stopped three.
Coach Tucker Pierson said her team is very different than last year's team with just six starters who are returners, but she likes how those who have returned are mentoring the newer players.
"We're working on lacrosse IQ. The seniors are really good at helping younger players with situational strategy," Pierson said. "That's been really fun to see."
Girls tennis
CVU 6, Essex 1
The Redhawks took every match except No. 1 singles in a girls tennis contest with Essex on Saturday, April 30.
Scarlett Wagner fell 6-4, 6-1 for CVU's only loss.
Tabitha Bastress 6-4, 6-4; Cassie Bastress 6-1, 6-2; Sage Peterson 6-3, 6-3; and Leonie Schwetlick 6-1, 6-3 all won in straight sets at singles.
The trend continued in doubles with the teams of Stella Makay/Ariel Toohey, 6-4, 6-1, and Millie Boardman/Eliza Willoughby, 6-2, 6-0, not dropping a set.
Baseball
The CVU varsity baseball team was 2-0 after beating South Burlington and Rutland to start the season last week.
CVU 12, Rutland 0
On Saturday, April 30, went to Rutland and returned with a 12-0 shutout of the Raiders.
Ryan Canty was the winning pitcher, going five innings and giving up three hits and no earned runs. Canty struck out nine.
Travis Stroh was the leader on offense going 2 for 3 at the plate and taking two singles, an RBI, a walk and a stolen base.
CVU scored in every inning but the third.
CVU 7, South Burlington 3
The Redhawks opened the baseball season with a 7-3 win over South Burlington on Tuesday, April 26.
Ollie Pudvar was the winning pitcher, going for six innings. Pudyar gave up two hits and an earned run, but struck out 12 and only walked one.
Stroh was 2 for 3 at the plate with a single, a double and an RBI.
Boys ultimate
The Redhawks also started the season with two wins in boys ultimate.
CVU 12, Burlington 9
On Tuesday, April 26, the Redhawks traveled to Burlington and snatched a 12-9 victory.
The scoring leaders were Zach Spitznagle's three goals and Jared Kartschoke's and DJ Steinman's two goals.
Leo Sarandos and Sam Holmes both threw three assists. Victor Colon and Zach Spitznagle led the way on defense with three passes defensed each.
Colon scored the go-ahead goal to make the score 8-7, after which CVU kept the lead for the rest of the game.
"We started out slow and fell into an early deficit at 2-5,  after which things stabilized and went into half down 6-7," coach Syrus Amedore said. "We came out of the half strong taking four points in a row to take a lead of 10-7 and stayed in control for the rest of the game."
CVU 12, Rice Memorial 6
The Redhawks won 12-6 at Rice on Thursday, April 28. No details about this game were available by press time.