The nonprofit offers rehabilitation, social services, employment, and community to women who have been sexually abused and exploited.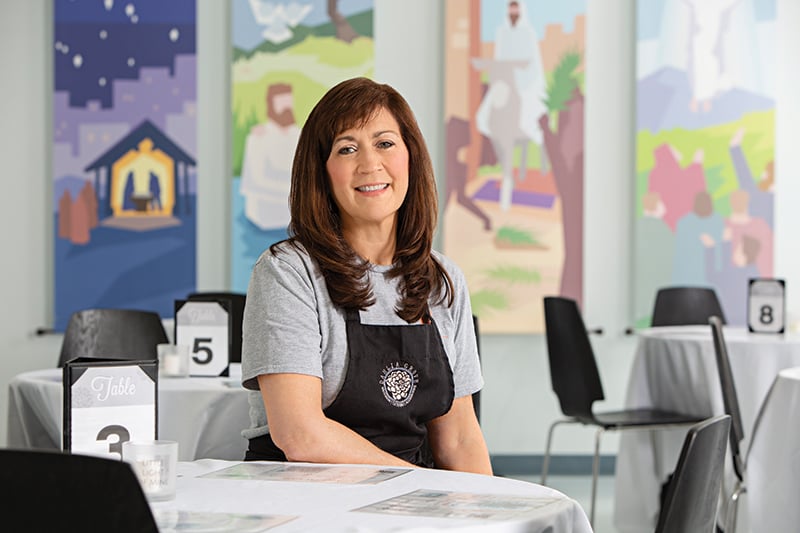 Every other day, Gayle Smith is tempted to walk away from her work. In 2016, she founded Dahlia Grove, a nonprofit that shelters and employs women who have been sexually abused and exploited. Smith had experienced domestic violence herself—her church community helped her break the cycle and leave the relationship—but she wasn't prepared to confront, face to face, the consequences of human trafficking.
"I internalized it all, and I would have nightmares. And to realize the depravity of mankind and just the brokenness of people, and the generational brokenness—it's just passed on from one to another and nobody ever gets the help that they need," she says. "We have a saying … 'If you don't heal what hurt you, you'll bleed on those who didn't cut you.'"
Many of the women Smith works with were molested or raped by trusted adults before they turned 8, and nearly all were trafficked. Dahlia Grove's mission is to end the inheritance of cruelty and pain. This spring, the 7-year-old organization anticipates new community partnerships, expanded programs, and larger facilities to broaden and deepen its impact.
North Carolina consistently ranks among states with the most human trafficking cases because of its gang activity, transient military population, large agricultural industry, network of major highways, and other factors. In 2021, the National Human Trafficking Hotline received 922 calls, texts, and chat messages from North Carolina, which led authorities to identify 340 victims of human trafficking—a number that understates the scale of the largely covert and unreported scourge of modern slavery. The state Department of Administration defines human trafficking as "a crime by which people profit from controlling and exploiting others … for the purposes of commercial sex acts, labor or services," and calls it one of the state's "most pressing issues."
Dahlia Grove provides four women with rent-free lodging at a restorative care home, where they receive rehabilitation, social services, and education in job training and financial literacy. The organization emphasizes employment to encourage self-sufficiency: At a weekly Community Café, the women hone food service skills, which they use to cater events for churches. They also make candles and other home products to sell at fundraising events and on Dahlia Grove's website.
In each of the program's three phases, residents deposit money in an investment account. When they graduate, Dahlia Grove matches their savings, up to $1,200. One woman with special needs graduated with $13,000 in the bank. The intent, Smith says, is "being stable in recovery and stable financially so that you never have to sell pieces of yourself again in order to survive."
Smith, the daughter of a Baptist pastor and a longtime church musician, had worked with a couple of anti-trafficking organizations in Charlotte before she founded her own. "One of them was so spiritual that they had no room for the clinical, and one was so clinical, they had no room for the spiritual," she recalls. "It's got to be both. It's got to be the whole person."
She modeled Dahlia Grove's programs and operations after Nashville's Thistle Farms. She learned about their work when three people, in unrelated conversations, brought it up over the course of three days. It was one of those things, she says, "where the universe or God or providence or the divine, whatever you call it, said, 'This is what I want you to do.'" On the afternoon of that third day, she was on a flight to Tennessee.
Staff at one of the organizations Smith had worked with in Charlotte chastised her for telling the women she loved them. "'Because the women don't know what love is.' And I said, 'But I think it's my job as a Christian, or person of faith, and humanitarian to show them love in a way they've never seen or understood—a radical love,'" Smith says. "When I walked into Thistle Farms, there was this big mural on the wall that said, 'Love heals.' It really connected to my spirit."
She launched Dahlia Grove with the social enterprise component in 2016, then opened a four-bed house for the residential program in 2019. Even with Thistle Farms' model, Smith had a lot of learning—and unlearning—to do: "I had to realize that my middle-class white privilege had to be put aside."
Once, a woman failed to show up for work because, she explained to Smith, she had to go to her tattoo artist. Smith says, "I'm thinking, pardon my French, What the hell? You don't have two nickels to rub together, and you're going to go spend it on a tattoo artist?!" But she kept her mouth shut—thankfully, she says, because she later learned that pimps often brand trafficked women and subject them to other unwanted tattoos. One of the women she later worked with had brands from five separate pimps. A local tattoo artist had offered to remove or cover up the tattoos for free—but the women had to work around his schedule. For Smith, it was another hard lesson in depravity and empathy.
In April, Dahlia Grove moved into a five-bedroom house and began to operate its manufacturing program out of a warehouse. This year, the organization has plans to expand its catering services, so far limited to church functions for health code reasons, to corporate clients. And it's partnered with Hope for Justice, an international anti-trafficking organization that opened a resource center on Beatties Ford Road last year.
Smith's forte is spiritual leadership and community building, while Tonia Waiters, the residential program manager—she's in recovery herself—brings expertise on addiction and rehabilitation. Hope for Justice will complement their skills with social services, including case management, expunging records, and building credit. Smith turned 62 in April, and as the organization grows, she's determined to make it sustainable enough to outlast her tenure there.
Though she often feels broken by the work, she expects to stay involved for another six to eight years. For every crushing story, every relapse, every instance of despair, there are moments that renew her commitment.
Every morning, residents and staff gather for Morning Circle. They discuss and reflect on principles for living in community, adapted from the Rule of Benedict, a sixth-century guide to monastic life. Recently, a woman came to Dahlia Grove nearly catatonic.
"She came to us with special needs, a low IQ—horribly, horribly abused," Smith says. "Things you wouldn't believe even if I told you." She showed up during a difficult time for Smith, who was once again wondering if the psychological toll was too great. The new arrival didn't talk much, but one morning, she spoke up.
As Smith recounts, "She said, 'I don't know how to explain this, but I feel like I've been homesick my whole life for a place I didn't know existed. And I feel like I'm finally home.'"
Allison Braden is a contributing editor.