The drummer's passing, the band's canceled tour, and the rock, roll, and joy that endures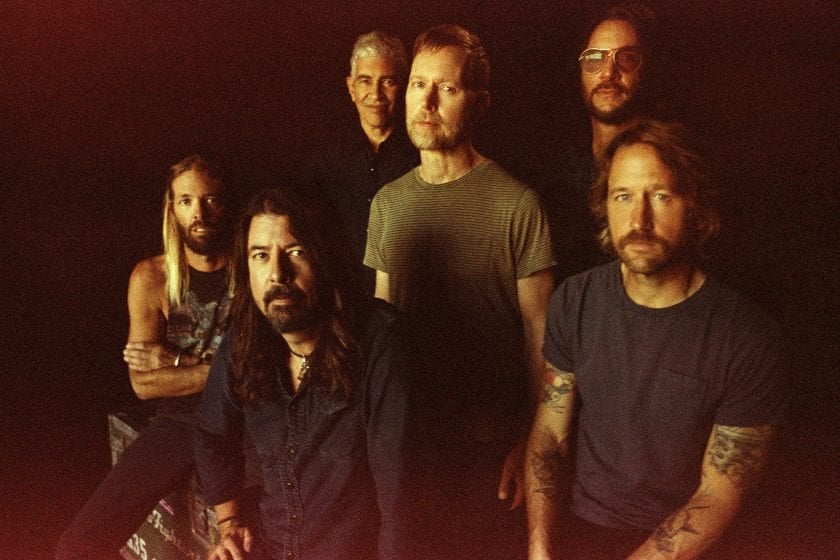 "I don't know when it will be safe to return to singing arm in arm at the top of our lungs, hearts racing, bodies moving, souls bursting with life. But I do know that we will do it again, because we have to."
When I read Dave Grohl's essay in The Atlantic in May 2020, during those early, disorienting pandemic months, I promised myself: When Foo Fighters toured again on the other side of this, I'd be there. Last fall, when they announced their show at PNC Music Pavilion on May 24, 2022, my husband Jimmy and I jumped on A section seats, closing our eyes at the price as we hit "buy."
Now, I'm among about 19,000 people in Charlotte who suddenly have no plans for May 24. After the death Friday of drummer Taylor Hawkins, Foo Fighters canceled their remaining tour dates, including Charlotte's sold-out show. The selfish part of me hates that I'll miss it. But considering the alternative—someone other than Taylor on the drum stool—I don't think I'd want it another way.
I was a teenager in Woodbridge, Va., in the 1990s, about fifteen minutes from where Dave grew up in Springfield. Northern Virginia can be a soulless place, but at least we could claim the great Nirvana drummer as one of us. Not long after Kurt Cobain died in 1994, my friend Mike was at Springfield Mall looking to buy a horn when he saw Dave shopping for an instrument, too. It was weird, he told me in math class the next day. Dave wanted a guitar, not drums.
Foo Fighters was born. His drumsticks would soon pass to Taylor.
I still love music, but I don't think I'll ever love it the way I did in high school and college. When we're younger, songs seem to imprint themselves onto our DNA. The music we blared from our crappy cars, packed with friends. The music we danced to in basements and bars, that flowed from dorm windows onto quads. The music we've never stopped loving. For me, child of the '90s, that was Snoop, Pearl Jam, TLC, Stone Temple Pilots, Fugees. And Foo Fighters.
My favorite show ever—hell, one of my favorite nights ever—was Foo Fighters' 2012 Rock the Vote show at the Fillmore during the Democratic National Convention. Foo at the Fillmore! For just 1,000 fans! That night, this little show became the longest they'd ever played. Midway through "Monkey Wrench," Dave left the stage to wander through the crowd, chugging Miller Lite, downing Jäger shots with fans, and standing on the bars as he played.
By the time he climbed back on stage to finish the song ("ONE LAST THING BEFORE I QUIT…"), we all had lost our minds. Taylor, shirtless and dripping in sweat, played with the enthusiasm and energy of Animal from the Muppets—just rock, roll, and joy. It was impossible to tell who was having more fun, the crowd or the band. Dave said what we all thought: "I keep looking down at the last song on the set list, but I don't want to stop."
For the encore, Dave asked, "Who wants to hear the first album?" They played the entire album. They closed the four-hour show with "Everlong," of course. And our hoarse voices sang every word. If everything could ever feel this real forever …
Before we left, I took a selfie with Jimmy because I never wanted to forget how that night felt. That was ridiculous. We never forgot.
When I watched the video of the last Foo Fighters show before Taylor's death, I realized that thousands of people in Argentina had such a night. Foo Fighters closed with "Everlong," of course. Dave shared vocals with the audience. Taylor's hair flew up from behind the drums as his sticks blurred around him. Euphoria and rock and sweat and thousands of people singing as one. If anything could ever be this good again …
I'm heartbroken to miss the May show at PNC, but I'm far more heartbroken about Taylor and for the rest of the band. I hate to admit I was somewhat grateful that they cancelled. How sad it would be not to see that joyful mess of blond hair behind the drums, exposing flashes of wide eyes and bright teeth. How sad it would be not to see Taylor stroll onto the stage in swim trunks, muscle shirt, and his big ol' smile, like he just wandered in from beach week, then proceed to unleash hell upon the drums for hours.
And I wonder, how can there be Foo Fighters without Taylor? But how could we not hear those songs again live—singing arm in arm at the top of our lungs, hearts racing, bodies moving, souls bursting with life? After two years of waiting, we were so close to all being together again.
Jen Tota McGivney is a writer in Charlotte.