The pandemic turned electronic screens into necessities for school-age children. How much harm do they cause, and is it time for kids to put them down?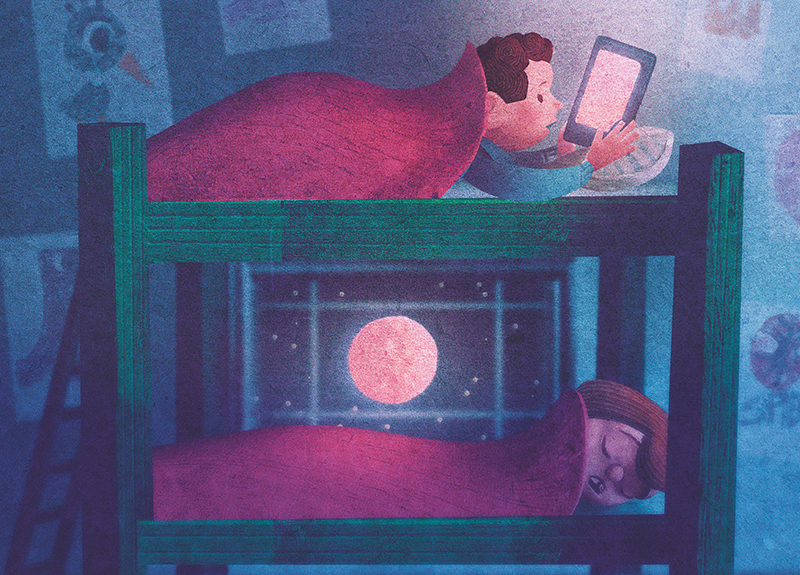 Punam and Ornob Roy's two children were on a strict digital diet in spring 2020. Their son, Ishan, 7 at the time, was in first grade; their daughter, Mila, was 5 and in preschool. Neither had access to smartphones or tablets.
"We didn't have Apple TV. We didn't even have cable," says Punam, 40, a teacher at the nonprofit STEM Skool in Charlotte; her husband, 44, is a urologist. Both have degrees in biomedical engineering from Vanderbilt, and they'd heeded educators' warnings about how too much screen time can erode concentration and reading comprehension in young children. "At most, they could watch PBS on our TV with an antenna," she says. "We didn't have to set rules."
Then came COVID, remote learning, and school-issued iPads, portals to a world of complications. Ishan got his first, and Punam says it came without parental controls. Ishan began to spend more and more time on it as he dove into educational games and YouTube videos. He began to lose sleep and grow irritable. "Very quickly," Punam says, "I could see that my 9-year-old son had an addictive personality."
Researchers have examined the risks of overexposure to smartphone, tablet, and computer screens for years, among children and adults alike. But COVID and remote learning suddenly thrust devices into children's hands as essential learning tools, and many had trouble putting them down when the school day ended.
For the Roys, the risk landed hardest one night in September 2020. Punam, a light sleeper, woke up at 2 or 3 a.m. and saw a glow in her son's bunk bed. Ishan was on his iPad. She took it away and went back to sleep. That morning, Ishan was supposed to take his Measure of Academic Progress exam for second grade reading fluency. He overslept and missed it.
Punam didn't think her son wasn't learning—he's a bright boy, and his teachers at Dilworth Elementary let him take the exam later—but with Mila now in kindergarten and using her own Charlotte-Mecklenburg Schools iPad, she and Ornob decided to set some hard boundaries.
They began to homeschool Ishan and Mila at the end of the semester. Each was allowed one hour of non-school screen time per day, which Punam controlled through the WiFi network management app Orbi. The Roys already had a designated "school area" in their home in Dilworth, and the children were forbidden to take their iPads anywhere else. The Roys also bought an acrylic lockbox where they stored the devices.
Soon, both children began to sleep better, and their parents had more peace of mind. The return of in-person classes helped, too; Ishan reenrolled at Dilworth Elementary in September 2021, Mila in January 2022. They've relaxed some of their rules, but Punam concedes she can't do much when her kids are out of the house: "I've realized I cannot control what I cannot control."
***
The pandemic drove a sharp rise in screen use by minors throughout the United States. It spiked 17% from 2019 to 2021—a higher rate of growth than in the four years prior, according to a March 2022 survey of 1,306 8- to 18-year-olds by the national nonprofit research organization Common Sense Media. During those years, children ages 8 to 12 spent an average of five hours and 33 minutes on screens every day. Among teenagers, the daily average was more than eight and a half hours, not including class or schoolwork.
Some of it was unavoidable. Parents had to work, and many couldn't afford child care. The effects haven't been all bad, either. FaceTime, Zoom, and other video platforms enable contact with extended family and make therapy more convenient, for example. But experts wonder about the long-term effects on learning and behavior. Now that in-person classes are back, many suggest a "digital detox" for children and parents.
Melanie Hempe, whose oldest son once struggled with video game addiction, likens social media to cigarettes. "A few short years from now," she says, "we'll recognize how dangerous it was."
In 2015, Hempe founded ScreenStrong, a Matthews-based nonprofit that educates parents and kids about the dangers of screen time. Children are especially vulnerable, she says: The brain's prefrontal cortex, which governs decision-making and impulse control, is not fully developed until age 25.
Electronics are engineered to keep us coming back for more: think Instagram and TikTok video algorithms customized for clicks, Minecraft building sessions, and Netflix's autoplay feature. They provide the quintessential "low effort, high reward" activity Hempe says our brains are wired to seek. "Kids need to start gardens, build things, go to art class, and make things you'd put on the dining room table," she says. "You can't put Minecraft on the dining room table."
But we're all potential screen addicts. The reason is brain chemistry, says Kristin Daley, the owner and co-founder of BASE, a specialized psychology practice in south Charlotte. Electronics activate our brains' pleasure centers, which release dopamine that, in simple terms, makes us feel good. Daley argues, though, that when people—especially children—interact in person, the benefits are even more profound.
"We get oxytocin, a love neurotransmitter, and serotonin, an antidepressant neurotransmitter, too," she says. "If we are given the opportunity to have those interactions, our brains will develop a preference for them."
***
The American Academy of Ped­iatrics provides an online media calculator to help families figure out how much time they spend on screens. Both Hempe and Daley suggest it as a starting point for parents to determine how long the detox should last. Daley recommends 30 days to three months; Hempe says it can be as little as seven days. They suggest talking to kids about the benefits of reducing or eliminating screen time and helping them list fun alternatives: plant an herb garden, make bird feeders, learn a card game, or explore a musical instrument or sport.
No matter how you design your detox, they say, make it a family affair. "Remember, the way we behave is the biggest role model for our kids," Daley says. "If we aren't leaving (the house), having social relationships, stepping away from media, it'll be hard for our kids to follow suit."
It took time for the Roys to figure out what worked best for them and their children, and Punam says they're adjusting as Ishan and Mila get older. This summer, Punam and Ornob allowed them to use iPads for one hour on weekdays and two hours on weekends, with minutes docked or added depending on behavior—and the system worked.
"My daughter rarely uses all her time. She'd rather read," Punam says. Her son typically runs through his time, but when it's over, he turns to the tennis backboard he constructed with his dad in the backyard and practices his swing. Eventually, though, she knows they'll acquire smartphones, and they'll soon be old enough to navigate the digital world without her supervision.
"I think the battle we will have is with the metaverse. (Ishan) has already asked for an Oculus (headset). This is going to be uncharted territory," she says. "What are these virtual worlds going to be like? I don't know what's going to happen. We'll cross that bridge when we get there."
NIKKI CAMPO is a writer in Charlotte. She's written for The Washington Post, Good Housekeeping, The New York Times, and McSweeney's.
---
Tips for Managing Screen Time
> Schedule outdoor activities, encourage daily exercise, and make sure kids get enough sleep.
> Watch movies or TV shows as a family, with other devices out of reach.
> Be wary of popular video games. If you can't or don't want to drop them, consider playing with your child for 30 minutes on weekends.
> Create a family technology contract: Designate screen-free zones (bedrooms, the dinner table) and times (e.g., after 6 p.m.).
> Set time limits and screen breaks for every device in your house and make use of parental control apps.
> Meet other parents with the same goals. Hempe's organization, ScreenStrong, hosts a Facebook group of more than 8,000 families.