WTVI's general manager strengthened community ties to pull the PBS affiliate out of the hole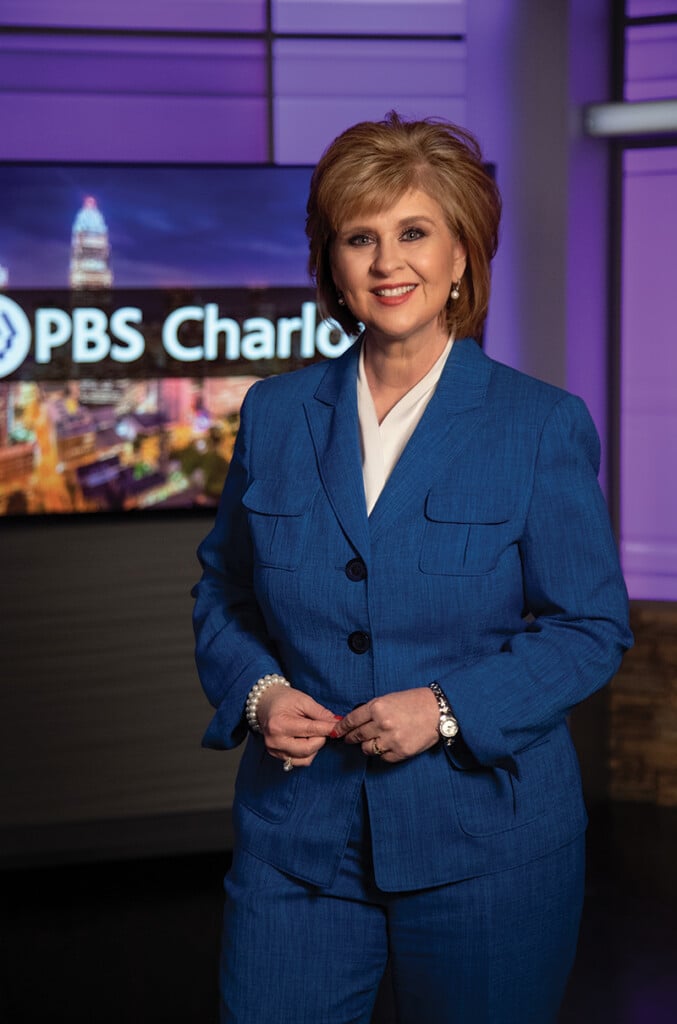 "There are over 7 miles of cables under here," Amy Burkett says as she points under the raised floor in the production control room. "They're keeping everything running."
Burkett, 55, knows every inch of the WTVI building, on Commonwealth Avenue in east Charlotte. She's been general manager of Charlotte's PBS affiliate for a decade, having moved with her husband, Rob Upton, and son, R.J., from Bethlehem, Pennsylvania, where she held the same position for that city's public television station. When she arrived in May 2013, WTVI teetered at the edge of extinction—by 2012, the station was reporting annual losses of about $377,000. But Central Piedmont Community College acquired WTVI in July 2012 with the goal of turning it into the best public TV station in the country.
After some initial deficits, WTVI began to move into the black, and Burkett began to establish stronger ties between the station and the community. In 2016, it began broadcasting the Blumey Awards, an annual celebration of high school musical theatre. Under Burkett, WTVI has created four new shows, including Carolina Impact, a weekly newsmagazine that she hosts. The new shows are often aligned with national PBS documentaries but with a Charlotte-area focus. In 2017, she led the creation of a community engagement effort, the 3-D Project, in response to Charlotte's upward mobility crisis. She also found an unorthodox way to earn money for the station during COVID by renting studio and production space and post-production services to corporate clients.
"I'm very proud of what we've accomplished as a team. But there's still a long way to go," Burkett says. "In a city this size, we should have at least 20,000 individual supporters. … With more support, we can do more to educate, inspire, and entertain."
Here's Burkett in her own words, edited for length and clarity:
I grew up in Ohio and have a bachelor's degree in broadcast journalism from Bowling Green State University. I was an on-air reporter and anchor in several cities, including Zanesville, Ohio, and Greenville, North Carolina. But I really found my people at PBS.
Accepting this position meant uprooting my family. My husband is a photographer and would be able to do that anywhere. He also hated the cold up north and had a sister in Fort Mill, so that was a good thing. But my son was in middle school at the time and less than thrilled about moving. Now he's a senior at Clemson University.
I'm blessed to have the most supportive husband on the planet. We met working for our college paper. He was the photo editor, and I was a cub reporter. We didn't live together after we got married because he had a job in Illinois, and I was still working in Zanesville. There were no TV openings where he was, so I interviewed for a position as a radio reporter. I was offered the job but didn't want it.
The next morning, I felt sick to my stomach because I knew I had to take a job I didn't want. He was making his famous omelets, and I said I had to call and accept the job. And he said, "No, you don't." He said we weren't going to wind up divorced because you gave up your dream of working in TV. And he said he'd move to wherever I got a job. He's always been the greatest supporter of my career.
I've been fortunate to meet some interesting people through my work with PBS, including Ken Burns, Michael Bublé, Josh Groban, and Harry Connick Jr. I also got to meet Aidan Turner, who starred in Poldark, which was pretty cool. Unfortunately, he had grown so much facial hair for a role that he was almost unrecognizable. I thought, He's either going to have to shave or take his shirt off so people will know it's him.
I knew things weren't good when I got here, and that they had almost gone out of business in 2012. The license had been held by Mecklenburg County—and they didn't want to do it any longer. The station was going to go dark. But Dr. Tony Zeiss at CPCC loved public television and wasn't about to let that happen.
They did a national search to find a general manager. And I knew this was the moment I'd been preparing for my whole life. It was hard to leave my old station because I loved it there. But I had grown and felt ready to take on all aspects of public TV.
We are a viewer-supported service even though CPCC is our license holder. We get no state, city, or county funding. We do get some federal funding, but that just pays for the PBS national dues—for broadcasting rights.
My vision was a service-to-success mission. I believed the more we served the community, the more the community would support us, and this has proven to be true. My job was not just to right the ship but pay back what had been lost—over $1 million.
I had been here about a month when the roof started leaking, and we had to go off the air.
We needed to make changes and get to a better place financially. We had to clean up our on-air presence and make it more sophisticated. I had to downsize. It didn't make me popular among staff. But I had been through a similar experience in 2008-2009 at my old PBS station up north and understood what had to be done. It's not pleasant, but you can't have a mission if you can't fund the mission.
I oversee all internal fundraising development, programming, and strategic planning. But my favorite thing is what I call "chief encouragement officer." This is the title I love the most. I'm a growth-minded person and rarely satisfied with where we are, and I always want to support others in their efforts to grow and progress.
The 3-D Program is my baby. It's a seven-week career pathway and leadership program for high school students in underserved areas. The three D's stand for "Dreamers, Doers, and Destiny." We've had over 600 students complete the program so far. At the end, we have a graduation ceremony, where we bring in a speaker. We also bring back former graduates who are gainfully employed, so they can share their life experiences and inspire others.
When we rented out WTVI's studio during COVID, we took many precautions. We said there would be no cancellation fees because we didn't want anyone to come in sick. This meant some last-minute cancellations, but that was OK—because nobody got sick with COVID during this time.
I'm very proud of our signature series, Carolina Impact. It's provided the opportunity to tell long-form stories about our community. It's about the people and issues that impact our region.
I got the idea for our Carolina Collectibles show from Antiques Roadshow, which is very popular. Every year so far, there's been someone who discovered they had something valuable. The first year, a man had a piece of jade worth over $120,000. Another time, someone had an Andrew Wyeth painting worth $200,000.
We reach 1.3 million households in our total viewing area, which includes 13 counties. Since I've been here, we've grown from about 3,000 individual donors to approximately 11,000 our last fiscal year. We've come a long way.
Our average donation is $10 to $15 a month. We would not be here if not for our small donors. We actually have less than 200 donors that have given $1,000 or more. And while we are incredibly grateful for them, it's really about the consistent, loyal small donors. We even have a few beautiful people who put two or three dollar bills in an envelope and send them in each month. It's so meaningful, and sometimes I think, I hope they're not doing without something they need in order to do this.
When people come up to me in public, they are usually very nice. They typically want to express how much they enjoy our programs. Occasionally, someone will say, "I don't like your constant fundraising." So I ask them what their favorite program is. And whatever show they say, I tell them we wouldn't be able to make it available if it wasn't for our fundraising.
Sometimes it feels like our world is on fire, and public television offers a respite of pure joy.
ALLISON FUTTERMAN is a writer in Charlotte.