Through the storm of COVID, the nonprofit she co-founded developed new ways to help children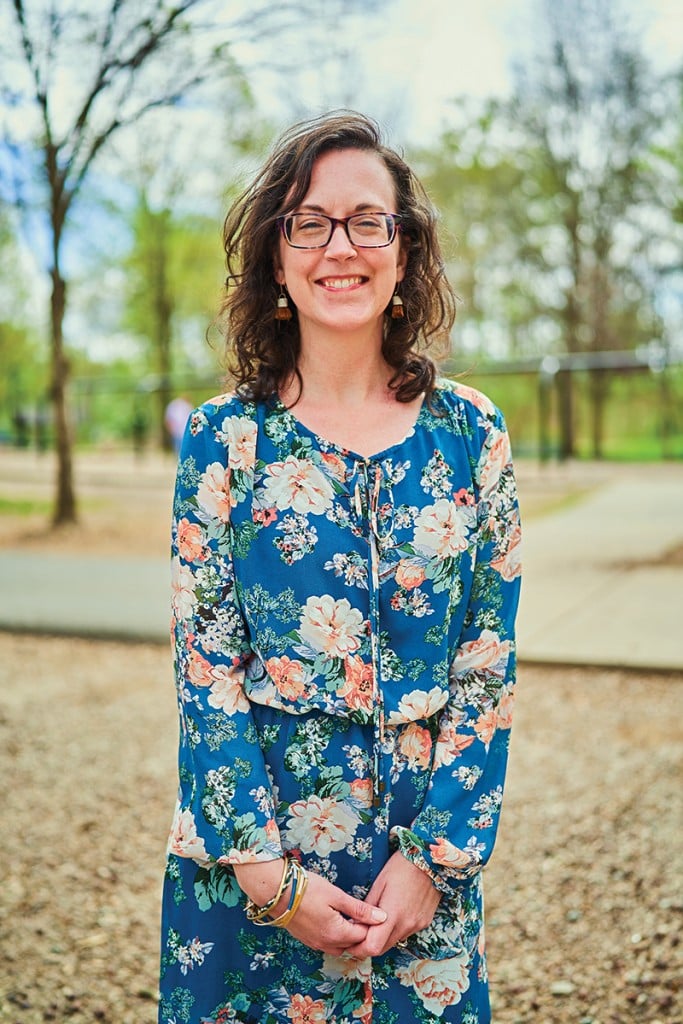 COVID delivered a blow to an already strained foster care system. Therapy and support service availability dwindled. Courts delayed hearings. Abused and neglected children lingered in bad situations. But Becky Santoro and her team at Foster Village Charlotte, a nonprofit that provides support for foster families, were prepared to act.
Over six months, they ramped up support groups, hosted meetings with the Mecklenburg County Department of Social Services, and doubled the number of first-time donors. Foster Village secured $50,000 in grants through United Way and Foundation for the Carolinas' COVID-19 Response Fund—money that paid for tutoring, child care, and extracurricular activities like swimming and art classes for foster children.
Today, even with the disruption of the pandemic, Foster Village thrives. Since its founding in 2018, the organization has served more than 1,500 children, provided $250,000 of direct support—including essentials like clothing, blankets, diapers, and toys—and arranged more than 200 hours of support-group and training sessions and one-on-one meetings of foster parents and therapists. A recent Foster Village survey of more than 100 of its client families found that 75% of caregivers are likely to continue fostering in 2022 because of the organization's services. All said they depend on Foster Village to learn how to access resources and navigate the system.
Part of their success, Santoro believes, comes from Foster Village's reliance on its five staff members, all of whom have fostered children themselves. Santoro has four children, ages 10, 8, 6, and 4; she adopted the younger two. Five years ago, shortly after she welcomed her first foster child, Santoro began to regularly meet three other foster parents at a playground. They told her they lacked resources and felt overwhelmed. Santoro envisioned an organization to support foster caregivers, and by the time she welcomed her second foster child, Santoro and the three other parents—Molly Zalewski, Sloan Crawford, and Traci Prillaman—had co-founded Foster Village.
As the organization's director of programs, Santoro, 38, leads program development, communication, and fundraising. Foster Village operates on an annual budget of about $350,000, 70% of which comes from individual donations. It occupies a small house in the Oakhurst neighborhood in southeast Charlotte, but Santoro hopes she can raise enough money for a new resource center by the end of 2023. A new center would allow for more comfortable interactions between children and caregivers at sensitive and emotionally charged times, like when foster children reunite with their birth families.
Here she is in her own words, edited for clarity and space:
I was raised outside Detroit in a loving, two-parent household with two older sisters. Early on, I started to see that life wasn't fair for everybody. My school was much better off than a school 20 minutes away from me, and that didn't feel right.
I went to Michigan State to be a special education teacher. That's where I met my husband, Tony. We graduated and moved to Charlotte in 2007 to teach in Title I schools. We taught together at Merry Oaks Elementary for a couple of years. It wasn't easy—we worked 80-hour weeks—but we loved those kids and families so much.
My experience in the classroom had a lot to do with why I became a foster parent. I had students who were in foster care, living with extended family or foster parents. Watching grandparents struggle to parent again, or having a conversation with kids and not getting a clear picture of where they were living, or with whom … changed me. Tony and I started gathering information about foster care before we started a family.
After Maeve was born, Tony started roasting coffee in the backyard and selling it to friends and family for fun. This went on for a couple of years, through the birth of our second daughter, Raeya.
We took the leap. When Raeya was 6 months old, we both left teaching. I took a job at Watershed, working in the children's program. During that time, I said to Tony, "Let's do foster care." Looking back, that did not feel like the right time to start something new. Tony was starting his business, I was in a new job, we had little kids. But when I left teaching, a piece of me ached to be near children and families in crisis, if only to be a safe person for a small period of time. I was a new mom of two with a simple life, but I was feeling removed from thinking about hard things, and I didn't like that feeling. Plus, we knew life would keep going. We would always have an excuse.
So we started foster care classes. Once we did, I couldn't unhear or unsee what I had seen and heard. We finished classes and home inspections, then got a phone call saying we could start hearing about kids soon. One hour after that call, we got another call about a child who needed a home. Maeve and Raeya were 4 1/2 and 2 1/2 at the time.
Our first foster child was 1 when we met her. The social worker brought me to the hospital where the child was, and I met with police officers, doctors, and the father—a very out-of-body experience. I said to the father, "I'm a mom of girls. I know you love her. I'm here to be an ally." I had a picture of her room on my phone that I showed him. My empathy grew in leaps and bounds in the hospital that day.
I knew early on that I needed a community. I found a small Charlotte foster parent group on Facebook. A few of us, including Molly, Sloan, and Traci, started meeting. All of us were saying the same things: We were drowning, and we needed each other.
If you're not fostering, it can be hard to understand all the grief, loss, love, heartache, and anger that go with it. All kids experience some trauma when they enter the foster care system. And people don't always realize that even though we "sign up for this" as foster parents, it's hard.
After reading up and researching more, I realized there was a pattern across our whole country: Foster parents only do this for a short time and then leave. I started following Foster Village of Austin, Texas. I loved their holistic approach of equipping not only the kids but also the foster parents.
I felt bold, so I got on a plane to Austin. I asked the leader of Foster Village there if she would consider an affiliation model. At first, she said no. But she kept checking on us and eventually agreed to let us use her logo and brand. That allowed us to point back to something that was already working elsewhere.
Meanwhile, I was feeling enriched by my relationship with my foster child's biological father. I could tell he really loved her. He visited with her and brought a new doll every week. We thought that her path was going back to him. But towards the end, we learned she may need to be adopted. We absolutely wanted to adopt her, but then we were put on hold.
The ending of foster care is the hardest place. You're rooting for the parents, but also knowing you're next in line. We also found out that our foster daughter's biological brother was born and needed a home. We got the crib ready again and told our kids. But then, during a court meeting, the judge decided that the baby would live with an aunt and uncle.
We understood, but just the thought of separating siblings felt so hard and so sad. Nevertheless, we assumed he had been adopted. So we kept moving forward. We knew we were going to adopt his sister … but as we were gaining a daughter, someone else was losing a daughter. I think sometimes people forget about the other side of the story.
In June 2018, we launched Foster Village and opened Tony's new coffee shop. We also found out our new daughter's brother, then 16 months old, had not been adopted after all. We took him into our family, and he fit right away.
Foster Village took off like a rocket ship. I was still working full time, I had a new child, and I really wanted to focus my energy on Foster Village. So I created a website, wrote up my story, and asked family and friends to give me 18 months to dedicate myself to Foster Village. I needed $2,500 per month to make day care payments. Some donated $25 per month, some $100. Truly, the power of a village.
Four years in, most have stayed on as donors. Seventy percent of our organization is run by individual donations. The smallest is $10 a month, the largest $500. It's a natural model for us. We're trying to show that everybody can impact foster care, not just foster parents.
Day to day, I use my entrepreneurial brain a ton. I see a problem and build a solution. We recently hired a licensed clinical social worker. We also launched a "before your first placement" group. At the end of four weeks, new foster parents have an opportunity to partner with a seasoned foster parent mentor to walk them through their first placement.
My vision has always been for Foster Village to be a safe haven for kids to come back to over and over again, one that's comfortable and dignifying for their families. I would have loved for my (foster) children's father to have access to a home-like setting like our current resource center in the Oakhurst neighborhood. We hope to open a larger resource center so we can provide more intentional programming around the foster and biological family on their road home. That's the work of Foster Village.