She overcame childhood poverty and systemic obstacles to open her own dental practice—which offers more than just the promise of a healthy mouth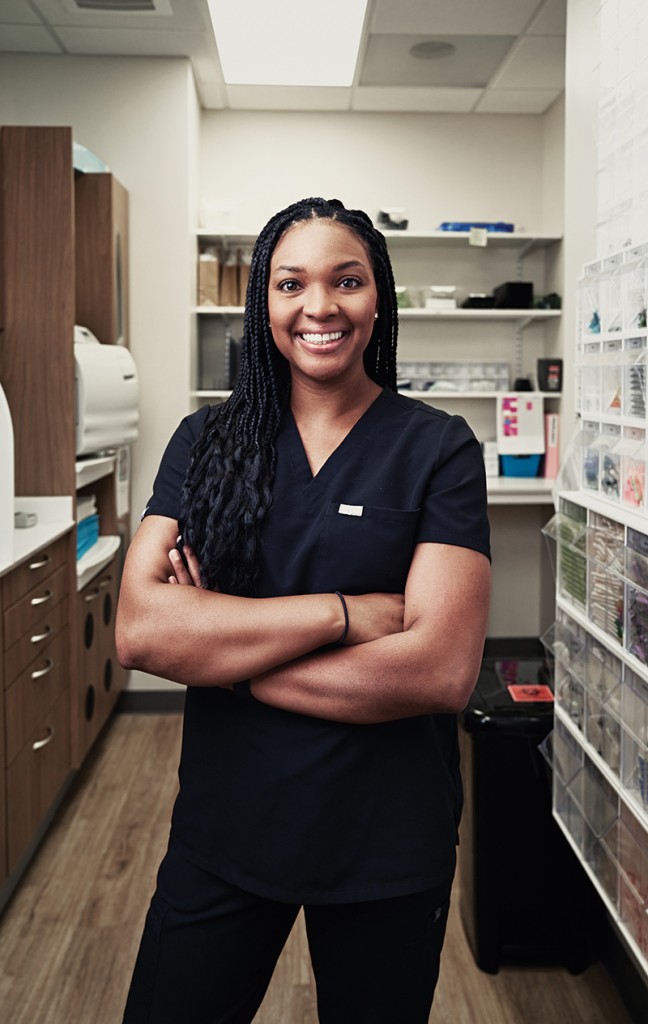 Ashley Dawson grew up in Duluth, Georgia, outside Atlanta, to parents who divorced when she was in high school. Dawson ended up living with her mother, and they struggled through the day-to-day humiliations of poverty and multiple evictions.
But she discovered a talent for gymnastics and cheerleading, which eventually earned her a scholarship to the University of Oregon, where Felecia Mulkey, an Atlanta native, coached the newly established acrobatics and tumbling team. Dawson was a member of the Oregon team that won the inaugural National Collegiate Acrobatics and Tumbling Association championship in 2011.
Her athletic scholarship paid for her undergraduate studies. But Dawson had wanted to be a dentist since high school, when a family friend who practiced allowed Dawson to shadow her. After she earned her bachelor's degree in 2011, she was accepted into Howard University's College of Dentistry. But she had a low credit rating, and she didn't know if she'd be able to pay for it. "I'd already accepted that I was going to dental school. That's just what I was going to do," she says. "I honestly really didn't think about the financial barrier until I got into school and then couldn't get a loan to save my life."
She finally secured a loan—her great-grandmother co-signed the application—and graduated from dental school in 2016. That made her a rarity in dentistry: In 2020, Black people made up only 3.8% of the dental workforce, and Black dental school graduates shouldered a higher debt load "by far" than their white, Latino, and Asian counterparts, a 2021 American Dental Association study found.
But Dawson was determined to establish her own practice. She, her husband, Zack, and their dog, Harley, moved to Charlotte in May 2021 and found a home in the Sedgefield neighborhood. In July, she founded Dawson Modern Dentistry in Mint Hill and equipped it with a purpose larger than just oral health: For each new patient, Dawson donates $10 to Foundation For Girls, a Charlotte nonprofit that helps local women and girls, often homeless single mothers, access resources like transportation, rent assistance, and financial planning.
Here is Dawson in her own words, edited for space and clarity.
My childhood was a little bit rough. My parents are both absolutely amazing, but they argued as I grew up. They finally decided to get divorced my freshman year of high school. I was actually relieved. From a young age, I realized that people can love and respect each other; they just don't always belong together. 
My mom and I struggled when I was growing up, and I think that's part of what makes me who I am. My dad was very supportive, but my mom didn't want him to know we were struggling. She's a bit hard-headed in that way, and I am, too.
My mom worked her butt off, but we were always trying to make ends meet. We had to boil water to take a bath. I remember eating peanut butter for dinner. I was sleeping on an air mattress and had my clothes in the car at one point. Then I ended up living with a friend for a while, and my mom would say, "I'll figure it out. Don't worry about me. You focus on school."
When I was younger, I didn't know much about finances. We didn't have much money, but we needed a car. The car loan would have an interest rate of 23%, but we needed to get from point A to point B, so we would just get the loan. It's a vicious cycle. If I can work hard, too, but achieve a more stable lifestyle, then maybe I can avoid going through that again. That's always been a motivating factor for me.
I really don't think I'd be where I am today without the support of the people around us growing up. Now that I've been able to create my own practice, I want to make sure that I lend a helping hand to others who are in need. With my background and the way my mom and I struggled, it's something that's near and dear to my heart. I want to spend time educating my team about finances, credit, the things you can do to build financial independence. That way you're not working to live. That shouldn't be your sole purpose.
I did a summer program at the University of Nebraska during college. The instructor, Dr. Pamies, wrote about the disparities in dentistry and medicine in general. That opened my eyes about how big of a gap there is. It inspired me even more to represent my people, my culture.
Patients like to go to someone they feel they can relate to. I've had so many patients say, "I'm so glad you're my dentist. I feel comfortable being with someone who looks like me." For a lot of people, that makes a big difference when they're seeking out care. I'll ask someone how they found my practice, and they'll say, "I Googled 'Black dentist' or 'I saw you on Yelp when I was looking up minority-owned businesses.'"
Within the African American community, I think the importance of preventative oral health care might not be emphasized as much. We have a lot of cholesterol problems. High blood pressure. Strokes. We have a lot of issues that are tied to poor oral hygiene, and I don't think a lot of people realize that. There are good studies about the correlation. Taking the extra second to educate the patient on how oral hygiene affects your long-term health matters.
Opening my own dental practice is definitely my proudest accomplishment so far. I feel like I've always been preparing for this. I've read so many leadership books. I've listened to endless podcasts. My husband jokes, "You look like a serial killer!" because I have these magazine clippings I put together and was like, "OK. This is my vision." It's nice to see it actually come to life.
Before we moved here, my husband and I were trying to decide between Charlotte or New York City. He's in banking, so we were thinking, "Oh, the banking city of the South," but we used to live in New York. I love New York, but I don't want to raise kids there, so we were like, "Charlotte it is!" When I was doing my demographic search to decide where to open my practice, I was looking everywhere, and basically everything pointed toward Mint Hill.
If you're considering dentistry, shadow different specialties and connect with dentists in different stages of their careers. You also need to know your "why." When times get tough and when things get challenging, you have to go back to, "What was the original reason why I wanted to do this?"
If you're like, "I want good hours," or "I want to make good money," well, you can get that with a lot of different things. People say, "I want to help others." You can help others with their order at McDonald's. You can help others if you work at the airport. You can help others by being a doctor. So why do you want to help people through dentistry? Be specific with your goals. Understand them. Because it's not always rainbows and sunshine.
Ultimately, your perception is your reality. If you think your background will be a limiting factor for you, then it will. Having a mindset shift can really make a big difference. Surround yourself with people who have done more with less. You have to separate yourself from people who are trying to infuse negativity into your life. You have to put up a shield.
I don't go to church as much as I should, but I'm a Christian. My mom was very much about praying during tough times. I've been able to be like, "You know what? This doesn't make sense to me right now. I don't understand it. But there are going to be things I just don't understand. You have to keep moving on."
Lauren Levine Corriher is a writer whose work has appeared in Southern Living, Parents, Condé Nast Traveler,Shape, Health, Axios Charlotte, and more. Follow her on Twitter and Instagram at @LatestByLauren.