The leader of a refocused Leading On Opportunity draws from a life rich with both achievement and hardship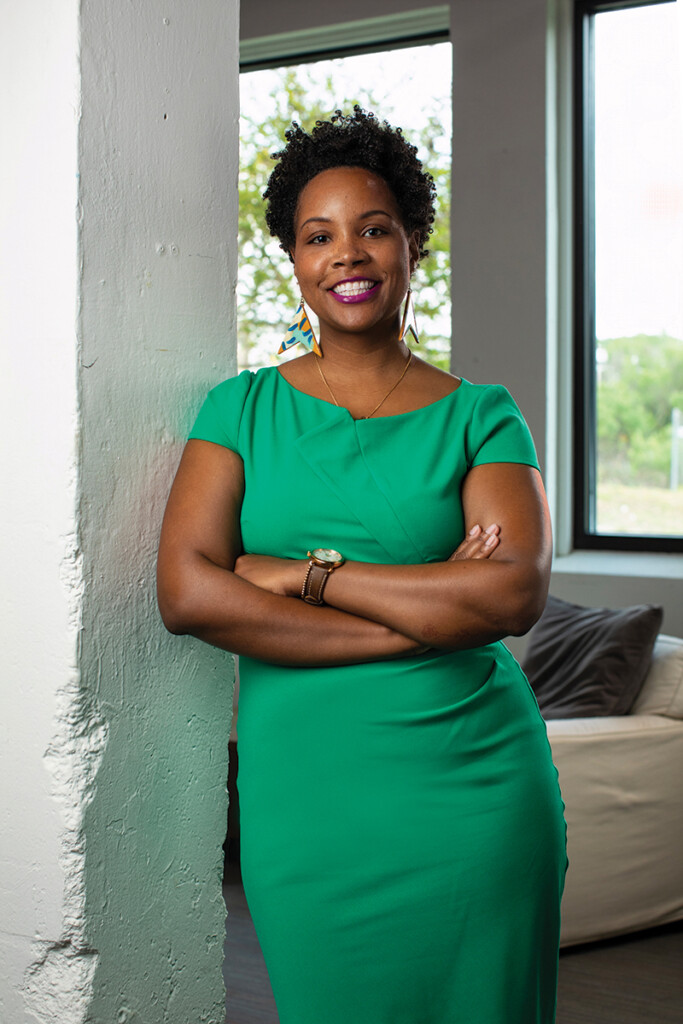 Sherri Chisholm, who leads an organization that's trying to close Charlotte's economic mobility gap, has her own economic mobility news when we speak in mid-March: "We closed on our first home in Charlotte yesterday." Chisholm and her husband looked for two years. "It was really disheartening," she says, "because I came here, like so many other people, to start my family and buy a home, and we quite literally could not buy one." They just had to keep at it.
Chisholm, 38, has learned a few things about persistence. She emerged from a working-class background to earn a master's degree at Harvard. She adjusted when her career was thrown off course by a personal tragedy. 
Now, as executive director of Leading On Opportunity, Chisholm is trying to reorient an organization burdened with a massive and nebulous task—improve Charlotte's 50th-of-50 ranking among large U.S. cities in social and economic mobility.
The ranking came from the infamous 2014 Chetty study. Leading On Opportunity launched three years later to examine factors that kept poor Charlotteans from rising out of poverty, like lack of access to jobs and affordable housing, and identify solutions. But the effort lost momentum, and Foundation For The Carolinas, its parent organization, hired Chisholm in September 2020 to recover it. She brought an unusually broad range of experience, from administration in public school districts to nonprofit leadership to corporate consulting with Deloitte, her first job out of college.
Since then, Chisholm has focused on "getting our house in order," referring to the organization: establishing a new team, headquarters, scope, mission, and tools. In December, Leading On Opportunity unveiled a publicly accessible "Opportunity Compass," which tracks data across 33 key drivers of economic mobility, like the percentage of children in poverty and high school graduation rates. The previous version of Leading On Opportunity faltered in part because its objectives weren't clearly defined, she says, and the reboot needed to clarify its goals and provide the community a way to measure its progress.
Chisholm and her husband, Joseph, a CTE Business teacher at Chambers High School, grew up together in the Detroit area; their daughter, Jocelyn, was born in early 2021, a few months after they moved to Charlotte. The family lives in the Davis Lake area of University City. Chisholm's words have been edited for length and clarity.
I grew up where your dad comes back dirty from work, like he leaves his clothes outside.
I worked really hard through high school, was at the top of my class, played soccer, was the class president, you know, did all the things. And then when it came time to apply to college, I got a 19 on my ACT. That's very, very low. At that time, I honestly was really embarrassed. Where I graduated from, the expectation was not that you go to college. There was just no support around me, nor do I think there was an expectation for me to compete at that level.
So when I got to the University of Michigan, I participated in what was called the Comprehensive Studies Program. And it was primarily students of color who came from urban or rural settings, first-generation college students. And they made sure that I had a smaller class size, extra mentors, and tutoring to really get me back on track.
This may sound really wonky, but I love organization design and bringing people together in an institution to make cool things happen. That has always been something that was interesting to me.
Deloitte, and consulting, is very much about: How do you structure an idea? Who do you need on board to get you there? How do you set the timeline, the deliverables, the goal? If you have a goal, how do you develop a structured plan around how to get there and bring people along with you? I think that is very much a skill and an art that needs to be practiced, and if I think about what I do now, I still call back to that often.
The CEO of Trader Joe's (Doug Rauch) was in my nonprofit finance class at the (Harvard) Kennedy School of public policy, and it was just, like, normal. It was a huge confidence booster, that I get to be in these spaces with these people, and my thoughts, opinions, ideas, and experiences are valid.
My husband and I grew up together, and (in 2018) we decide that I'm going to move to be with him in Detroit, where he is still living. This is where it kind of takes somewhat of an ugly turn. My husband drives down to Atlanta to move us into our new life in Detroit; by this time, we're engaged. And the morning that we are driving to Detroit, I get a call at 5 a.m. from my sister to tell me that my father has suddenly passed away.
We find out a couple of days later that my father had died of a heroin overdose. My father had been a high-functioning heroin addict all of my life.
It's something I'm very aware of and talk about often as a part of my story, because there is no single story. We are the community. We're all dealing with things. And that really colors my experience there for two years before coming to Charlotte.
A friend saw a posting for the (Leading On Opportunity) job. She's like, "I think you'd be really great for this job." So I look it up, I read the task force report, everything that's available, and I'm like, I can absolutely do this.
Brian (Collier, then of Foundation For The Carolinas) was really clear that they were looking for somebody from Charlotte, and they wanted someone who was vocal and blah, blah, blah, and I was like, Sure, but you haven't met me yet.
I get a call from Brian, who's like, "You know, we were really committed to having somebody local, but when we met you, we just knew that you were right for the role. We would love for you to join the team."
Expectations were never clearly articulated. That's where I believe we get the language around, "We still haven't accomplished much." Well, what was promised would be accomplished was something that's a 30-year goal. I and the new team have been doing a lot on shifting and clarifying the narrative around economic mobility and systems change to what it looks like for Leading On Opportunity specifically, because it's not something a single organization can own by any means.
We had to be reflective of the values we said we held before we went out into the community and said we were doing anything. So that was redefining our strategy, building a new team, expanding the board, and getting more money. That's just how you run a nonprofit entity.
We are on this lifelong journey of economic mobility, and Leading On Opportunity is going to carry the torch while we have it to help nonprofits better articulate their impact and funders make smarter investments. But this is something we're in together as a community. So we don't propose to have the one silver-bullet solution to economic mobility by any means. We see ourselves somewhere between a local think tank and community consulting firm, helping direct service organizations and funders do their work the best way that they can. We provide data, we provide strategy, and we provide policy.
And the major tool that we released was this commitment that was made in the task force report, to develop a local system to measure our progress and to hold us accountable independent of Chetty, because he's not coming back again. So we released that tool to everyone at the end of last year. I said, "Anybody in the community can now access it and see clearly, with data: How do you define economic mobility? What are the levers of change? And then, where is Charlotte on each of these indicators right now?"
So I feel really proud about the contribution we've made in the past two years and hopeful for what's to come. But I think the most important thing is that the narrative has to be that this is journey work, not destination work. And if ever there was the perception or communication that Leading On Opportunity had the solution to poverty, and that we're somehow holding back from telling people, that's just not true. That is not realistic.
You know, in finance or banking, we're used to looking at things quarter over quarter. Like, this is quarter-century over quarter-century. So sometimes there is this values tension between the urgency that this work feels and requires and the collective community consciousness that's required to do it well. And that's, I think, the tension that Charlotte is in right now. We so desperately want to be the best, and that's really admirable. But the same practices that we apply in our business world are not directly applicable to community work.
That's what I want to continue to lift up: One, people are already doing great work. Two, we want to help better facilitate that work. And three, we will be on this journey forever. Forever.
GREG LACOUR is the editor.