Charlotte therapist strikes gold with bestselling book and social media presence that emphasize the value of boundaries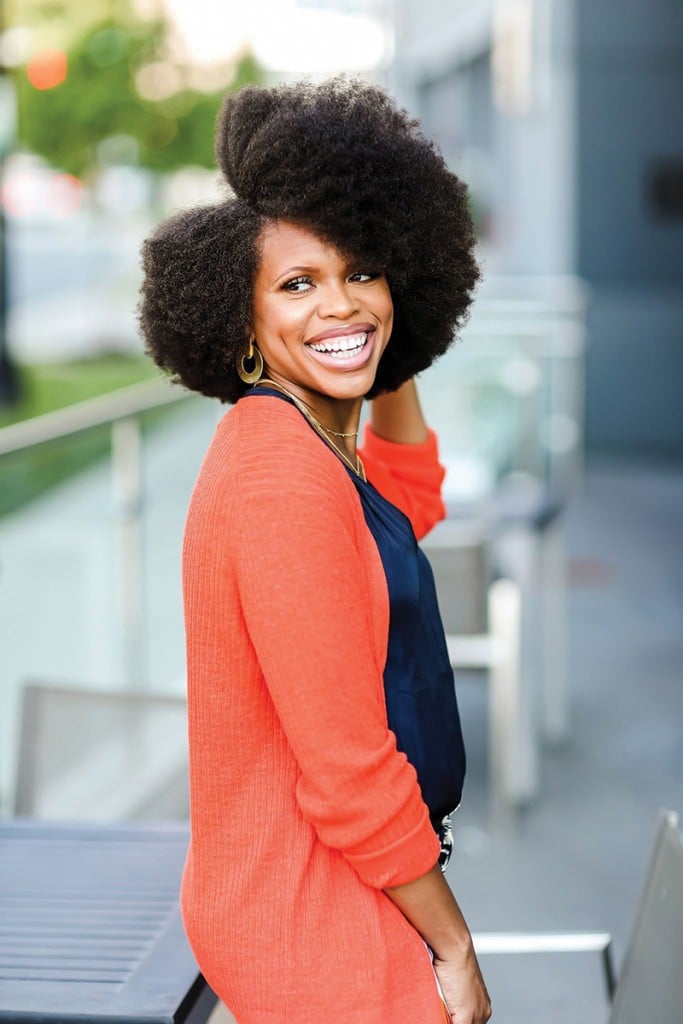 Charlotte therapist Nedra Glover Tawwab has more than 1.3 million Instagram followers—nearly as many as Panthers star Christian McCaffrey, more than Hornets forward Gordon Hayward, Mayor Vi Lyles, and the City of Charlotte. Followers rely on Tawwab for insight on mental health topics that range from forgiveness to realistic goals, packaged in bite-sized chunks. Scan the post, read the caption, and you've learned something to make your life better while you wait for that meeting to start.
The Detroit native worked for years in mental health before she moved to Charlotte in 2009 and founded her private practice, Kaleidoscope Counseling, in 2011. She lives in north Charlotte with her husband and children. "I feel like I flourish and thrive here," she says. "The weather is beautiful. I love the sounds of birds and the animals I see running around. Even a gecko sneaking into my house is a beautiful surprise. That's certainly not something I saw in Detroit."
In March 2021, Penguin Random House published Tawwab's first book, the New York Times bestseller Set Boundaries, Find Peace: A Guide to Reclaiming Yourself, followed by a companion workbook. She's since appeared on Good Morning America and in Forbes and USA Today, talking about the essential role boundaries play in mental and emotional health. The book's success has shifted Tawwab's career—she sees fewer clients now and devotes more time to content creation through outlets like Instagram, where she aims to start honest, accessible conversations about mental health.
Here is Tawwab in her own words, edited for space and clarity.
I started posting on Instagram in 2017. In January 2019, I had about 2,000 followers. In June, I was featured in a New York Times article about Instagram therapists. I didn't even know this was happening, I just saw it and was like, "Oh, my gosh!" From there, my account went to about 100,000. Then sometime in June (2021), I reached a million.
I think social media is an amazing way to increase conversations. Many people are unaware of certain things that are troubling them. Just hearing someone say the word "gaslighting," for example, is like, "Oh, my gosh, that's what that is!" Because there's nothing like feeling like: There's something wrong with me. Nobody else is depressed; nobody else is anxious. I don't know why this person is treating me like that.
Before I started using Instagram, I had a very apathetic view of social media. I thought it was a space that created all these issues. I hadn't considered that you can go into social media with boundaries and that the space can be healthy, depending on how it's used and what it's used for.
However, please know that not everything you see on my social media will apply to you. If you find yourself like, "Yes, yes, I think that's it," then that's great. But it's also something to process with a therapist, because I'm not your therapist. I'm a therapist who uses Instagram, but I'm not talking to you one-on-one to understand the details of your story. My post might not have enough nuance to support what you need in your particular situation.
I think my content resonates with people because it's digestible. So often, when we think about therapy, we think about professional jargon. On my page, I'm breaking down concepts in a way that people can understand and hear. It's short. It's sweet. It's bulleted. This is the modern way that people are consuming information. I think it can be a beautiful introduction to therapy, particularly if we're uncomfortable or afraid. I've received tons of messages from people saying, "I was on the fence about therapy, but I saw you and now I think I'm going to call a therapist." I love those messages.
The way I post on Instagram hasn't changed. I'm not a perfectionist; I'm actually an imperfectionist. I want to be authentic, and that means there may be a typo. There may be a comma left out. I am a writer, not an editor.
Think about the areas of life that mental health impacts: parenting, relationships, homelessness, incarceration, adolescence. Unfortunately, accessibility is a problem in many cities, including Charlotte. We need more mental health resources. It shouldn't be so hard to get help. There shouldn't be a cost barrier to getting help.
This is an issue for most cities because we haven't addressed mental health as a real crisis. This accessibility issue has increased in the pandemic. People are doing more freelance work. They're working contractually. Insurance isn't provided, so they may not have the financial resources to attend therapy.
I started to write my book, Set Boundaries, Find Peace, in October 2019. Between writing the book and writing the workbook, I've learned so much about boundaries. I'll be talking about boundaries when I'm 97. As humans, I think we naturally have boundary issues. And therapeutically, it's helpful to assist people in understanding when they're having a boundary challenge.
These are ideas that I've been talking about for years, and that's why it's very easy for me to write this stuff down, because it's like, "I've said this a thousand times." These are the things I say to all of my clients. They're a part of my therapeutic process.
My book was released on March 16, 2021. Two weeks before that, I was talking to everybody from sunup to sundown. By March 30, I was saying, "What did I do? Here I am talking about boundaries, and I'm having headaches because I'm doing too many things in one day." I had to check in with myself and say, "You're doing too much to want this book to be successful." Because if I can't set boundaries with myself, then we need to throw out the whole book.
I've been a therapist for 14 years, and I've learned to understand what clients you schedule at the beginning of the day, who's going to make you laugh in the middle, so you have that energy to keep going. Now I'm learning how to show up in this world, because this is a new portion of my career. I'm learning as I do more podcasts and appearances. I see clients two days a week, and I'm not accepting new clients. Right now, I'm working on something new, so I write two days a week. The other day is reserved for interviews and appearances, though there are times when I have to adjust my schedule.
I'm always operating in multiple roles. There are moments when I need to be a therapist. There are moments when I need to be a speaker. There are moments when I need to be a mom, though that's a 24-hour duty, being a parent. If my kids come home from school, and they've had a tragic day, and they're sitting in my office, then I have to pause and say, "Can you hold on a second? I have a situation here."
I feel like I'm making space for the things that I love. I'm more selective of the things that I say "yes" to because I know that my time is very valuable. I need to be doing things I enjoy, because if not, I could be at home with my kids. I know I cannot be of service to everyone. I often direct people to speak to a mental health professional, talk to an elder in your community, or read more books about the things you want to know about.
One big way to know if you're having a boundary issue is to follow your feelings. So often, we have feelings that are telling us that something needs to be done. We're feeling anxious. We're feeling burned out. We're upset when we're around certain people or in certain situations. Those are all indicators that there needs to be some change. And often, the change needed is boundaries.
The most common misconception about boundaries is that they're mean, that setting a boundary will ruin your relationship. There are some relationships where it can be really challenging to set a boundary. But I've also been shocked in the process of setting boundaries with some folks. It's like, "Oh, wow, that wasn't even an issue." And yet we're afraid to say or do certain things because we're predicting way ahead of time that something will be an issue.
If you're hesitant about setting boundaries, consider the other times when you set boundaries. You've been setting boundaries probably as long as you've been alive, whether it was refusing to eat peanut butter or refusing to wear red pants, or whatever the thing was. We've all been setting boundaries in our own unique ways.
Many people report the most boundary issues with their family. You have more of an emotional attachment there. You can tell just by body language when your mother is disappointed. But the beautiful thing about family is they love us. And most of our family members want to be in a relationship with us. 
Many of us need to reclaim our voices to continue setting boundaries. As an adult, it's important to reclaim that voice and to say to your friends, your partners, your children, "This is what I need. This is what I don't like. This is what I expect."
Lauren Levine Corriher is a writer whose work has appeared in Southern Living, Parents, Condé Nast Traveler, Shape, Health, Axios Charlotte, and more. Follow her on Twitter and Instagram at @LatestByLauren.