From party life to party lines, the longtime Observer reporter and political consultant looks for opportunities to bring Charlotte's diverse residents together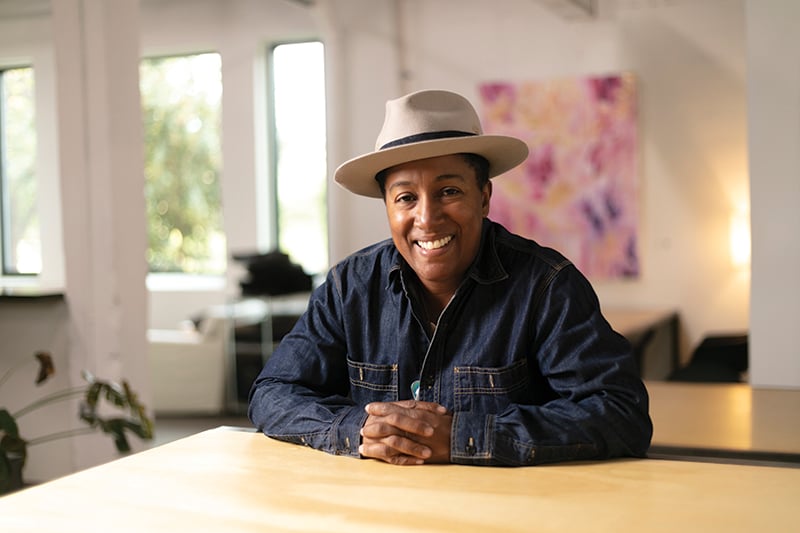 In 1967, developer James Rouse opened a planned community of 10 villages about 20 miles southwest of Baltimore. He wanted to improve not only the design of the era's subdivisions but also residents' quality of life, and he hoped Columbia, Maryland, could eliminate racial, religious, and class segregation. Growing up there in the '80s, Tonya Jameson learned to see the world as it could be.
As a reporter for The Charlotte Observer from 1994 until 2009, Jameson wrote about marginalized communities and told the city's stories in new ways. She was quick to embrace podcasts, blogs, and other digital media; she wanted her medium and messages to resonate with fellow Gen Xers—the MTV generation. She explored Charlotte's emerging nightlife scene for her Paid to Party column and covered the 2008 election for That's Wassup!, a multimedia blog.
Jameson left the paper to help companies create digital content but soon found success as a political consultant and campaign manager. She also chairs the Charlotte-Mecklenburg Police Department's Citizens Review Board, a role she applied for in 2017, after an off-duty police officer pulled a gun on her near Knoxville, Tennessee. Last year, she took a position with Leading on Opportunity, an organization founded in 2017 to improve Charlotte's dismal record on upward mobility. There, Jameson unites her experience in journalism and politics as a manager in charge of policy and community advocacy. It may be a new role, but for Jameson, it's a familiar fight.  
Here's Jameson in her own words, edited for length and clarity.
---
I grew up in Columbia, Maryland. It's a planned community between Baltimore and D.C., and I grew up there in the '80s, when it was just getting off the ground and getting its footing and its people. What I love about Columbia is that it's a planned community around racial and economic integration, so every neighborhood was racially and economically integrated for the most part. It was the best childhood ever. I always talk about how my goal is to help Charlotte to create that type of inclusion within the neighborhoods and in the schools.
I had diverse friends, diverse experiences. My cousins who grew up in D.C. and Atlanta—my dad's from D.C., my mom's from Alabama—they were like, That's just not the real world at all. The world doesn't operate that way. But I was like, Look, there's a possibility because I'm living it right now.
In high school, we had a program called the Black Student Achievement Program. And I grew up in Columbia, so I thought everything was great, right? But then I got involved in this program. I was a big reader anyway on civil rights. I was a really, really big history person, and I'm like, If they can put their lives on the line so that I can go wherever I want to go to school, then I can be doing more. So I'd gotten involved in a program in high school, and the board was trying to cut funding for that program. I remember I'd written an opinion piece for our weekly newspaper, and I spoke before the board. So that was my first foray into getting involved in politics and calling things out.
My parents told me I couldn't go to Berkeley, which is my dream school. So I was like, Well, I'll go to the University of Alabama because Alabama is the bastion of racism, standing in the schoolhouse door, so I'll go there. If I'm going to have to experience the real world, there's no place to do it like Alabama. Plus, they had a good football team.
Once I realized that being a business major wasn't for me, I was like, Well, I'll pivot and do my other goal and become a writer and become a political columnist. I interned at the Observer, and then they hired me out of college. I figured I'd do my two years in Charlotte and then apply and move on to a bigger paper, but I ended up staying for 15 years.
One of my goals as I began to grow into this career was that I always wanted to be a voice for the voiceless in Charlotte. When I was there, we covered Black people in a certain way, and it was typically not always positive at the paper, and we covered young people, and that was typically also not always positive. They were always presented as problems or things that need to be fixed or addressed. As I was able to grow and earn some credibility among my peers, I looked for opportunities to tell different stories and to tell more positive stories about people who are traditionally more marginalized in news coverage.
The face of the gay movement back then was primarily a white thing. Tonyia Rawls came here, and she opened a church over here on the east side, and her style of pastoring and activism really brought out a voice among Black gay individuals that had not been prevalent before. When I came, if you were Black and gay here, and especially middle class, it was really, really closeted. It was like we were invisible. And so Pastor Rawls—she's a bishop now—Bishop Rawls just empowered her congregation in a way that they had a voice and they became active. Charlotte Black Gay Pride was an outburst from her church. I was consistently writing about what they were doing and the importance of giving voice to that population that had been invisible for so long.
I always thought that nightlife was where people got a chance to get out of the segregated lives that we tend to live. Granted, we still have clubs that are all Black and clubs that are all white, but nightlife was one of the places where, if you allowed yourself and you were flexible, you could really interact with different people in different cultures.
I went to this conference from the Pew Foundation about how to write about sex in mainstream papers, so I went to this—I swear it was a week long—conference about how to write about sex. It was awesome. So I came back, and I wanted to write a column about the fact that I'd gone to this conference and the struggles that mainstream papers have about writing about sex. Man, it was the hardest thing to finally get the column published. It was hilarious. At the time, I was frustrated because it's like, I can't even write a column about how hard it is to write a column about sex.
There was a whole blog about, like, "Everybody hates Tonya Jameson." It didn't bother me. One of the things I noticed is that I had detractors and I had supporters, so I felt like I was doing something right. I was ruffling feathers.
We were going through the recession (in 2009). Journalism was changing, and I just felt like I didn't enjoy what I was doing as much. … I was like, It's just time for me to move on and do something else. I knew online platforms were just beginning to grow and companies didn't know how to get content, so I started a communications company focused on creating online content. I did that for a while, and then I moved on to political campaigns.
(Larken Egleston and I) used to be out and about together a lot. He told me that he wanted to run for office one day and he wanted to be mayor. And I was like, Yeah, whatever, dude, and he was like, No, I'm serious. I gave him three things to do, and I said, "If you go do those three things, I will go learn how to manage political campaigns, and then I'll run your campaign." So 10 years after that conversation, he'd completed all his tasks and I'd learned how to run campaigns. I volunteered on Vi (Lyles') first campaign, when she was running for City Council at large. I did my part, and he did his part. When he was ready, I ran his (2017 City Council) campaign, and he won—and unseated a 14-year incumbent (Patsy Kinsey). From there, my career in politics took off. (Ed.: Egleston served as the District 1 council representative until 2022, when he lost a bid for an at-large seat.)
There are a lot of people who are dedicated and determined, but collaboration is really the key to actually getting things done here. When I was in my 30s, I would have been one of those really far-left people, and now I'm much more moderate because I understand that we have to get both parties to work together if we're going to actually get things done in the community.
People often ask me why I stay in Charlotte. Number one, I tell people I grew up in Columbia, but I adulted in Charlotte. Number two, I share that one of the things I absolutely love about Charlotte is that if you are a go-getter and you're determined, then you can really be anything that you want to be here.