Charlotte native, South Meck alumna turned grief into fuel for a pioneering career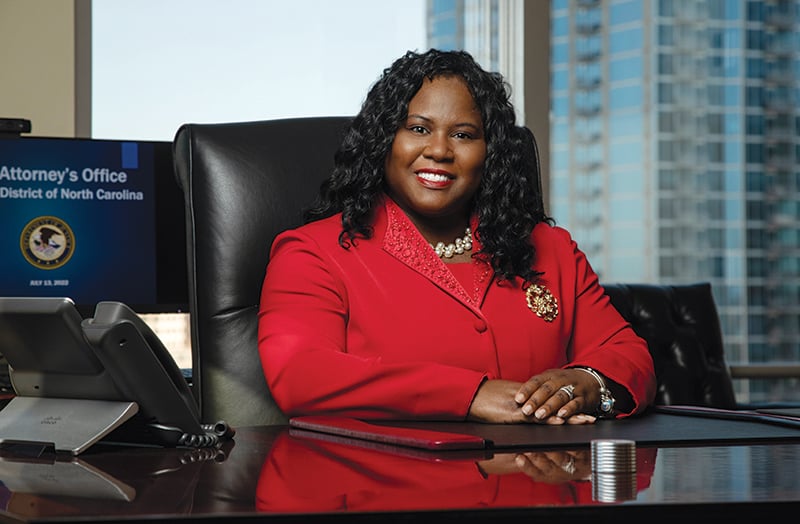 Dena J. King,  a Charlotte native, is the first person of color ever to serve as U.S. attorney in Charlotte. She's navigated personal pain to achieve her professional status. In 1994, her older brother, De'Von, was killed in a car accident, and her father, Bobby, died of a heart attack 10 months later. King, 41, turned her grief into motivation.
As a child in south Charlotte, she was inspired by the character Clair Huxtable on The Cosby Show. King excelled academically at South Mecklenburg High School, where her peers voted her "most likely to succeed"; was accepted into the Honors and Scholars program at N.C. State and graduated magna cum laude with a business management degree in 2003; and earned her law degree from N.C. Central. In 2006, she went to work for the district attorney's office in Charlotte, where she was the DA's designated representative in drug treatment and mental health cases.
From 2009 to 2014, she worked as an enforcement attorney for the securities division of the N.C. secretary of state's office. King then joined the U.S. attorney's office in Raleigh, where she prosecuted narcotics cases, and moved to the Charlotte office in 2020 as deputy criminal chief overseeing the violent crimes and narcotics section.
President Biden nominated her in September 2021 to replace Andrew Murray, a Donald Trump appointee who had announced his resignation in February. The U.S. Senate confirmed King as U.S. Attorney for the Western District of North Carolina on Nov. 19, 2021. She's the first person of color to hold that position. (The same day, the Senate confirmed Sandra Hairston as the first woman of color to serve as U.S. attorney for the Greensboro-based Middle District. The Justice Department has had U.S. attorney's offices in North Carolina since 1872, in the era of Reconstruction.)
King says her head and heart are devoted to public service—"It's who I am"—and that she's serious about serving as a role model and mentor to young people. Her words have been edited for space and clarity.
---
I was born in Charlotte and grew up here. My father and mother are both from Charlotte. My father worked at Duke Power (now Duke Energy) for over 20 years. My mother worked at Carolinas Medical Center. I come from an extensive, tight-knit family with a host of aunties, uncles, and cousins, all of whom played a vital role in shaping who I am today, particularly after I lost my brother and my father at a young age.
My father passed away when I was 14 years old, 10 months after my brother, who was 15 at the time, was killed after being hit by a car. My father died of a heart attack, but I truly believe that the loss of his child was unbearable for my father, and he died of a broken heart.
My father and my brother always have been and continue to be very inspiring and driving forces in my life. In both of their eyes, I was the smartest girl on earth. When both of them were taken away from us so suddenly, I was devastated, and I learned for the first time the true meaning of grief. In many ways, the grief became my inspiration, and I thought that the best way to honor my brother and father's legacy was to make them proud by continuing to be the smartest girl on earth, at least in their eyes. They both knew I wanted to be an attorney, as that is all I ever talked about, and fulfilling that in their honor became more important to me.
My mother still lives in Charlotte, and we are extremely close. My mother is also a very inspiring and important figure in my life. After my mom was forced to become a single parent, my mom instilled several things in me: emphasis on faith; hard work; determination. Faith, in that we must have faith in something greater than yourself, especially having gone through what I experienced as a teenager. She required me to work hard, as she would tell me that nothing would be given to me. Instead, she told me I had to earn it.
To get through my grief and to stay focused, my mom also pushed me and made me challenge myself and grow in ways I did not comprehend at the time. For example, she made sure I participated in speeches and other public speaking events at church, but, unbeknownst to me, that assisted in developing my comfort level to speak in front of people, something that later in life I've had to do a great deal of as a trial lawyer and as a public figure.
While in the Eastern District, I was a federal prosecutor, but in addition, I was a reentry coordinator. There were times that I would see people in prison when I actually prosecuted their case. And so in one day, as an example, I could that morning be asking a judge to send someone to prison for 10, 15, 20 years, and that afternoon going to prison, talking to the offender who is about to be released, and helping ensure that he had the resources that he needed to be successful. And I think many people thought that was weird.
As a prosecutor, I believe it is important to follow the rule of law, to hold wrongdoers accountable for their actions, and to seek justice on behalf of crime victims.
I do believe that people can be rehabilitated. I believe that people can recognize the errors in their mistakes and want to do better. And so I believe in second chances.
As federal prosecutors, we have a broader reach but also a bigger seat at the criminal justice table. It's important to understand that and leverage the power in ways that have a long-lasting, positive impact in the community. We cannot arrest our way out of crime. At times, there are alternative solutions to correcting behaviors other than the criminal justice system. In the words of philosopher and writer Julian Baggini, "Society needs both justice and compassion, a head and a heart, if it is to be civilized."
As the chief federal law enforcement officer in the district, it is important to be visible. It is important for people to know who we are, what we do, and why we do it. So staying engaged with the community is extremely important. Also, you will frequently hear me say that it's important to be a friend before we need a friend. What that means is, it is important to have good relationships not only with law enforcement but also community organizations and service providers who provide vital assistance and perform an array of functions for victims, survivors, and individuals who are transitioning back to society following incarceration.
I want to ensure that, first and foremost, we reinvigorate the Department of Justice's core mission, which is advancing equal justice under the law. It is important as a federal prosecutor because I think we are at a point where, as a nation, many of our challenges have exposed and quite honestly exacerbated the inequities that exist while we are also seeing a movement for equality and justice highlighting those issues that have long been problems.
To meet these needs, especially within the justice system, in order to put justice and equity at the forefront of what we seek to change, we must ensure that those within the systems represent diversity, inclusion, and equality. I hope that my development of a civil rights team will continue. Additionally, I hope that an emphasis on diversity and inclusion within the office will continue.
(On the attorneys she admires)
First and foremost, since I'm from Charlotte and an N.C. Central graduate, local giant Julius Chambers comes to mind first, followed by James Ferguson, a close second. Also, former (U.S.) Attorney General Loretta Lynch has been a female lawyer I've long admired, and of course Elreta Melton Alexander-Ralston, who was a true trailblazer as a Black female lawyer and state judge at a time when there were very few practicing female or Black lawyers in North Carolina. There is also Judge Shirley Fulton, the first Black female prosecutor in Mecklenburg County and the first Black woman on the Superior Court bench in North Carolina. Also, recently retired Judge Rickye McKoy-Mitchell, Mecklenburg County's longest-serving District Court judge, has been my mentor throughout my legal career.
I love public service. It's who I am, it's what I believe in, and what I enjoy doing. It is how I have chosen to spend my professional time, and it is what I do in my personal time through involvement with Delta Sigma Theta Sorority Inc., a public service organization. I believe in doing my part to ensure that I'm taking care of my community and being a strong minority voice within the justice system. I serve as a mentor for several minority undergraduate and law students, both young men and women interested in becoming lawyers. Representation matters. Role models matter, and real ones matter even more.
Today's young people not only need to be told that they can be all that they can be, but they need to see someone who looks like them in those shoes. My role model was a fictional character. My hope is that, when minority young women see me, they see a possible future for themselves. So, while I am the first person of color to serve as U.S. attorney, I hope I am the first of many.
I am grateful to have the opportunity to lead in this role. I care deeply about our state and its people, and I feel a great sense of responsibility toward our communities. First and foremost, I am a prosecutor, tasked with the responsibility to implement the law to protect our communities and to safeguard the rights of all those living within the Western District of North Carolina. As a prosecutor, I believe it is important to follow the rule of law, to hold wrongdoers accountable for their actions, and to seek justice on behalf of crime victims.
As U.S. Attorney, I have the discretion to balance national priorities set by the Justice Department with local priorities that specifically reflect the needs of our communities. For example, safeguarding civil rights, including hate crimes and human trafficking; addressing violent crime by identifying violent repeat offenders and reducing gun trafficking; tackling drug trafficking by focusing on upper level distributors and suppliers; prosecuting white collar crimes such as COVID fraud, corporate crime, investment fraud, and bank fraud; and protecting vulnerable members of our society from traffickers, child predators and those that seek to victimize older adults, are some of the areas we will be prioritizing. Equally important is engaging with our law enforcement counterparts at the federal, state and local level, and working with them to determine how my office can support their work to address the needs in our district and the needs of our law enforcement community.
Cheryl Spainhour is a senior journalism lecturer in the communication studies department at UNC Charlotte. Reach her at caspainh@uncc.edu.