He has a well-documented history of navigating major transitions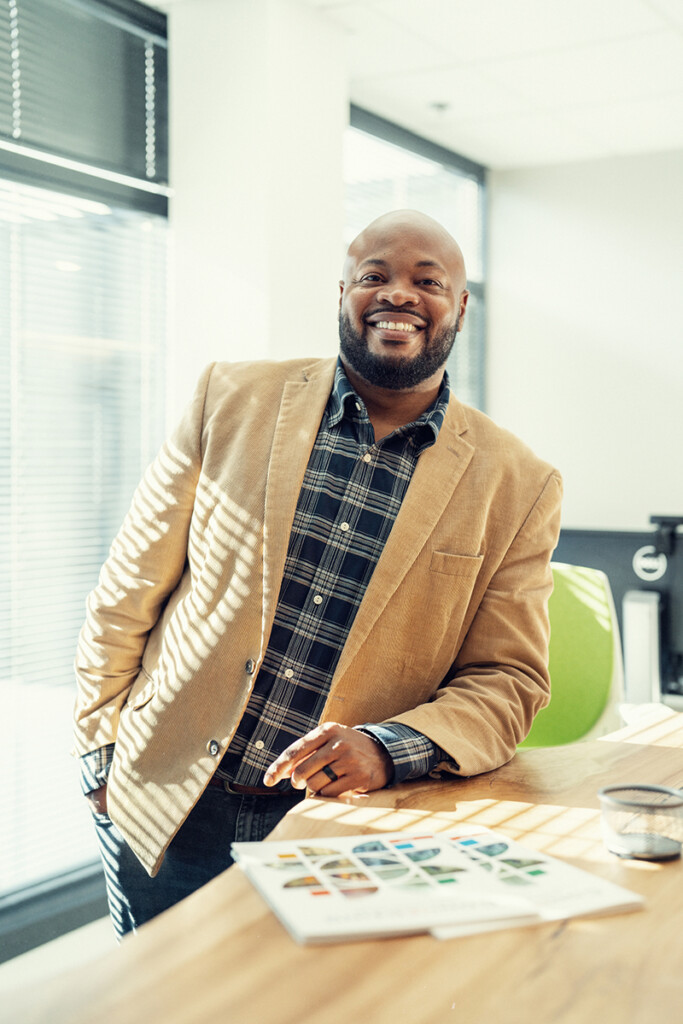 Keith Stanley is the new president and CEO of the community group University City Partners, which promotes the area's economic growth. The 46-year-old Milwaukee native had led that city's Near West Side Partners since its inception in 2014, and he steps in at an important moment for one of Charlotte's fastest-growing, most diverse, and most economically significant areas: In 2021, UCP revealed an ambitious plan to guide the area's growth. 
University City is home to 93,000 people, including many of UNC Charlotte's 30,000 students. The plan will steer the 7.5-square-mile area, which started as a classic car-centric suburb, toward a transit-oriented town center and an expanded network of greenways, where residents can safely commute by foot or bicycle.
UCP's board lauded Stanley's experience in strategic planning, financial management, and community outreach. (In 2020, Near West Side Partners' revenue was $2.3 million; in 2022, UCP brought in $1.6 million, plus $300,000 in private contributions and grants.) 
Stanley takes the helm at a moment when the pandemic has brought unanticipated shifts. UCP boasts that University City is the second-largest employment center in Charlotte, with headquarters and outposts for Fortune 500 companies like Electrolux. In July 2020, Centene Corporation, a massive health care company based in St. Louis, announced what would have been the largest economic development project in Charlotte history, a $1 billion, 800,000-square-foot office project that would employ more than 3,200. But Centene backed out in August, citing the rise of remote and hybrid work.
Stanley has intimate experience with tumultuous transition. Beginning in 1991, PBS Frontline tracked his family for 22 years for the documentary Two American Families, which chronicles his parents' fight to keep them and their five children out of poverty as middle-class industrial jobs dried up. The experience led to a career in community engagement and development, which Stanley pursued in Milwaukee's public and private sectors.
He moved to University City in December with his wife, Natanja, and he's already taken steps to fulfill the vision plan: As of January, he was getting his bike ready to commute by greenway.
Here's Stanley in his own words, edited for space and clarity.
---
I grew up in a household with five children and two loving parents who brought us up in church. That was such a value added, having respect and admiration and understanding of some of those life lessons that you may find in any faith community, whether it's the golden rule, or the world is round, or treat thy neighbor as thyself. One of those life lessons was having a good name, understanding that your name is important. You stand by your word and who you are.
My mother was a strong woman who came from a line of strong women. She worked in a factory in Milwaukee but later became a real estate agent and has a career span of about 40 years in real estate now. She was able to take care of the family in many ways throughout economic ups and downs, full of innovation and creativity. My dad was a hardworking man, a military man who was in the Navy. He has worked for the city for over 25 years and held many jobs to take care of his family, a hardworking example of what it means to take seriously the role of being a father and provider.
In the early '90s, many of the Rust Belt cities were going through a deindustrialization phase. We were highlighted, starting in '91 all the way to 2013, in four installments on PBS Frontline about the ups and downs of dealing with deindustrialization and the impact it made on our family, from day-to-day decisions to our life trajectory.
It was a really unique experience, somewhat overwhelming at times. It ended with a presentation in front of the United States Senate Democratic Conference at the Nationals' stadium, with me speaking to the senators at the time: Harry Reid, Chuck Schumer, Debbie Stabenow. I got a chance to connect with those senators and have a conversation about how deindustrialization has impacted my family and what has it done to the average American family.
It gave me the opportunity to understand the plight of many Americans, no matter race or ethnicity. We love our country, and there's an economic struggle that impacts us all. Even though there are certain things we can point to—the economy's doing well, whether that's the stock market or whatever—there are other areas where people are hurting, whether it's in places that are doing well, like Charlotte, or places not doing well. There are people who are struggling to figure it out, and it gave me an appreciation to relate to those people, to have my story be somewhat symbolic for that time period.
I got the chance to get invited to many classes throughout Milwaukee to talk about that experience because teachers used it as a social studies lesson or an economics lesson on the impact of deindustrialization. It was an opportunity for me to connect with people I probably wouldn't have connected with before, because it was a similar story, of those who come from humble beginnings and how your background impacts you in many ways.
I went to Alabama State University, a historically Black college founded in 1867 by seven formerly enslaved people, and it was an amazing experience for me. I'm not from the South, so I really enjoyed being able to attend a historically Black college and experience the culture and heritage.
There were certain places I felt that I was probably not welcome, which was … fine. I didn't have a car, so I wasn't going too far. But the university campus was just an amazing place. It was a little bit slower paced, which was good for me. I think it's good for a young man entering his college years to have a slower pace as he matriculates and tries to get his degrees. 
Alabama State University is located at the seat of the beginning of the civil rights movement, in Montgomery, Alabama. To be surrounded by that history and that culture, there was a sense of pride that I really appreciated and really didn't understand by reading textbooks. To see people graduating from Alabama State University, where their parents attended and their grandparents attended, and the history and legacy of African Americans not just being educated but being educators, really controlling their destinies when they didn't have opportunities—I was proud to be a part of that.
On the lighter side, I'd never had the opportunity to see a marching band, so to see that history, that flair and dynamic, was new for me, and that was really cool. It was a really good time to experience life, like, Wow, I didn't know this whole entire world existed. That impressed upon me that there was a lot more to the history and culture of many Southern regions than I had imagined.
I was really excited about trying to make a difference within the community, but I didn't know what that really looked like. I was able to work for an engineering firm for five years in a business development department and got exposed to the corporate culture and the mindset of return on investment. I was also serving on several community organizations and learning what it meant to be involved in community and to work with local partners to make a difference within the community. That led me to a course at Marquette University that focused on commercial real estate, specifically for people of color. I was in the inaugural class and had the opportunity to graduate and connect with a lot of developers in the city of Milwaukee, and that pretty much led down the path to what I'm doing now.
Charlotte is such a dynamic city—the growth, the business community, the magnitude and size of how it's shaping out. That's amazing. There's another story that really attracted me to University City Partners, and that's the investment they've made in two items: One is the light rail. That is key public transportation. If you don't invest in public transportation, you are hurting your chances for successful smart growth. The second thing is that I really appreciate the investment in public infrastructure, specifically the greenways.
Money follows vision. Many times, people may say, "This is a good cause," but you really want to articulate the vision, and if you have strong leadership and strong people supporting it, then money will follow that vision. I've never been discouraged when things don't happen, because people need to see the vision.
I look toward progress in everything. Sometimes perfection can get in the way of progress, and it's my goal to really make progress. I can't always say it's going to be perfect, but I will say we're going to move the needle forward. And I will live by, "Let's get some things done."
Allison Braden is a contributing editor.