Plague forced Concord business partners and their ancient beverage to seize new territory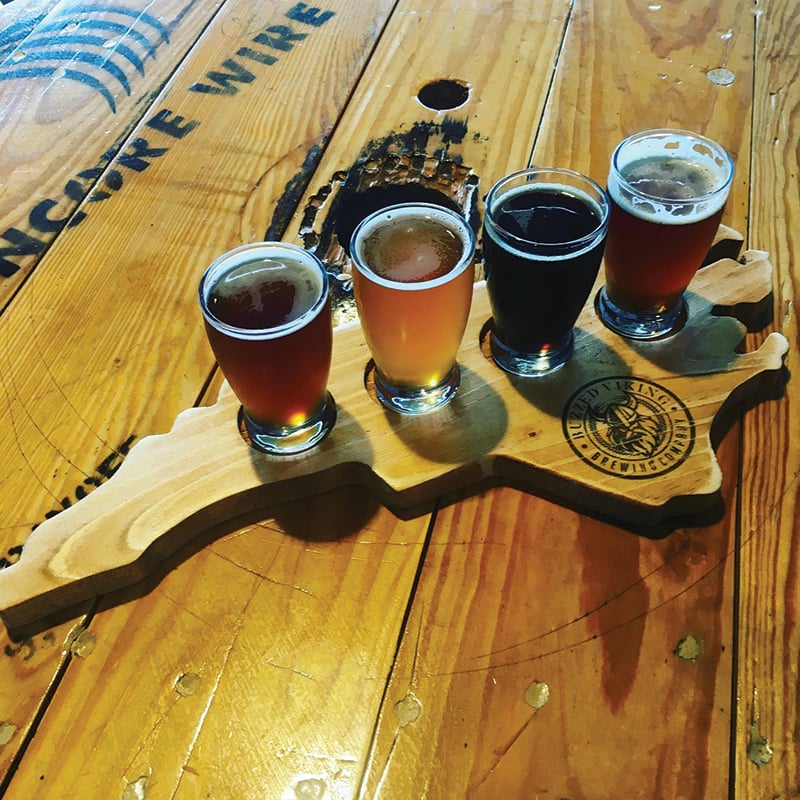 Lo, in days gone by did flourish mead-makers skilled and courageous; they who fermented honey and did deliver Spear-Danes and other hairy Norsemen the means to get soused off their pelted rump-ends in mead halls, this joyous buzz inducing them to brag in verse about their glories in battle; which in turn did provide inspiration for the likes of Mike Moroe, who makes mead and sells it from a Concord taproom and restaurant called Buzzed Viking Brewing Company.
Moroe, 55, is a New Jersey native, retired Wells Fargo systems engineer, and longtime home brewer. He developed an interest in mead, a venerable fermented honey drink, through his wife, Sheri, who comes from an old Norwegian family that traces its ancestry back to actual Vikings. Moroe discovered that the honey in mead carries flavors that beer and wine don't.
In 2019, he asked his friend Jon Pokorny, who owns the Mr. Storage chain of self-storage businesses, if he wanted to join him as a partner in a small mead distributorship. They opened Buzzed Viking Meadery on the second floor of an office park off Interstate 85 and subleased ground-floor space from Commoners Brewing Company, which had operated there since 2017, to brew mead.
A few months after COVID struck in March 2020, Commoners went out of business. Buzzed Viking's federal and state alcohol licenses were tied to the first-floor Commoners location. So Moroe and Pokorny had a choice: Apply for new licenses, which could take months, or move into the former Commoners space and go full-bore with a meadery, brewery, cidery, restaurant, and entertainment venue. Pokorny, 43, a former elementary school teacher, had served and managed at restaurants like Dressler's in Huntersville, and he thought they could make it work—emphasis on "work."
"We had about a week to put it all together," Pokorny says. "It would not have been smart for us to just walk away at that point. The world just said, 'Here's what you guys have to do.'" Moroe, seated near him in the finished taproom, laughs at the memory and remarks, "Let's put it this way. There wasn't much sleep."
They opened the expanded business in July 2020, and Moroe set about preparing batches of beer and wine, too. When I visit on a weekday afternoon in April, the handwritten drink menu includes 11 beers, six meads, two ciders, and one exhortation: "Just pick a mead!"
So what the heck is mead? It's made from fermented honey, water, and sometimes yeast, and it may have been the first alcoholic beverage. Mead was the tipple of choice for the Scandinavian hordes that descended on Britain and continental Europe from the eighth through 11th centuries. (It was their only choice, really; the Greeks and Romans drank wine because they could grow grapes.) Old English literature—like, famously, the early medieval epic poem Beowulf, the basis of my silliness in the first paragraph—is filled with allusions to Viking warriors who gather 'round mead hall tables and fuel their tales of heroism with flagonfuls of the stuff.
It will get you drunk. The alcohol content of Moroe's meads is 12%, about the level of an average unfortified wine. He sets a half-flight of five before me: Berserker Berry (blackberry), Lyle the Viking (raspberry), Viking's Blood (cherry), Sunkissed (orange), and Cozy Crumble (apple cinnamon). Their effect is similar to that of sour beer, which takes your palate a few sips to adjust to. My initial thought on my first sip of Berserker Berry: This tastes like Robitussin. The second sip is more agreeable, and the third reveals a pleasant complexity. By Cozy Crumble, I'm genuinely enjoying the mead, although that may have been just the alcohol.
Unlike the vast array of craft beers, mead is not easy to find. The North Carolina Mead Alliance—yes, there is such a thing—lists only 15 businesses that sell mead, either by the bottle or in tasting rooms, and Buzzed Viking isn't on the list. (The only Charlotte-area establishment listed is GoodRoad CiderWorks in Charlotte, which closed in November 2021.) Nonetheless, Moroe and Pokorny say they're doing well. Patrons can gaze on the Viking shield behind the bar and the Norwegian flag that hangs on one wall and nurture their inner Norse invaders as they sip. Mead drinkers are a unique tribe.
"I mean, we get people who know about meads," Moroe says. "I've gotten (contest) judges who have come in here, and they want to drink meads, and then we get—"
"The Renaissance Festival people," Pokorny interjects. "They come here in October. It's very entertaining."