Even during COVID, Bardo chef and ex-skateboarder rolls north to Cornelius with second VANA location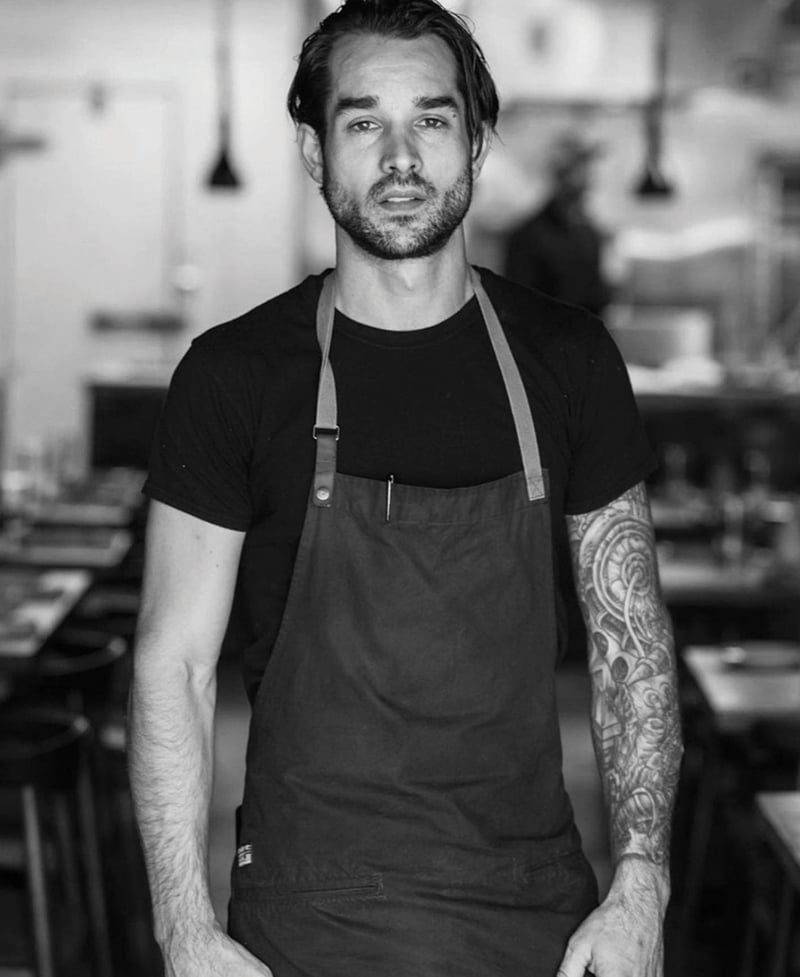 Age: 40
Family status: Father to an 8-year-old son and 6-year-old daughter
Hometown: Pittsburgh
Currently reading: Ten Percent Happier by Dan Harris
Currently watching: "I just finished season six of Peaky Blinders in one night."
Favorite sports team: Pittsburgh Steelers and Atlanta Braves
Where does your love of cooking come from? It was my grandmother and her love and passion for Thanksgiving and Easter dinners. She'd be cooking 13 hours a day to get those dinners on the table. At a young age, I started noticing how cool that was. But I never thought of it as a profession as a kid.
How did you get started in this business? It was kind of by chance. I was a skateboarder, and I got into some trouble, so my mom told me I had to go get a job. So I skateboarded down the street and, five minutes later, got a job washing dishes at a restaurant. 
How did you land at Bardo? I was working in Chicago at Sous Rising, an underground dining club. My wife got pregnant, so we decided to move here. I didn't want to work for anybody anymore; I wanted to open my own business. Jayson (Whiteside) and I decided to open a restaurant. We hadn't landed on a concept yet, but after we found the space in Wilmore, it all started clicking together. I didn't want to be hiding in the kitchen; we wanted a big, open kitchen where diners could watch us cook.
What prompted you to open two more restaurants during the pandemic? With VANA South End, we'd signed the lease right before the shutdown happened, so we had to move forward regardless. We had to convert Bardo to takeout and cocktail kits right away, and we had no idea with all the uncertainty if we'd make it. With VANA Lake Norman, we wanted to lay down roots in Cornelius, and Jayson lives in that area. It's the same dynamic with the open wood-fire kitchen, but it has a little more outdoor seating. 
How do you split your time between the three restaurants? I have a chef de cuisine at all three restaurants to run the operations. My job is to oversee the menu and check in on the staff. If one location needs more help, I'll spend a couple of more days there. 
How have you put your stamp on each menu? Bardo was my baby. It started as a la carte, but when COVID happened, we condensed it to a tasting menu. I give my chefs de cuisine a lot of creative freedom because you have to grow and expand, and we change the menu monthly. I'll OK the menu, but we always tweak as we go. With VANA, I'd never built a menu around live-fire cooking. My chefs de cuisine develop new ideas all the time. I guess it's kind of like training them to think how I would think.
What's one ingredient you always have on hand? Yuzu.   
What's your favorite adult beverage? Miller High Life.
What do you think is an underappreciated flavor? Heavy umami.
Any foods you won't touch? I'm not a fan of chicken liver.
What's your favorite restaurant in Charlotte other than your own? Kindred.
What do you like to do outside of work? I love to spend time with my kids, throwing a baseball with my son or taking them on snowboarding trips. I still skateboard, but not like I did when I was 19. If my kids go on a scooter ride, I'll go, but I'm not doing handrails on steps anymore.
What's the most surprising thing about you? I am so OCD about cleaning the kitchen. 
What's your guiltiest pleasure? The Golden Girls. My grandma and I would binge-watch that show together. So, yeah, some Golden Girls and Totino's Pizza Rolls is a great night. 
Any rules to live by in the kitchen? You may not always be motivated, but you must stay disciplined. 
THE TOUGH STUFF
Chocolate or cheese? Cheese
Coffee or tea? Coffee
Beer or wine? Beer
Beef carpaccioor beef sliders? Beef carpaccio
Chicken wings or chicken biscuit? Chicken wings
Lobster roll or egg roll? Lobster roll
Lamb burger or lamb lollipops? Lamb lollipops
Street eats or sit-down? Sit-down
Comedy or drama? Comedy
More money or more free time? More money
Facebook or Instagram? Instagram