The French-trained chef marries her love of food, wine, and art at The Artisan's Palate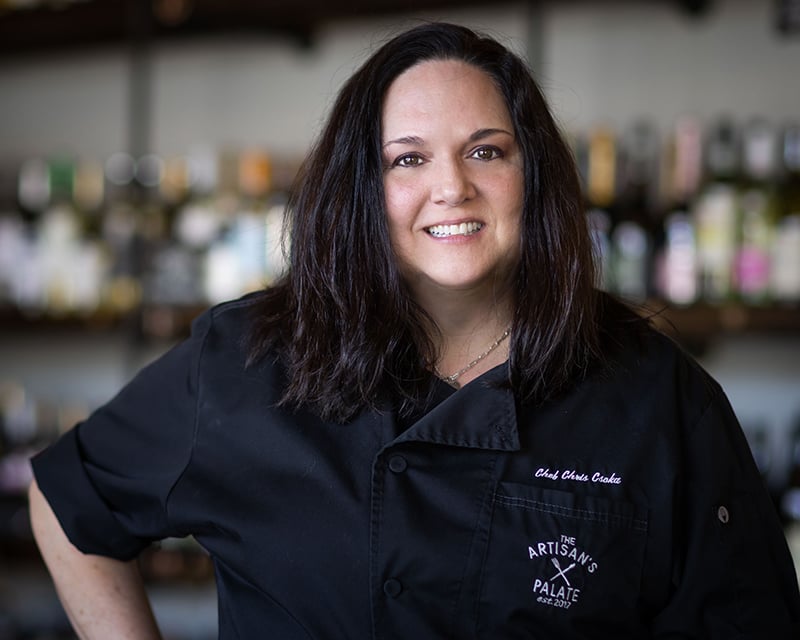 Age: 53
Relationship status: Single
Hometown: "I'm a military brat, but I was mostly raised at West Point, where my dad was a professor and colonel in the Army."
Currently lives: Wilmore
Currently watching: "I just finished Wednesday."
Favorite sports team: Charlotte FC 
Where does your love of cooking come from? My mother. Growing up in West Point, we entertained all the time. Every weekend, we had cadets, officers, and generals over. I went to the French Culinary Institute, but cooking at home with my mom, that was my biggest inspiration. 
How did you get started in this business? My first job was at the West Point Club when I was 16. It was mostly banquets, weddings, and other events. One time I wore white gloves and served George H.W. Bush when he was vice president to Reagan. I also bartended in New York, Texas, and Pennsylvania. I always loved all aspects of the industry, but cooking was my passion. 
What inspired you to open The Artisan's Palate? My sister is an artist, and at West Point, they had a craft shop. She worked there after college, and during the summer, I'd come home and visit her there. There was a woodshop and a frame shop, but she turned it into a mecca of art and started teaching watercolor classes. There was really bad coffee, and people would bring snacks, sometimes a bad bottle of wine. I thought, What if there was really good food? I was 21 at the time, and that's what inspired me. I wanted to bring art, food, and wine together. 
How would you describe The Artisan's Palate experience? It's more than just a restaurant. It's a gathering space. We want people to leave feeling like they experienced something from the food, art, and music. We have a gallery and switch out the artists every month. All of that together brings a whole other experience.  
Tell me about developing the menu. They're all my recipes, but I've hired an amazing staff who has it down so I'm not in the kitchen every night. Now, I can run all the other aspects of the business. But a lot of the recipes came from my travels or have a story behind them. The Firehouse Meatballs are inspired by my grandfather, who was a New York City firefighter. The Andalusian Red Pepper Scallops is something I had in San Sebastián and tried to recreate. 
What's one ingredient you always have on hand? Paprika. I'm Hungarian, so I put it in a lot of things. 
What shoes do you wear in the kitchen? Alegria or SoftWalk. I've tried Crocs, and they just don't work for me. High heels ruined my feet in New York. 
What's your favorite adult beverage? Negroni.
What do you think is an underappreciated flavor? Lemon zest. It just brightens things up. 
What's your favorite restaurant in Charlotte other than your own? I think Bardo has an extremely talented chef, and I go to YUME for sushi. I need to try more new restaurants like Leah & Louise, but I just don't have a lot of time. 
What's the most surprising thing about you? I'm sort of obsessed with TikTok. I don't post anything, but I love to watch videos of, like, babies cursing. I guess I'm a TikTok stalker. I do that before bed to laugh and get that serotonin. 
Any rules to live by in the kitchen? Mise en place, which means "everything in its place." I was French-trained, and that's ingrained in me. It holds up in life as well—keep everything in its place. 

THE TOUGH STUFF
Chocolate or cheese? Cheese
Coffee or tea? Coffee
Beer or wine? Wine
Cake or pie? Pie with ice cream
Hot dog or taco? Taco
Bacon cheeseburger or bacon-wrapped dates? Bacon cheeseburger
Croissant or baguette? Baguette
Baked brie or glazed nuts? Baked brie with a baguette
Wine Spectator or Bon Appétit? Bon Appétit
Street eats or sit-down? Street eats sitting down
Comedy or drama? Comedy
More money or more free time? More free time
Twitter or TikTok? TikTok