She returns to the South with luxury hotel experience and a taste for 'aha' desserts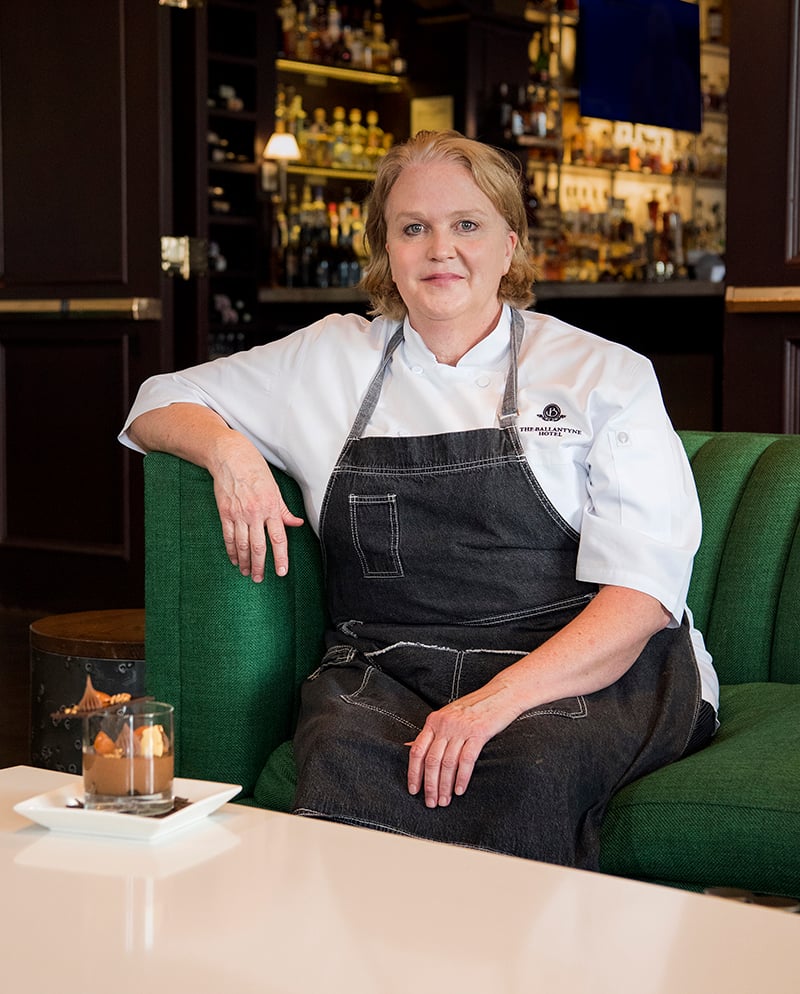 Age: 53
Relationship status: Single
Hometown: Jasper, Georgia
Currently lives: Fort Mill, S.C.
Currently reading: Where the Crawdads Sing by Delia Owens
Currently watching: Bloodline
Where does your love of baking come from? I grew up in the kitchen with my mother and grandmother, so I was always baking.
How did this opportunity at The Ballantyne come to you? I'd been in Colorado for a while, most recently at the Four Seasons in Vail. I have two grown children in Charleston, so I wanted to be closer to them. I always admired The Ballantyne, and I wanted to find something comparable to where I was working out there. It was all very quick. I was hired before I even flew in to do a tasting and moved here July 15.
What do you love about dessert? I like the 'aha' moment. I enjoy building those flavor combinations, and when I can put it all together and present it to the guest and see the excitement on their faces, that's what motivates me to keep learning, growing, and trying new techniques.
How have you put your stamp on The Ballantyne's dessert menu? I grew up in the South, so I have such an appreciation for Southern-style desserts. I think a lot of those desserts like red velvet cake are coming back around; I just like to make them with a modern edge. On the Ballantyne menu, I've added a Smoked Valrhona Chocolate Verrine with hazelnut praline mousse and honeycomb, which is something I grew up on. I've also got a Lemon Pistachio Olive Oil Cake with olive oil gelato and a Hibiscus Poached Pear Pavlova.
Will you continue The Ballantyne's Afternoon Tea? When I was at The St. Regis in Aspen, we did afternoon tea every day, so I love that ritual. I love small, delicate desserts … scones with Devonshire cream, tarts with fresh fruit on top. It's an experience.
Dessert for breakfast: hard no or hell, yes? Hell, yes.
What's one ingredient you always have on hand? Almond flour.
What do you think is an underappreciated flavor? Lemongrass.
Is there one recipe you'd still like to master? I came from baking at high altitudes, so right now it's meringues. It's harder to make those in a sticky environment.
What shoes do you wear in the kitchen? Birkenstock clogs.
What's your favorite thing to bake? Crème brûlée. They're so elegant and delicate. Most people are intimidated by them, but it's my favorite to make.
What's your favorite adult beverage? Moscow mules.
What's the most surprising thing about you? I don't care for chocolate. I love to work with it, just not eat it.
What's one chain restaurant you're not ashamed to admit you love? Waffle House.
What do you like to do outside the kitchen? I like to hike and bike. I have a golden retriever, Graham, so we do a lot of that. I also like to kayak.
Any rules to live by in the kitchen? Work cleanly.
THE TOUGH STUFF
Chocolate or vanilla? Vanilla
Coffee or tea? Tea
Beer or wine? Wine
Cake or pie? Pie
Doughnut or muffin? Doughnut
Bagel or biscuit? Bagel
Crunchy topping or sweet drizzle? Crunchy topping
Ice cream or hot chocolate? Ice cream
Sugar Rush or The Great British Baking Show? The Great British Baking Show
Street eats or sit-down? Sit-down
Facebook or Instagram? Instagram