The sous chef has a flair for chemistry and cooking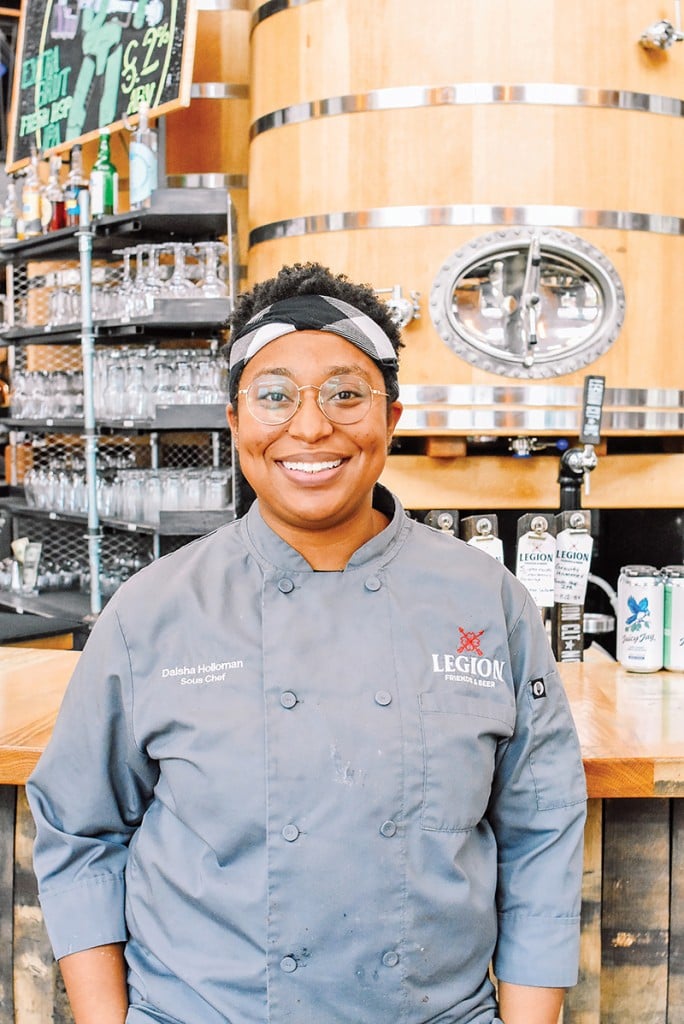 Age: 26
Relationship status: Girlfriend of 10 years
Hometown: Charlotte
Currently lives: Mallard Creek
Currently watching: Euphoria
How did you get started in this business? I've been in the restaurant industry since I was 16. My first job was at Amélie's. A good friend took me there, and I fell in love with the place. I didn't have any experience, so I asked to speak to the manager and brought them my report card (laughs). They saw my straight A's and said, "Sure, we'll give this kid a shot."
How did you work your way up in the kitchen? I started off running food. I watched the line cooks do their thing, and I was surrounded by people who went to Johnson & Wales. Eventually I moved up to managerial duties. I also worked at 1897 Market at the airport. I really learned how to drive a ship and lead people there. I was doing this all while going to school. 
So you went to culinary school? I actually got my degree in chemistry and criminal justice at UNC Charlotte (laughs). I thought that was my path. After I graduated, I worked as a chemist for two years at a building materials company. But I really missed working with food. 
How did you land at Legion? I was interviewing for a front-of-house position. Chef Gene (Briggs) interviewed me, and I thought, Oooooh, now's the time to talk about my passion for food! By the time the interview was over, he said, "I think we've found a new sous chef." I started there last June. 
Was there a learning curve with Legion's beer-focused menu? When I was working on my chemistry degree, I gave all of my seminars on brewing science. I thought I wanted to open my own brewery one day—and still do—so this has given me that firsthand experience. It's helped me understand how to pair beer with food. 
How often do you introduce a new chef feature? Every week, all three of (Chef Gene's) sous chefs have to come up with a new dish. We have to decide on the dish by Sunday, have orders in by Monday, and have it ready for social media pictures by Thursday. I keep a Google doc of all the things I want to do. 
How much taste-testing does your job require? A lot. Day to day, we make sure everything on the line is good. I taste every single thing, so customers can ask me anything.  
What's your favorite meal to cook? Good old Southern comfort food. Fried fish, collard greens, and mac and cheese are my favorite things. 
What's your favorite adult beverage? Beer, obviously. 
Any foods you won't touch? Muscadine grapes. They taste awful to me. 
What's one restaurant chain you're not ashamed to admit you love? Cook Out. 
What do you like to do outside of work? I love to read comic books. I also build furniture. I do a lot of woodworking—anything from furniture to cutting boards. Oh, and I recently picked up the drums. 
What's your favorite restaurant in Charlotte other than your own? Pepero. It's inside this Korean grocery store, and they just pump out the best food. 
What's your guiltiest pleasure? Applesauce. I don't know what it is, but I've always been a fiend for applesauce. Friends still gift me full jars of it. 
Any rules to live by in the kitchen? Take your time, and do it right.
THE TOUGH STUFF
Lager or stout? Lager
Soft pretzel or boiled peanuts? Soft pretzel
Charcuterie board or barbecue platter? Barbecue platter
Chicken wings or chicken biscuit? Chicken biscuit
Lobster roll or egg roll? Egg roll
Tie-dye or camo? Tie-dye
Heels or flats? Flats
Street eats or sit-down? Street eats
Comedy or drama? Comedy
More money or more free time? Both
Twitter or TikTok? TikTok