The 23-year-old executive pastry chef leads a sweet new dessert program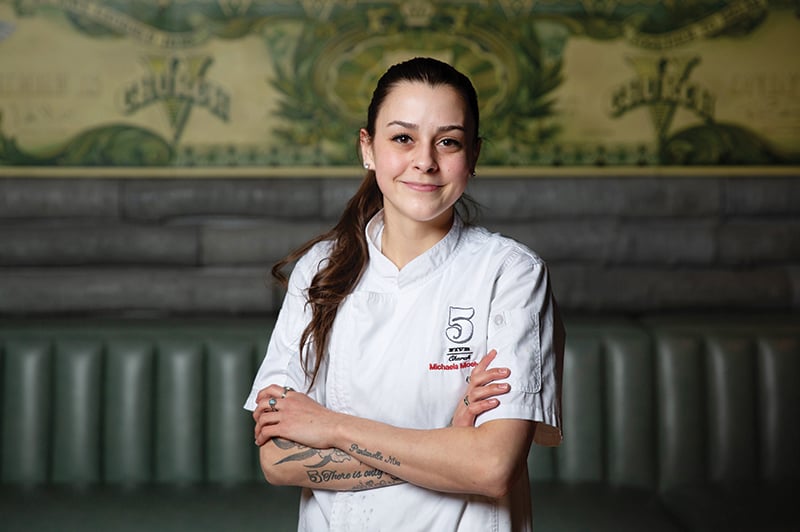 Age: 23
Hometown: Madison, Wisconsin
Currently lives: Uptown
Currently reading: Leading from Purpose by Nick Craig
Currently watching: Desperate Housewives
Where does your love of baking come from? It was a combination of my mom and Cake Boss. I used to watch that as a kid and thought it was so cool. I would make my own fondant by melting marshmallows in the microwave and mash it together with powdered sugar. Bless my mom for cleaning up that mess.
How did this opportunity with 5th Street Group come to you? I moved here in 2016, when I was 17. I was a freshman at Johnson & Wales and looking for a job. I'd never been to Charlotte and started wandering the streets. I wandered into 5Church, put in an application, and got no response. I emailed a few more times; no response. Then they finally reached out, and I got an interview and then a job. They've invested a lot of time and energy into helping me grow.
So you were a full-time student and a full-time employee? Yep. All four years I was in school, I worked at 5Church. I was working 70 to 80 hours a week, so I skipped a lot of class (laughs). But I still made the dean's list! I graduated in 2020 with a degree in food service management.
How do you split your time between 5th Street's Charlotte restaurants? When they opened La Belle Helene last year, it had a kitchen five times the size of 5Church's. So that became our production kitchen, where we make all the desserts for both restaurants.
Any new desserts you've rolled out since 5Church rebranded to Church & Union? At 5Church, we did a lot of comfort foods, like Pumpkin Bread Pudding and Carrot Cake, and the S'mores were always a bestseller. I've begged Chef Jamie (Lynch) to take the S'mores off the menu and do something different for years. He texted me before we opened Church & Union and said we're axing the S'mores! I'm replacing it with our take on a Milky Way.
Dessert for breakfast: hard no or hell, yes? Hell, yes!
What's one ingredient you always have on hand? Sugar.
What do you think is an underappreciated flavor? Sweet potato.
What's your favorite thing to bake? Warm desserts like cobblers or crisps.
Is there one recipe you'd still like to master? A perfect pavlova. It's like dried meringue. You have to be in a perfect environment, and the South is not a perfect environment for that.
What's your favorite restaurant in Charlotte other than your own? Peppervine.
What's the most surprising thing about you? I'm a very loving, happy human being, but I give off a different persona in the kitchen. You've got to be stern with your staff in a respectful way, and as a manager, you have to say the hard things other people don't want to say.
What's one chain restaurant you're not ashamed to admit you love? Olive Garden, hands down.
What do you like to do outside the kitchen? Music festivals and concerts are my getaways.
Any rules to live by in the kitchen? It's just food; it's not that serious. We can still have a good time.
---
THE TOUGH STUFF
Chocolate or vanilla? Vanilla
Coffee or tea? Coffee
Margarita or martini? Margarita
Ice cream or hot chocolate? Ice cream
Carrot cake or apple pie? Apple pie
Banana bread or banana pudding? Banana bread
Crunchy topping or sweet drizzle? Crunchy topping
Street eats or sit-down? Street eats
Sugar Rush or The Great British Baking Show? Sugar Rush