The executive chef has mastered Mediterranean cuisine—and dropped 60 pounds in the process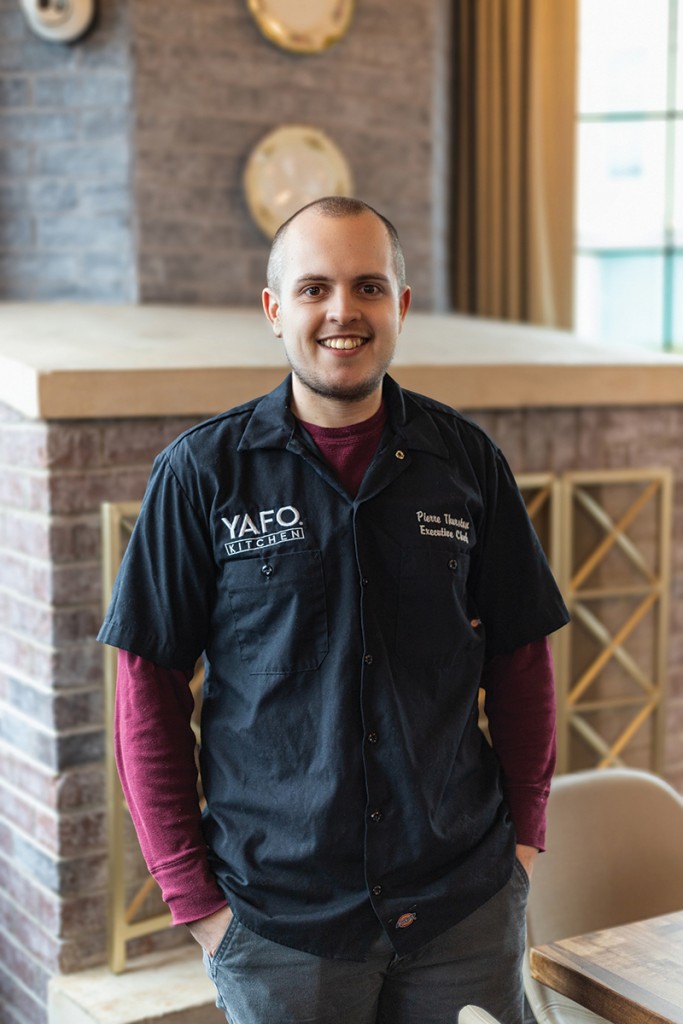 Age: 26
Family status: Father to a 3-year-old daughter with
partner Melanie
Hometown: Born in Idaho but moved to Savannah at age 7 
Currently lives: Windsor Park
Currently reading: Frenchie by Greg Marchand
Where does your love of cooking come from? My family. My father has always been a good cook. My mom is French; she's a home cook, mostly pastry and desserts. My aunt and uncle own a hotel and a restaurant in France, so I helped out there during the summers and learned to cook French stuff. We still try to go to France once a year and go to restaurants and learn some new techniques.
How did you land at YAFO? In 2016, I came up to Charlotte for a weekend trip. My brother Rémy (director of creative marketing for FS Food Group) took me to try YAFO, which had just opened. It was better than anything I'd had in Savannah. I lived in Savannah for another two years, but when I was looking for a change, Rémy suggested I apply at YAFO. I came in for a working interview in late 2018 and started as a sous chef in January 2019. I've been executive chef since August 2021.
Was there a learning curve to Mediterranean cuisine? I worked at Zoës Kitchen for two years in Savannah, so it was a good intro, but not nearly as elevated as YAFO. The food wasn't so much a learning curve, but the volume was. Having that much business in a fast-casual setting wasn't something I'd dealt with before.
Is it true you lost 60 pounds eating YAFO food? It's true. Eating at restaurants is always difficult because you're surrounded by really good food. I'd lost like 80 pounds before, but as soon as I worked in a restaurant, I'd gain it all back. When I started at YAFO, I cut out the bad stuff, which was easy because 80% of the menu is really healthy. I didn't do any exercise besides being on my feet 15 hours a day.
What's your go-to meal? I'll have a salad base, and I don't add anything hot to it like rice or meat. I try to get protein through veggies and quinoa. I don't get tired of it because there are so many textures. It's so easy to change up one thing, and it changes the dimensions of food. I started in January 2021, and by June, I was down 60 pounds. I didn't starve myself, but I made sure I ate a lot of fiber and all the right things, and it just went fast.
What's your favorite meal to cook at home? My family loves my dad's spaghetti. If I ever don't know what to make, that's what I make.
Is there one recipe you'd still like to master? Baking. That's one thing I don't have the patience for. I don't even pretend to be good at it.
What's your favorite adult beverage? Juicy Jay.
Any food you won't touch? I'll try everything once, but I can't do pig's feet. That's a little too gelatinous.
What's your favorite restaurant in Charlotte other than your own? Café Monte.
What's the most surprising thing about you? I speak French. I don't have the accent, and I don't advertise it, but when people figure it out, they're surprised. Other than my name, you wouldn't expect it. But French was my first language.
What's one chain restaurant you're not ashamed to admit you love? Popeyes.
What do you like to do outside the kitchen? I enjoy being outside. I'm not going to claim to be an outdoorsman or anything, but I enjoy yard work, gardening, and hiking when the weather's nice.
Any rules to live by in the kitchen? It's not about brains or experience or diplomas—none of that matters. If you come in with a good attitude and want to learn, you'll be a better employee than 90% of people I've had. 
THE TOUGH STUFF
Chocolate or cheese? Cheese
Beer or wine? Beer
Coffee or tea? Coffee
Taco or gyro? Taco
Falafel or schnitzel? Schnitzel
Pita or baguette? Baguette
Lobster roll or egg roll? Egg roll
Comedy or drama? Comedy
Street eats or sit-down? Sit-down
Twitter or TikTok? Neither