The New Orleans native merges low country and Creole flavors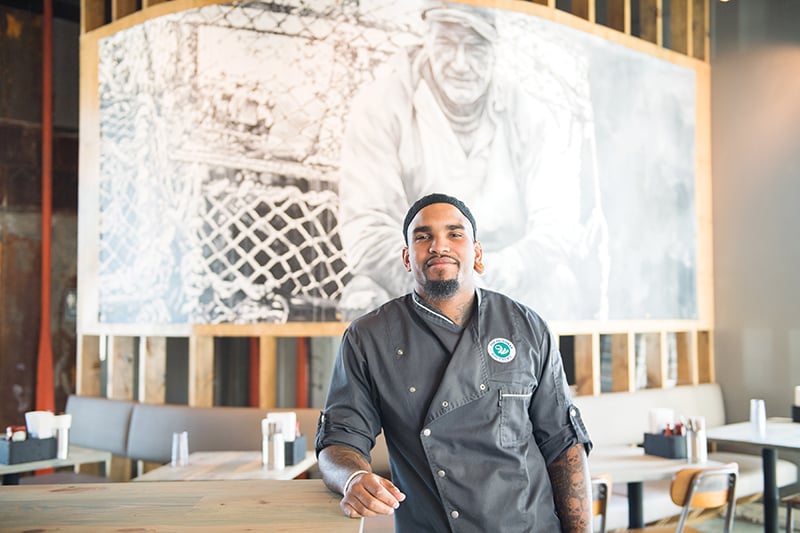 Age: 32
Family status: Three kids, ages 12, 7, and 1
Hometown: New Orleans
Currently lives: Northlake
Currently reading: Greenlights by Matthew McConaughey
Currently watching: The Wheel of Time on Amazon
Favorite sports team: New Orleans Saints
Where does your love of cooking come from? It's kind of cliché, but I was born and raised in New Orleans, so watching my mom and grandma cook a massive array of food at every holiday—that sparked it. It just comes naturally.
How did you get started in the hospitality industry? My first job was at Long John Silver's after (Hurricane) Katrina in 2005, and I helped some of my older siblings working at DoubleTree hotels for a while. Then I progressed to Texas Roadhouse.
What brought you to Charlotte? I have a sister in Harrisburg, so after Katrina, we evacuated here. A lot of my family stayed here and made this home. I went home to New Orleans but came back in 2016 to advance my career. I started at Sea Level as a sous chef, then became executive chef. I was there for seven months, then opened The Waterman, so it was a quick transition.
Tell me about developing a seafood-focused menu. My approach to cooking is 100% Creole, so I was trying to bridge the gap between that and what people like when you come up north a bit. I had to find that balance between what they'd be happy with and putting my spin on it.
How much taste testing does your job require? It's endless (laughs). I probably taste one thing about 15 times. We have a Key lime tart on the menu now, and the filling is pretty spot-on, but I did the crust about 20 different times to get it right with that punch level of the lime. I learn best by experience, so I might mess up a million times before I get it right.
What do you think is an underappreciated flavor? Cayenne.
What's your favorite meal to cook? A crawfish boil. When I go back home, if they're selling live crawfish, we'll get 50 pounds. I could eat that every day.
Is there one recipe you'd still love to master? Yakamein. It's a Vietnamese dish, kind of like pho, that we eat in New Orleans all the time. It's a beef noodle soup but with Creole influence.
What do you eat at home? I eat snacky foods. I try to shut my brain off at home, so I'll eat stuff like frozen burritos.
What's your favorite adult beverage? Aged tequila.
Any foods you won't touch? Pork.
What's one restaurant chain you're not ashamed to admit you love? Church's. My diet fluctuates. I was a raw vegan for three years, and sometimes, I quit all meat or seafood. But I always love Church's Chicken.
What do you like to do outside of work? Spend time with my kids. I'm a huge gym rat, and I enjoy the gun range.
What's your favorite restaurant in Charlotte other than your own? Sea Level (laughs). I'm biased.
What's your guiltiest pleasure? I like corny movies and rom-coms.
Any rules to live by in the kitchen? I'm 100% about discipline and standards. I preach that in the kitchen all day. Never sell anything you wouldn't eat.
THE TOUGH STUFF
Chocolate or cheese? Chocolate
Beer or wine? Beer
Coffee or tea? Coffee
Cake or pie? Pie
Hot dog or taco? Taco
Tuna or trout? Trout
Hush puppies or french fries? Fries
Lobster roll or lobster mac and cheese? Lobster mac
Comedy or drama? Comedy
Street eats or sit-down? Street eats
More money or more free time? More money