Racing rock star Tim Richmond died in 1989 but left a unique public image and—maybe—a private part of himself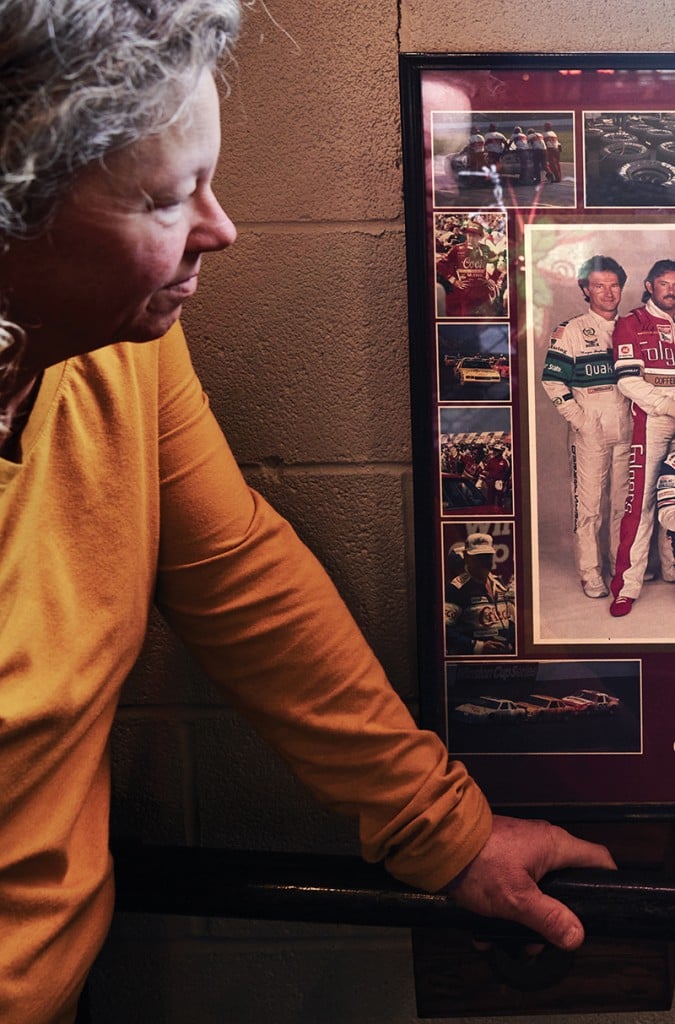 Lori Rice greets you at the hostess station. She's originally from Pennsylvania, something you immediately figure from her Philadelphia Eagles shirt. But she and her family live in Mooresville, one of NASCAR's sacred cities, and she's worked here at Lancaster's BBQ since May. Lori's a big NASCAR fan, and she could hardly have found a better place to work than Lancaster's, a former gas station that displays scads of racing memorabilia: car parts and miniatures, driver's suits, helmets, posters.
You ask about The Poster. Everybody knows about The Poster, right? Where is it? She doesn't know. One of her fellow hostesses does. It's not far, just down a corridor that leads to the dining area, on the wall between a pair of driver's suits. Lori doesn't get what's special about The Poster, even though it displays a group of 20 superstar drivers, practically every stock car racing icon you could name from the time: Yarborough, Parsons, Waltrip, Wallace, two generations' worth of Pettys and Allisons, and the original Earnhardt on one knee—front and center, where he usually planted his flag.
Look, you tell her. She looks. Nothing. Keep looking, you say. Second guy from the left, in the Folgers suit. She looks. Still nothing.
OK, you say. The five guys kneeling? The one at far left? That's the late Neil Bonnett. Look behind his right ear.
Lori looks closer. Her eyes widen.
"Oh. My. God."
***
Find the full and hi-res version of the above image here.
***
In 1987, NASCAR was navigating a change of seasons. Stock car racing had been a good ol' boys' sport, having come down from the Appalachian hills and hollers in the 1930s, and even in the '80s, it clung to its rough roots. Virtually everyone—from team owners to drivers to crew members—had emerged from the Southeast, and the sport was thought of mainly as a regional passion.
But by the '80s, NASCAR's leaders and sponsors sensed that stock car racing could draw the eyeballs and dollars of people throughout the United States. It was the first stirring of the explosion in popularity, and revenue, that would come in the '90s. But at the time, the old-timers still harbored some resistance to change—and into this arena, in 1981, swaggered a charming, handsome, drawl-less, mischievous, supremely talented driver from Ohio who, heaven and Valvoline forbid, had made his name in open-wheel racing at Indy: Tim Richmond.
The old guard dipped snuff and drank cheap beer. Richmond drank champagne in nightclubs. The old-timers wore jeans and overalls. Richmond wore Armani suits. Old-timers went home to places like Kannapolis; Dawsonville, Georgia; and Owensboro, Kentucky. Richmond kept an apartment in Manhattan and lived on a boat in Fort Lauderdale. In the flash and MTV-fueled fame economy of the '80s, Richmond looked and acted more like a rock or movie star than anything NASCAR was used to. (A few years later, in Days of Thunder, an actual movie star, Tom Cruise, would play a character loosely based on Richmond.)
"NASCAR had never had a cosmopolitan driver," says Deb Williams, a longtime racing journalist who lives in Concord. "(Richmond) was always wide open, don't-challenge-me, wasn't afraid of anything. The women adored him, and the men were jealous of him."
Richmond broke through in 1986, the year when even his fiercest competitors were forced to concede that, Armani or not, he was one hell of a driver. Driving the No. 25 Monte Carlo for Hendrick Motorsports, he won seven Winston Cup races and finished the season third in points, behind only Dale Earnhardt and Darrell Waltrip. But late that year, Richmond fell ill and was hospitalized—for what he publicly announced was pneumonia. He did not tell the public, or anyone in NASCAR, what had made him so vulnerable to infection.
He came back in the spring, seemingly recovered. He posed with 19 other drivers for a photo that NASCAR used for its official poster distributed to fans at The Winston, now the annual All-Star Race, at Charlotte Motor Speedway on May 17, 1987. Richmond came in third. (Earnhardt won thanks to a maneuver racing fans still revere as the "pass in the grass.") The next month, Richmond dramatically won back-to-back races at Pocono Raceway in Pennsylvania and Riverside International Raceway in California. After the race at Pocono, he told reporters he hadn't seen the finish line as he crossed it because his eyes were filled with tears.
They were Richmond's last victories. NASCAR barred him from racing at the Daytona 500 in February 1988 because of what the organization said was a failed drug test. He could race, NASCAR officials said, only if he submitted for review the medical records from his hospitalization. Richmond refused. He never raced again. By then, it was becoming clearer that what was wrong with Richmond had nothing to do with drugs.
He died in a hospital in West Palm Beach, Florida, on Aug. 13, 1989, at age 34. Ten days later, his doctor finally admitted to the public what a lot of people had already guessed: Tim Richmond had died of complications from AIDS.
Six years after that, a former model and beauty queen from Charlotte named LaGena Lookabill Greene, who had dated Richmond, went public with a stunning story: She had AIDS, she'd contracted HIV from Richmond in 1986, and she believed Richmond knew at the time that he was sick.
***
No one associated with NASCAR wanted to discuss much about Richmond's death, or the messier aspects of his life, as the sport's profile swelled during the '90s and 2000s. To the extent that Richmond was remembered, it was as a kind of racing version of James Dean or Jimi Hendrix, a gifted star who flamed out too soon.
But that photo and poster from 1987 had stuck in some minds, certainly those at NASCAR and R.J. Reynolds Tobacco Company in Winston-Salem, which had sponsored The Winston race in Charlotte. No one I spoke with for this story could say for sure who first noticed what was unusual about it, or when. "My memory is that it was a long time—weeks," says Roger Bear, who led the team under RJR that handled promotion for the race. "I heard about it in the office." It looked like a typical NASCAR promotional photo. You had to examine it closely to notice anything odd. Then you couldn't notice anything else.
What's established is that NASCAR and RJR fixed the "problem" and reissued the poster. But an indeterminate number of original posters still float around—no one knows how many—and the internet age ushered in a small market for collectors to sell their copies, sometimes labeled "uncensored," on sites like eBay and Etsy for as much as $250. If you're curious enough to look but not buy, copies hang on the walls of at least three Charlotte-area establishments: Lancaster's, Big Daddy's Restaurant and Oyster Bar in Mooresville, and the Thirsty Beaver in Plaza Midwood.
In 2010, more than two decades after Richmond's death, ESPN aired a documentary about his life and career as part of its 30 for 30 series. Tim Richmond: To the Limit, directed by Charlotte filmmaker Rory Karpf, rekindled fans' interest in Richmond's story, and by then, the public impulse to shy away from the subject of AIDS had diminished. "That's when I saw a change," Williams says, "people not feeling like they had to be concerned about talking about Tim Richmond, and what he did, and what a phenomenal driver he was, and the pranks he pulled, and things like that."
The 30 for 30 episode doesn't mention the poster. But it gave the denizens of Reddit and NASCAR message boards something new to chew on. The popular racing podcast Dinner with Racers devoted a two-part episode—2 hours, 50 minutes total—to the subject in December 2019: Did he, or didn't he? You can Google Richmond's name and run across passionate arguments from people certain that he did it and people certain that he didn't. It was a cane, the latter say. It was his thumb. (If that's what it was, Kyle Petty observed on the podcast, Richmond had a "big damn thumb.") It was a trick of the light.
Except that there's no evidence I could find that Richmond used a cane in the spring of '87, although he was photographed with one at Daytona in '88, when he was on site and hoping NASCAR would let him race. And if it was a trick of the light, well, that's some trick.
With the caveat that no one will ever know for sure—the only person who does is long gone—there seem to be a couple of convincing arguments that Richmond didn't do what The Poster suggests he did. For one thing, the photo was taken after his near-fatal case of pneumonia, when he was desperately trying to reestablish himself in NASCAR. That meant enough to reduce him to tears when he won at Pocono in June 1987. Under those circumstances, would he really have assumed that much risk?
For another, most driving suits are one-pieces, which zip up from the crotch to the neck. It's hard to tell whether the suit Richmond wore in the photo was a one- or two-piece, with the top separate from the bottom. If it was a one-piece, he couldn't have just unzipped the fly, as with a regular pair of pants. "That's an excellent point," says Williams, 67, who's written about NASCAR for more than 40 years. Then a thought occurs to her. "You know, I'm just wondering, in looking at it more closely … if maybe he had his driving gloves with him, or some other gloves, and that some fingers on his gloves—?"
But it's just another theory, interesting to consider but unprovable. And boy, that sure does look like an open fly that exposes some gray material along with the other thing. "I'll put it to you this way: I don't know for certain that he did," Williams says. "But knowing the type of prankster he was and knowing his personality, I wouldn't put it past him to do something like that."
Stock car racing has always been a sport that tolerates, even encourages, a certain level of juvenile behavior. But it was hard for anyone I spoke with to imagine that any of those 20 guys would have let it all hang out for an official NASCAR photo—with one exception. "I knew Tim really, really well, and he wasn't above doing that," Roger Bear says. "That is something Tim would do." He chuckles. "He was one of a kind."
***
At Lancaster's, Lori remains in a state of mild shock. "I've seen people stop and look at that poster," she exclaims, "but I never knew why!"
Jeff Lancaster—who opened the place the same year Richmond had his breakout season—says he acquired the poster in the early '90s and put it on the wall when he had that section built in 1998. "I used to have stacks of those things," he says. "Back then, it wasn't that big a deal." It is now. Customers, he says with a laugh, "gravitate to that poster—mostly women. You know what's going on."
Your work here is done. You have made Lori's day. "I can't wait to tell my husband and son," she says as she walks back to the hostess station. "Thank you so much."
GREG LACOUR is the editor of this magazine.