By Carolyn Kulik, Senior Center Director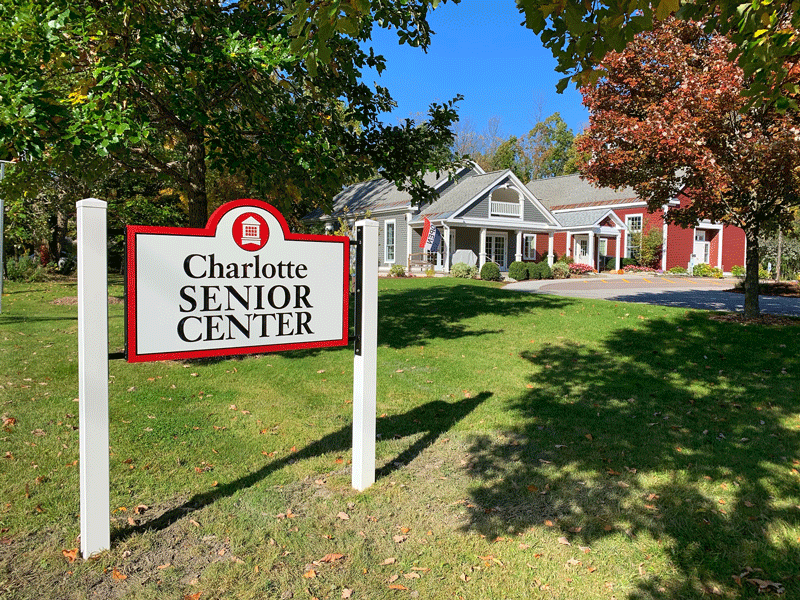 I am what time, circumstance, history have made me, certainly—but I am, also, much more than that. So are we all.
~ James Baldwin
Will we be all fooled again into thinking fall is already here —only to have a few 90-degree days at the end of the month? We shall see. But, no matter the weather, there are many courses to consider in September and October. And don't forget to check out the new carpooling excursion to Cold Hollow Sculpture Park below.
Courses starting soon
These courses are starting very soon, so please make a note of the registration deadlines. Longer course descriptions can be found in the printed Fall Schedule or on the website. Registration is only in person, by phone at (802) 425-6345 or by mail: CSC, P.O. Box 207, Charlotte 05445.
Book Discussion Group: The Book of Joy
Pre-registration required by 9/10; limit of 10. No fee. Monday mornings, 10:30–noon. Dates: 9/13, 9/27, 10/11, 10/25, 11/8, 11/22 & 12/6.
We will be reading The Book of Joy by the Dalai Lama and Desmond Tutu. Join us to discuss our musings as we read through this unique book together.
Books of the World
Register by 9/14. No fee. Wednesday afternoons, 2:30–4. Dates: 9/29, 10/27, 11/10, 11/23 (Tues.) & 12/8 (no mtg. 10/13).
Co-sponsored by the Charlotte Library.
The Art of the Poem
Register by 9/17. Fee: $60. Tuesday afternoons, 2:30–4. Dates: 9/21–10/12 (4 weeks).
How to Tell Great Stories
Register by 9/17. Fee: $60. Wednesday mornings, 10–11. Dates: 9/22–10/27 (6 weeks).
Drawing & Painting Inspiring Places
Registration and payment by 9/16. Fee: $100, for the series. Max. 6. Four, 3-hour classes, 10:30 a.m.–1:30 p.m. Dates: (1) Sept. 22 or 23; (2) Sept. 29 or 30; (3) Oct. 6 or 7 and (4) Oct. 13 or 14. (Best weather report for either Wednesday  or Thursday decides the day; rain dates, if needed.
Cold Hollow Sculpture Park
Register by 9/21. No fee. Friday, 9/24. Meet at 10:30 a.m. to carpool. Return time approx. 3:30 p.m.
Enjoy 70 sculptures sited on seven walking paths arranged across farmland in Enosburg Falls, VT. Park requests no dogs.
Mindfulness for Life
Tuesday afternoons, 1–2. New dates: 9/28–10/26 (5 weeks). No fee.
Walk-ins are welcome.
Watercolor—Fall Spectacular II with Lynn Cummings
Please register and pay by 9/30. Fee: $77. Two Tuesday mornings, 9–12. Dates: 10/5 & 10/12.
Exercise & health
These classes take place in our spacious Great Room. You're invited to come and check out a class one time—for no charge. These are ongoing throughout the year—you can join at any time. Stop by and fill out an address form; walk-ins are welcome.
Be sure to check the course descriptions in the Fall Schedule or see the website for details. Pay for a session series in advance, and receive a discount.
Chair Yoga – Mon., 9:30 a.m.
Gentle Yoga – Mon., 11:00 a.m.
Pilates Plus – Tue., 8:30 a.m.
Essentrics – Wed., 8:30 am.
Pilates – Thur., 8:30 a.m.
T'ai Chi for Beginners – Thurs., 10 a.m.
T'ai Chi Advanced – Thurs., 11 a.m.
Essentrics – Fri., 9:30 a.m.
Wednesday Talks at 1 p.m.
All Wednesday talks and events will be in person only. Masks are required for everyone. Please note that registration is necessary now, and you can call to sign up.
9/15: Greenbush—Music with John Creech & Cobey Gatos
As long-time friends and neighbors, John and Cobey draw on a lifetime of playing jazz, blues and rock, as well as years of weekly get-togethers in Cobey's backyard studio. They'll choose from a library of their own original pieces and from carefully selected compositions written by musical masters. They seek out a personal connection with each tune, creating a unique and evolving version each time they perform.
9/22: Trip to Colombia—Birds, People & Crops with Hank Kaestner
This two-week bird-watching trip went from the Amazon rain forest to the very tops of the Andes mountains. We found more than 600 species of birds, all the while taking steps to avoid Covid! Learn about the wildlife of Colombia (which has more bird species than any other country) —and also about its geography, culture, and agriculture (think coffee).
Lunch schedule
The meal schedule has changed again. There will be no Wednesday lunches in September. Monday lunches will be continuing.
The next Monday lunch will be on Sept. 13. Stop in—reservations are not required. Requested donation is still just $5.
Menus
9/13. Autumn leek soup. Seasonal mixed green salad. Banana cream pie bars
9/20
Chicken salad Niçoise. Served with mixed greens. Apple cake
9/27
TBD
It's a good idea to call to check if lunch is served on a particular date. The information will also be posted on the CSC website. Our café is spacious and airy, and our porch has tables with big sun umbrellas.
Annual Senior Art Show
14th Annual Senior Center Community Art Show is just fabulous—if I say so myself. There are 66 works by 36 artists in a wide variety of styles. Mediums include watercolor, acrylic, oil, pastel, wood, glass, mixed media and prints. Most pieces are for sale. Because the gallery space in the Great Room is used for other activities, the best times to view art in September are: Tues. & Wed. after 2:30; Thurs. & Fri. after 12:30. The show will be ending a little early, so be sure to visit before 9/24.
About volunteering
Ever thought about becoming a volunteer? There's a special spot for you whether you are available once a month for a couple of hours or on a weekly basis. This is a great opportunity to meet other people, make new friends and to be part of our community. Lori would love to meet you and talk with you about the possibilities of volunteering at the Charlotte Senior Center. She can be reached by email or phone at (802) 425-6345.
Notes on masks
If you'd like to visit or join an activity, there are some mask requirements to keep in mind. Plus, some activities, like Bridge and Mahjong, are requiring participants to be fully vaccinated because they take place over long periods of time and in close proximity. Please do call to check.
Here is where things are now at the Senior Center.
If you are . . .
Fully vaccinated: No mask required – but strongly encouraged. Social distancing advised.
Not vaccinated: Mask required.  (This would also apply to exercise classes.) Social distancing required (6 feet).  (This would also apply to exercise classes.)
Not vaccinated & not wearing a mask (for any reason): Kindly do not plan to visit at this time. We ask that you come back after the mask guidance for the Senior Center is updated.
We look forward to seeing you soon!
Please visit our website for expanded course descriptions and more information. The mission of the Senior Center is to serve those 50 and up; some course enrollments are limited, and if a course is not full, younger participants are most welcome to enroll. Questions? Call or stop by between 9-4, or leave a message at (802) 425-6345.
Charlotte Senior Center
(802) 425-6345