A round-up of the best places to see fireworks this year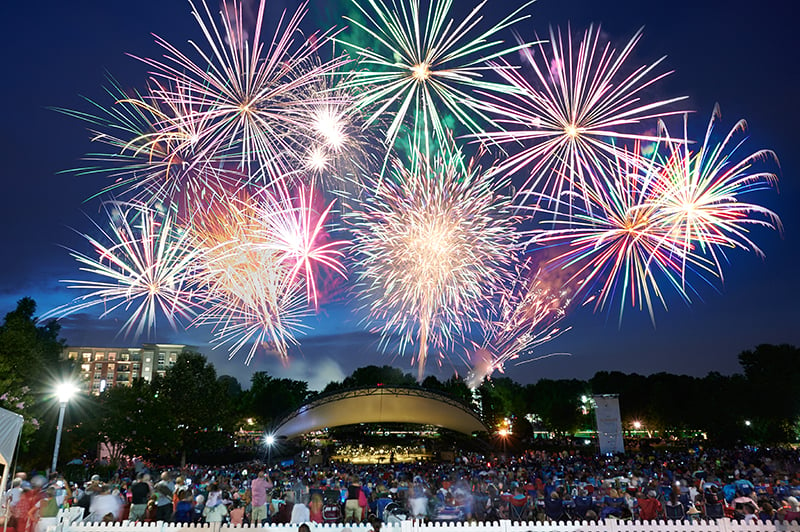 June 29
Mount Holly Nights: Coming Up Brass 
Check out the kids' zone, food trucks, fireworks, and live music from Coming Up Brass. 6:30-9:30 p.m. Downtown Mount Holly, South Main St., Mount Holly.
June 30
Cherryville's Independence Day Celebration
Food, fun, fireworks, and live music from Johnny B. 6-10 p.m. Rudisill Stadium, 219 E. Main St., Cherryville.
Head to downtown Belmont for food and drinks, live music performed by 20 Ride, a Zac Brown tribute band, and fireworks. 6-10:30 p.m. 24 S. Main St., Belmont.
Town of Matthews Independence Day Celebrati0n
Indulge in food truck cuisine, family activities, live music from the Cat 5 Band, and fireworks. 5-9 p.m. Stumptown Park, 120 S. Trade St., Matthews.
July 1
Fireworks over Historic Spencer Shops
Spend the day at the N.C. Transportation Museum, then stay for the evening's festivities. Guests have the chance to ride on a WWII-era Dodge Weapons Carrier, check out the Ride of Pride trucks from Daimler Trucks, take part in cornhole, watch a bubble show, and much more. The evening wraps with fireworks at 9:15 p.m. 1 Samuel Spencer Drive, Spencer.
Red, White, and Boom! – Kings Mountain
Come for the food trucks, inflatables, live music, DJs Eric Bowman and Tony Cutlass, games for the kids and the largest fireworks show between Charlotte and Asheville. Charlotte band New Local takes the stage at 6:30 p.m. The fireworks spectacular begins at 9:45 p.m.
July 1, 3-4
Tega Cay's patriotic festivities begin on July 1 with a concert from Gump Fiction on July 1 at 6 p.m. On July 3, the Goat Boater Paddleboard Fun Run takes place at 5 p.m.; there's also a boat parade at 5 p.m., and the Carolina Ski Show takes place at 6:30 p.m. On July 4, don't miss the annual parade, which steps off at 9 a.m., a fish fry at 4:30 p.m. and fireworks at 9:30 p.m. Shuttle service will be provided from Tega Cay Elementary School.
July 2
Join the Charlotte Symphony for a rousing, patriotic concert, then stick around to see the fireworks. 8:15 p.m. Symphony Park at SouthPark mall.
Town of Cramerton Independence Day Celebration
Come out to Cramerton's Goat Island Park to watch fireworks. 9-10 p.m. Goat Island Park, 141 8th Ave., Cramerton.
July 2-5
See more than 1,000 American flags on display to commemorate our nation's veterans, fallen/active service members and first responders. Flags will be on display July 2-5; ceremony and concert at 6 p.m. on July 3, followed by fireworks. The Exchange Club/Lowe's YMCA, Mooresville.
July 3
Fort Mill Independence Day Celebration
Fort Mill celebrates its 150th birthday alongside America's 247th birthday. Enjoy live music, food trucks, children's activities and an amazing fireworks show. 6-9:30- p.m., Walter Elisha Park, 345 N. White St., Fort Mill.
Red, White, and Boom! – Rock Hill
Enjoy live music, food, drinks, and family activities, followed by fireworks. 5-10 p.m. E. Main St., Rock Hill.
July 3-4
Harrisburg July 4th Celebration
This two-day festival honors military and their families with a parade, pageant, amusements, entertainment, and fireworks. On July 3, Sister Hazel takes the stage at 7:30 p.m.; on July 4, it's Generation Radio at 8 p.m. Fireworks take place at 9:30 p.m. on both days. 4-11 p.m. Harrisburg Park, 191 Sims Parkway, Harrisburg.
July 4
Celebrate Independence Day as a family at Carowinds' annual fireworks show. Fireworks begin at 10:30 p.m. and are accompanied by an all-American soundtrack. The best viewing locations are in the Carolina Boardwalk, County Fair, and Celebration Plaza areas. Carowinds, 14523 Carowinds Blvd.
City of Gastonia Fourth of July Celebration
Head to downtown Gastonia for food trucks, a beer garden, live music, watermelon- and apple pie-eating contests, and fireworks. 5-9:30 p.m. 111 N. South St., Gastonia.
4th of July Lake Wylie Fireworks Show
Food, activities, and entertainment for all ages, followed by a fireworks display over Lake Wylie. Viewing locations include Buster Boyd Bridge Boat Landing, Papa Doc's Shore Club, Rey Azteca, Lake Wylie Italian and Pizza, and Bagel Boat. 9:30-10 p.m. Buster Boyd Bridge, S.C. Hwy. 49, Lake Wylie.
Watch the Cannon Ballers play the Down East Wood Ducks, and stay for a fireworks show. 6:30 p.m. Atrium Health Ballpark, 1 Cannon Baller Way, Kannapolis.
The Charlotte Knights play a 6:35 p.m. baseball game against the Jacksonville Jumbo Shrimp, followed by fireworks. Truist Field, 324 S. Mint St. Can't make it to the game? View the fireworks from Romare Bearden Park.